'It's strange how you give the people you love so much power over you' That is one of the many stand-out quotes from an extraordinary book life depicting life in rural Idaho at the end of the last century.
The setting is idyllic in many respects, but life in the mountains can be harsh and cruel, and that's only talking about the elements. Tara Westover was raised at Buck's Peak as a Mormon, but this was no normal Morman family. Most Mormons go to school, but her parents Gene and Faye gradually withdrew their children from the system (Tara is the youngest of seven). At first they home-schooled the children, but over time, they gave up on that too, though the mother did insist that they all learn to read.
Tara describes their lives as a cycle, the cycle of the day, the cycle of the seasons, summers spent bottling peaches and winters rotating supplies in preparation for the End of Days - her description of her father's disappointment when Y2K failed to materialise, is one of the lighter moments.
Listen: Ryan Tubridy talks to Tara Westover
We need your consent to load this rte-player contentWe use rte-player to manage extra content that can set cookies on your device and collect data about your activity. Please review their details and accept them to load the content.Manage Preferences
Days were spent working in her father's junkyard or helping her mother, a reluctant midwife, to prepare tinctures from herbs, because like school, medicine was forbidden. In fact such was Father's distrust of officialdom, that Tara's birth wasn't registered and for 9 years she didn't officially exist.
The father ruled the roost and brooked no opposition, becoming increasingly erratic and living in fear of a raid by 'The Feds'. He often exposed himself and his family to inexplicable danger, resulting in some pretty horrific accidents and injuries. "God is here, working alongside us, " he tells Tara, "he won't let anything hurt you, but if you are hurt, that is his will. "
Luckily for Tara, her injury was to her leg, but her brother Shawn and her mother suffered injuries in accidents that would have long-term consequences. On the way home from a trip to Arizona, the mother suffers a brain injury in a car crash. 'Everyone, including mother, agreed she was never the same afterwards,' writes Westover.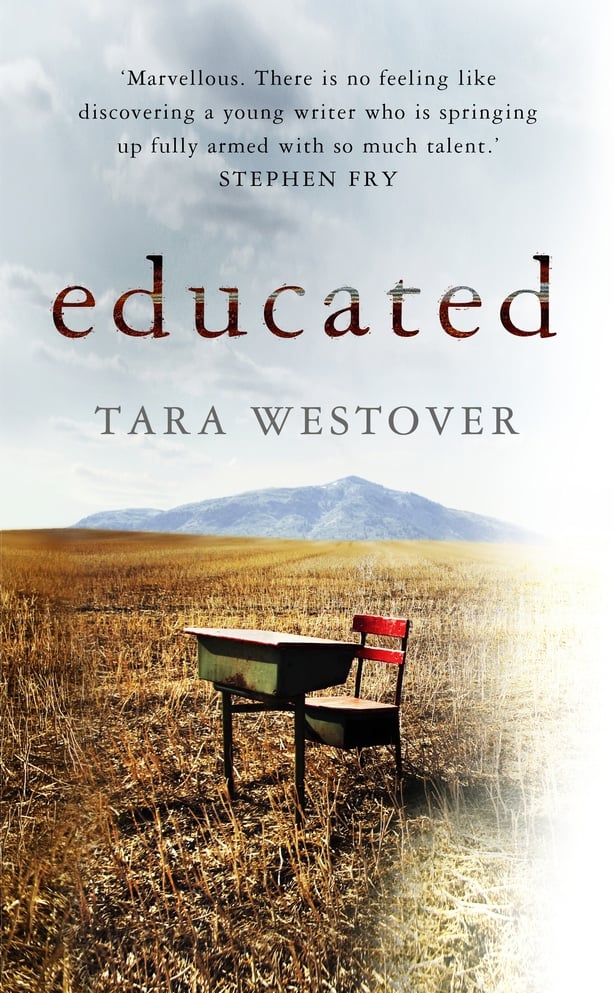 Mother described herself as a 'pleaser' we're told, yet she went against the wishes of her family when she married Gene. For a time, she resisted some of his more outlandish schemes, before succumbing eventually to his every whim. "I should have protected you, " she tells Tara, but joins in her demonisation when Tara tries to expose her brother's violence.
Here again, the relationship is conflicted - a volatile man, Shawn (the brother) verbally and physically abuses Tara and others, until you wonder why she didn't send in the Feds herself.On the other hand, he gives her money to help with college fees, telling her she will get better use out of the money than he will.
It is another brother, Tyler - to whom the book is dedicated - who persuades her to leave the mountain and seek an education. He was the odd one out, she tells us in one of her most lyrical passages. He was waltzing while the rest of us hopped a jig, he was deaf to the raucous music of our lives, and we were deaf to the serene polyphony of his.
We need your consent to load this YouTube contentWe use YouTube to manage extra content that can set cookies on your device and collect data about your activity. Please review their details and accept them to load the content.Manage Preferences
And so at 17, with no formal education, Tara Westover enrolls at BYU, Brigham Young University. She didn't know what the Holocaust was, thought Europe was a country and was, by her own admission, a terrible room-mate because of bad hygiene habits.
However, with the help of friends, boyfriends and lecturers, who encouraged and challenged her in equal measure, she ended up with a PhD from Cambridge. "How marvelous," said one of her mentors, "It's as if I've stepped into Shaw's Pygmalion."
When he asks her what she would like to read, she mumbles something about historiography, but it's her explanation to us which for me best sums up her epic journey. "I had decided to study not history but historians," she writes, "I suppose my interest came from the sense of groundlessness I'd felt since learning about the Holocaust and the Civil Rights movement - since realizing that what a person knows about the past is limited by what they are told by others.... Dad could be wrong, the great historians could be wrong, but from the ashes of their dispute I could construct a world to live in. In knowing the ground was not ground at all, I hoped I could stand on it."
Educated was bought for a six-figure sum within 24 hours of the submission being sent out, and rights have been sold in 20 territories. It's one hell of a read, and as you realize she's only in her thirties, you wonder where she'll end up - content I hope.