JD Vance's touching memoir struck a chord with many readers on its first publication last year. This wistful threnody for the American dream is now out in paperback.
33-year old Vance grew up in an impoverished family in the state of Ohio. He struggled against serious class disadvantage to become a Marine and later enroll at Yale law school and progress thereafter to a prosperous career as an investment manager in Silicon Valley.  
His grandparents - affectionately known as 'Mamaw' and 'Papaw'– were descended from folk who settled in the hills of eastern Kentucky in the 18th and 19th centuries. During the Depression, thousands of families left the Appalachian mountains to work in the factories of the north. The Vances numbered among such hopeful multitudes, and after the Second World War, they landed in Middletown, Ohio, whose economic life-blood was the thriving steel-works known as the American Rolling Mill Company.
Papaw worked for the mill and brought home a wage but the titans of industry moved operations to East Asia – indeed the very scenario was poignantly documented by Bruce Springsteen in one of his more underrated songs, Youngstown, which featured on The Ghost of Tom Joad album.
Thus the mill closed down and Vance was reared in a situation of economic collapse, as relative privilege and prosperity seeped rapidly away and no source of employment replacing the steel enterprise. Meanwhile, dysfunction corroded the Rust Belt as a community without purpose flailed about and tried in vain to find a footing. Substance and alcohol abuse became elements in the author's family story with pitiable consequences.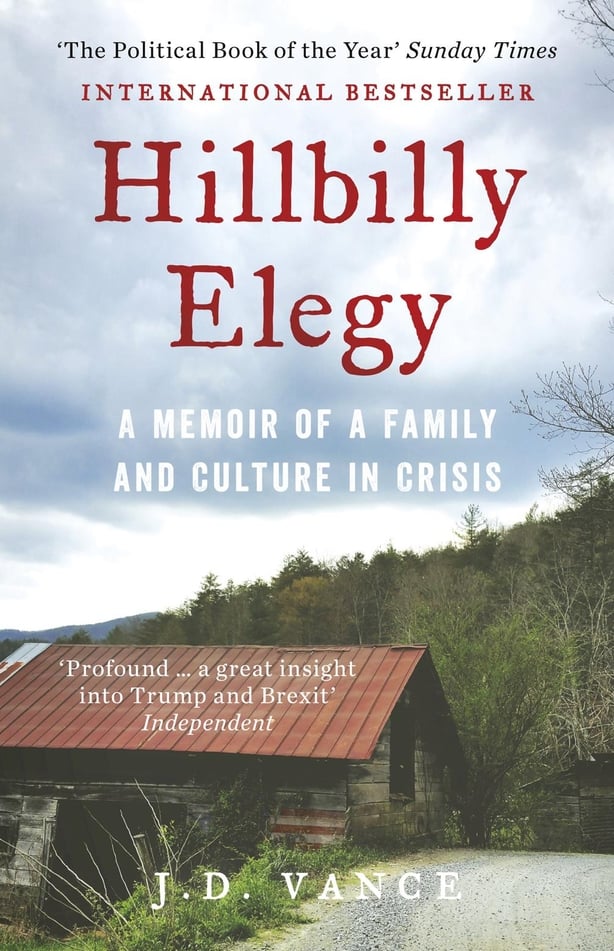 The details of Vance's chaotic upbringing are told in this 277-page account with disarming honesty in what is one of the most compelling memoirs to come out of America in recent years.
The author's sense of uncertainty and insecurity are plotted keenly and vividly expressed. Here he is talking about his sense of himself before enlistment in the US Marines. Surrounding me was another message: that I and the people like me weren't good enough; that the reason Middletown produced zero Ivy League graduates was some genetic or character defect. I couldn't possibly see how destructive that mentality was until I escaped it. The Marine Corps replaced it with something else, something that loathes excuses.
Hillbilly Elegy - whose subtitle is A Memoir of Family and Culture in Crisis - is particularly illuminating on the writer's rocky coming of age but it is also a salutary lesson in class prejudice and the hurdles which Vance had to surmount in search of some kind of solid ground.
Paddy Kehoe