In Town of Strangers, the viewer can sense the director's empathy, one is aware of a listening ear for the people who turned up for audition and ended up telling their personal stories.
"Do you want to be in a film?" Director Treasa O'Brien, who, as well being the director, is also protagonist of her own film, is asking if she can put up a poster at Gort Pizza and Kebab House in Galway.
"Do you want to be in a film?" Now, that is not a bad question to be asking in our star-struck land, or more realistically, to be asked pre-Covi, which is the period in question. You'd get thousands, you'd imagine. Even your writer here, he not so much auditioned, as had his photograph taken with a view to being an extra in Brooklyn, which was filmed some years ago in Enniscorthy. (No joy, clearly I don't have a 1950s face).
We need your consent to load this YouTube contentWe use YouTube to manage extra content that can set cookies on your device and collect data about your activity. Please review their details and accept them to load the content.Manage Preferences
O'Brien duly gets her feature in the Galway town, but it is far from being any kind of star-struck product. Nor had she intended it to be any such film. The young Brazilian woman Ana, who has been working locally, talks about meeting a man from Clare on Tinder. She shares her dreams of life with him and is glad to have his company to say the least.
"Sometimes it's lonely here, I feel so alone," she says. "I used to be a passionate person but now I'm more cold. I don't know if it's Ireland or what." The young woman had been very attached to her father in Brazil, who has since passed on. She had a dream that he appeared to her and she recalls the dream.
Often Town of Strangers is about a sense of disorientation or dislocation felt by its contributors, or a loneliness which might be alleviated if they had someone to talk to. Far from wanting to be "in a film," it's more that the contributors want to tell their story, or at the most basic level, just talk to someone. 
In other words, the film has a sociological bent, and it could be usefully contrasted with Keith Walsh's highly poetic documentary When All is Ruin Again, which was released last year and much of which was also filmed in or around Gort.
They are nor companion films by any means. Walsh's essay seems to be magnetically attracted to WB Yeats' tower at Thoorballylee, which is in the locality, and which has a kind of talismanic presence in his film. The work cleaves closely to a vision of fate, of generations passing, of a language threatened, with a subtly-pitched warning note about mankind's exploitation of the planet.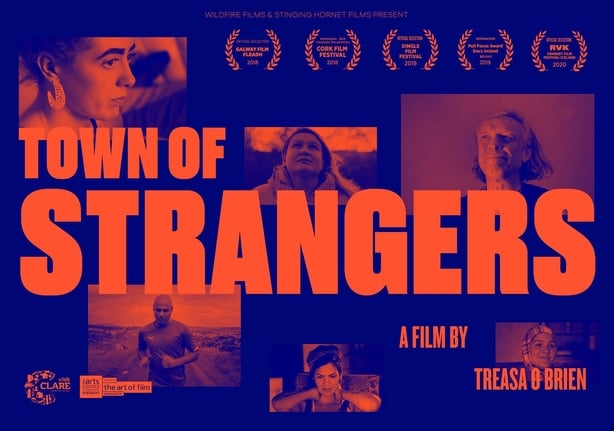 As Town of Strangers does, When All is Ruin Again features the Brazilians who work locally at the meat factory. we see them only in cameo, dancing in a street festival, they are not interviewed. People do tell stories in a fragmentary way in the Walsh film. However, the documentary is more interested in placing the material in a wider, ecological context. 
Town of Strangers is, first and foremost, a meeting with local characters who, typically, have settled in the town, who might have blow-in status, or come in from the margins in search of comfort or warmth. It affords the micro view, but from it people may deduce a macro view about alienation. To view it as an exercise in eccentricity and local colour would be to limit its vision, and it is delving into more than that.
Hamid works at Gort Pizza and Kebab House and he is haunted by his native (war-torn) Afghanistan. "I came from under the truck," he says. "I got off in Dublin and I asked someone 'Where am I?'" He recalls being scared of people on the street because of the kinds of looks he was getting. He is not confident with his command of English.
What emerges is a picture of characters who are struggling, who have known rejection and displacement, pain, confusion, individuals who have had to adjust to life in this small town in the West. These are often glimpses of troubled lives. The people we meet in the film, have, we imagine, become friends with the director. O'Brien stands in the street, late in the film, talking to the Afghan man near the eatery where he works.It is a strange, silent tableau.
New age hippy Ralf from England talks about being a New Age Traveller in South Wales, playing there with a band, before he ended up in Ireland seventeen years ago. A local pub provided his first social locus, he recalls, "speaking to all the rednecks - because I was brought up on a farm myself." He would like to live in even greater solitude than he does, maybe in nearby Eagle's Rock, which has a cave where a hermit once lived. Once ensconced there he might "finish me book." 
Chloe is a local 18-year-old girl from the Travelling Community. Her mother made her do the Leaving Cert, she doesn't want to get married just yet, because she has her whole life ahead of her. She goes to a fortune teller. "Don't let this fella fool you," the woman says gravely, picking at the playing cards and reviewing the characteristics of the guys Chloe will meet in time. If the self-same WB Yeats were around, he would be fascinated. 
We also meet the Syrian woman Elham. "I remember in the morning my mother would wake me up and make me coffee," she recalls. We see her on Facetime with her mother and father. "Are the Irish people nice?" one of her parents asks. "They are, thank God," she replies in Arabic. 
Paddy Kehoe
Town of Strangers opens on IFI@Home, Friday March 19th.
Note: No IFCO cert available. 12+ is the Irish Film Institute age recommendation