When All is Ruin Again draws near to poet WB Yeats' tower at Thoorballylee, cleaving close to a poetic vision of destiny, of generations passing, of a language threatened, with a subtly-pitched warning note about mankind's exploitation of the planet.
Through resonant cinematography, Keith Walsh represents in his highly personal documentary essay, an original view of contemporary Gort (co Galway) and Crusheen ( Clare) and their environs, inhabitants and their customs, visitors and indeed visitants. When All is Ruin Again - the title comes form a line from a WB Yeats poem - was filmed, directed and edited by Walsh. Born in 1979, the Waterford man studied film and television in Galway, and began professional work while at college. 
Winner of several awards including Best Cinematography at the Galway Film Fleadh and Best Film at the Kerry Film Festival, this rhapsodic documentary was filmed over a seven- year period and completed in 2018. Walsh set up his camera in locations in the counties of Galway and Clare, but one suspects that much of what he did afterwards was what makes the sheer visual poetry.
There are - I'm guessing here -  filters and various elements of software at the film-maker's disposal to create great images, but that is not really the point. The auteur has made it look organic, almost random at times, veering between images of the new motorway to the West, opened in 2010, while encompassing a disparate range of other sources, including the reminiscences of elderly citizens. 
Now and then we are thrown visual curve balls. What are these vibrant beads pressed into our field of vision? The camera withdraws, we see the bigger picture, the close-knit beaded pattern is a cluster of broken glass which has taken on almost runic presence.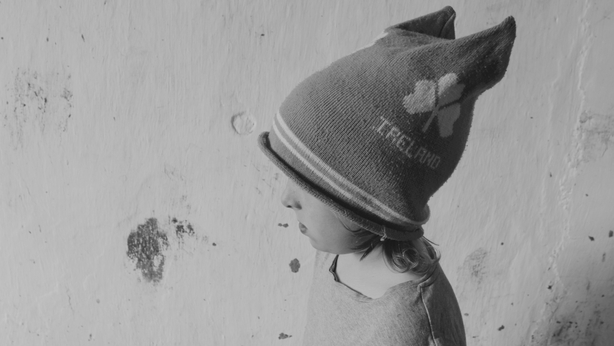 On a couple of occasions, we see the ground explode, the great burst out of the earth could be an earthquake, filmed deliberately without visual depth of field. But it's not seismic disturbance, this is a piece of ground, mined and detonated for development, most likely the construction of the motorway we have seen earlier.
Unemployment was hitting Gort and the country in general at the time  of Walsh's filming, and there were many people taking flights to Australia for work. Our immigrant experience is recorded also, through scenes of Brazilian workers celebrating, a curious counterpoint to the Straw Boys who have performed their dances for centuries in Connacht. 
Walsh's film, however, is not about periods of boom or bust, he prefers to see a grander cycle, like that discerned by the philosopher John Moriarty who sounds a warning note from beyond the grave about man's willfully destructive use of the planet for his own devices. Moriarty traces this back to the first page of the bible, the book of Genesis, the fish in the sea, the birds of the air, all of them and all the planet 'for man's use and benefit.' Given the strains and pressures of Covid-19, this film could not be more apposite as lesson and warning.
The director's peculiar skill is that he can work into his weave so many disparate subjects, Hail Marys and processions, a wake, a funeral, a priest's words as funeral oration about people who too had dreams and who did much to help the living. The priest is officiating at the graveside, his eulogy is a stirring moment of inclusivity. Then there is the elderly man who believes his deceased relations are looking out for him because he prays for them, down here among the living.
There is pure cinematic gold in the scenes recorded at a card school, the intent faces of the players at the bare tables, the plotting and careful calculation. He attends the local mart and once again captures it all as sophisticated visual art.
There is hurling, horse-racing, and indeed it is hard not think of Jack Yeats' racecourse paintings.  And there is music, local traditional musicians seen in archive footage and in the present. There is in fact a wealth of black and white archival film, which the director knits seamlessly with his own material.
Water everywhere too, evocative shots of a sodden landscape, Yeats' tower submerged, the faces of men shimmering as though discerned through drenched car windows. Then there are the wild horses who live off the boggy commonage, abandoned after the Celtic Tiger when people decided they didn't want to care for them after all. A local farmer keeps a careful eye. "They aren't bad but they aren't great either," he says, judging their physical well-being.
Spectacular, ruminative, lyrical and with a canny instinct for silence between its verbal interactions, When All is Ruin Once Again is a masterpiece of cinema.
When All is Ruin Once Again is available on demand from April 24. See screening details here