Saoirse Ronan is outstanding in this charming love story about a young Irish immigrant who has to make an agonising choice between heart and home 
Is Brooklyn the most Irish film ever made? It is certainly brimful to frothing point with all the images and rituals of a nearly vanished Éire, a place of kindly, twinkly-eyed priests, indeterminable Sunday masses, and buttoned-down small-town parochialism. You can almost smell the cabbage and bacon wafting through the grey streets of Enniscorthy in the early fifties. It is like a John Hinde postcard written by Maeve Binchy. The Quiet Man is even mentioned at one point.
But John Crowley's charming, vivid and tender adaptation of Colm Tóibín's book is so much more than that. It artfully subverts any charges of shamroguery by telling a gripping story of small lives facing upheaval with all the spirit and craft of a classic American film from the era it captures so very well. It also boasts career-high performances from Saoirse Ronan and Domhnall Gleeson which are understated and quietly devastating.
Ronan plays Eilis Lacey, a bright but timid young woman stuck in the stultifying atmosphere of small-town Ireland in 1952, a place where the main pastime for young women with limited choices seemed to be husband hunting. It looks like Eilis will take the route of marriage to a local boy and observance and obedience to all that is expected of her, but when a local priest domiciled in New York, Fr Flood (a marvellous Jim Broadbent) offers to sponsor her, she seizes the chance to break free and forge a real future for herself.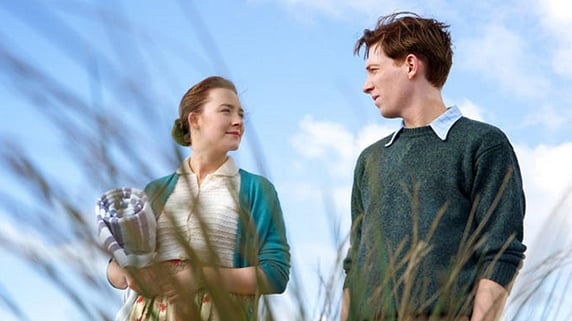 Saoirse Ronan and Domhnall Gleeson both give career-high performances. 
Her first months in Brooklyn are spent in terror. She is crippled by shyness and homesickness until she meets Tony, a handsome and romantic young Italian man who woos her diligently at the local Irish dances. He is part of an American-Italian family, who like much of Brooklyn, come straight from central casting and Eilis' visit to their humble apartment for dinner is one of the few things here that doesn't ring quite true.
With Fr Flood having secured her a job in an up-scale department store in Manhattan and a wise old owl of a landlady (a brilliant Julie Walters) watching over her in the boarding house where she has been installed, this Wexford girl's new life in the New World looks secure. Cupid and Tony have big plans for Eilis Lacey. 
However, when an emergency forces her back home, Brooklyn changes gear dramatically and enters into a dramatic and brilliantly-handled third act which captures the sense of dislocation felt by every Irish immigrant. The film also thankfully loses a mounting suspicion of schmaltz. Eilis re-enters her old life like an exotic bird who fully intends to return to her new life abroad but finds that everybody is determined that she stay, not least her grieving mother. New York is becoming a fast-fading memory and young Eilis Lacey is caught in an agonising choice between head, heart and home.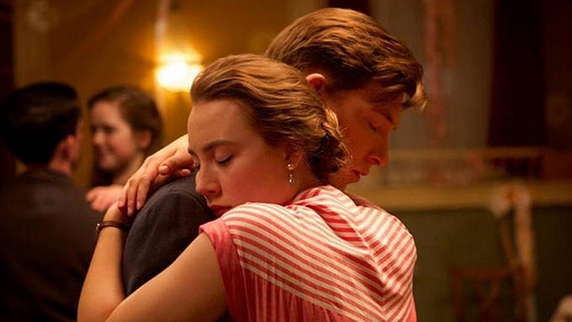 Ronan gives the performance of her career. Eilis can be infuriatingly passive but there is never any doubt about her mounting sorrow. The camera is nearly always on Ronan in full luminous close-up, as we try to divine the thoughts and the chaos racing through her mind under that serene surface. 
Domhnall Gleeson as Jim Farrell, the handsome young man from Enniscorthy's upper echelon who also tries to win Eilis' heart, is superb and turns in a performance of real restraint and nobility. There is also a great turn from Eva Birthistle as a glamorous blonde who shows the gauche Eilis the ropes (and the sick bucket) on her distinctly unglamorous voyage to New York.
Back home in Enniscorthy, the locals are supremely entertaining. As the only bad egg in a movie full of likeable and more importantly, believable characters, Brid Brennan is superb as Mrs Kelly, the local battleaxe of a shopkeeper who has earned herself the nickname "nettles" Kelly and who observes a nauseating pecking order when it comes to counter service in her shop.
It all comes bathed in an almost holy light by cinematographer Yves Bélanger. Brooklyn is all rich greens, vivid reds and flowery yellows. A trip to Coney Island is like being dropped inside a candy box and when Eilis (for which you can read Ellis Island) first enters New York, she does so in slow motion through a battered old doorway into a Technicolor world flooded with sunshine.  
Ever the populist, screenwriter Nick Hornby respects Tóibín's nuanced prose without losing any of the power or the meaning of a glance or a silence. Tóibín himself always set out to write an unashamed romance novel as an addition to his more literary oeuvre - almost as an exercise in style and that's no bad thing. This is the kind of movie which will be shown on RTÉ One on Christmas night for the rest of time. And why not? Brooklyn is heart-warming, funny, and thought-provoking. It also looks just ravishing.
Alan Corr 
Brooklyn is in cinemas on November 6
Click on the video link to watch TEN's interview with Saoirse Ronan