Uncut Gems is on Netflix from today, January 31. You're in for a treat.
It is rare that a film as relentlessly propulsive and uniquely gripping as Uncut Gems comes along - probably about as rare and mesmerising as the uncut opal around which a lot of the action centres in this high-octane thriller.
From acclaimed sibling filmmaking duo Josh and Benny Safdie, who were behind the excellent 2017 crime drama Good Time starring Robert Pattinson, Uncut Gems similarly thrives on chaos and a mounting sense of stress that verges on panic-inducing.
Adam Sandler is fully immersed in the role of Howard Ratner, a fast-talking Manhattan diamond district jeweller who funds his compulsive gambling habit with increasingly high stakes dodgy dealings.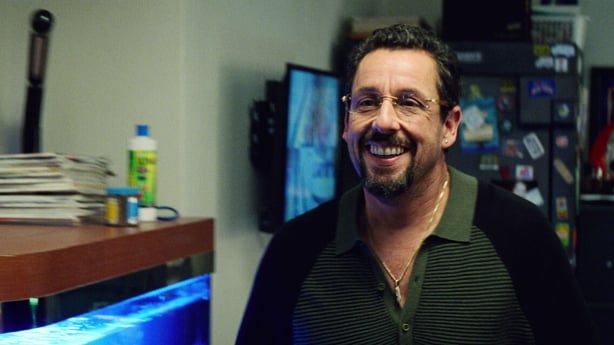 He's a hundred grand in the hole with Arno (Eric Bogosian), a sinister loan shark who also happens to be his brother-in-law, and has pinned all his hopes on making the money back by auctioning off an uncut black opal smuggled in from Ethiopia.
The gem promises to be more trouble than it's worth. When Howard's middleman Demany (Lakeith Stanfield) brings in NBA superstar Kevin Garnett (playing himself) to the store, the basketballer becomes obsessed with its supposed auspicious properties.
He insists on taking it as a good-luck omen for an upcoming match and leaves Howard with a valuable ring as collateral. So begins an increasingly high-wire act where Howard must juggle making progressively outlandish bets and smooth-talking the knuckle-cracking goons on his tail, all the while navigating his complicated family life.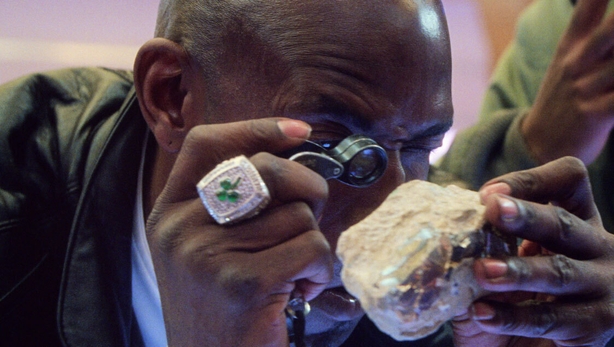 Sandler puts in a career-best performance as the wheeler-dealer who operates under levels of stress and worry unimaginable to anyone else. Idina Menzel has a smaller but no less impactful role as Howard's estranged wife Dinah, while newcomer Julia Fox is magnetic as his employee and girlfriend Julia.
The Safdie brothers have built a whole world for these characters to live in - garishly painted and crackling with tension. The non-stop chatter and overlapping dialogue create a sense of pandemonium that leaves your head swimming, but in the best possible way.
It's an endlessly nerve-wracking, visceral assault of a movie that will leave you exhilarated and probably more than a little relieved to be exiting the cinema.
We need your consent to load this YouTube contentWe use YouTube to manage extra content that can set cookies on your device and collect data about your activity. Please review their details and accept them to load the content.Manage Preferences