There has been some nervy joshing and odd-looking attempts at bigging-up going on around the release of Terminator: Dark Fate. Methinks these film critics protest too much and maybe feel bad about being uncharitable to Terminator Genisys, the last outing for the series in 2015.
We need your consent to load this YouTube contentWe use YouTube to manage extra content that can set cookies on your device and collect data about your activity. Please review their details and accept them to load the content.Manage Preferences
One UK news report has gathered a fistful of first reactions in efforts to declare it the best sequel since Terminator 2. "Easily among the year's most entertaining action films," cooed someone, while another describes it as "an on-the-edge-of-your-seat, popcorn-guzzling watch for old and new fans alike."
Hmm, it's not. It's one of the most turgid, mind-numbing exercises in so-called cinematic craft that one could ever expect to witness and hear, very loudly indeed, way louder than the crunching of popcorn. You could be a half-man half-machine and crunch monster rivets instead and no one would hear you in the unceasing torrent of noise.
Anyway. It is over twenty years since Sarah Connor (Linda Hamilton) prevented Judgment Day, when in the immortal words of the publicity tag-line, "(she) changed the future, and re-wrote the fate of the human race."
Now we are down Mexico City way, where Dani Ramos (Natalia Reyes) is living in a modest flat with her brother (Diego Boneta) and her father. She is keeping an eye on both in her breezy, sisterly-maternal way, making sure papa goes to that doctor's appointment, being affectionate and protective about her bro. All three are decent folk, harming no one. That is until a lethal new Terminator, the so-called Rev-9, played with featureless sangfroid by Gabriel Luna, decides that Dani must be wiped out.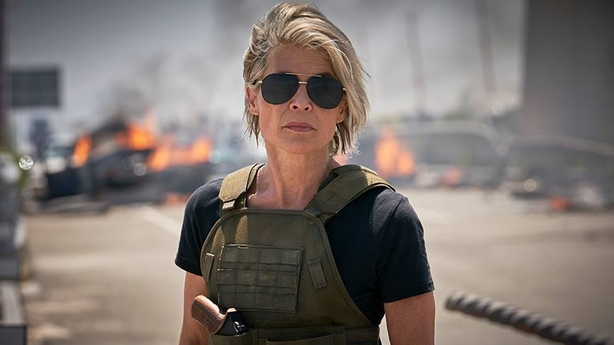 The self-same Rev-9 travels back in time to chase the hapless youngster at high speed down those Mexican highways and do his damnest to kill her. Homely but feisty Dani, it transpires, is destined to save the human race, or some three billion souls, although she doesn't know this just yet. She thought she would be installing foot-mats and digital displays in cars for the next fifty years, but Rev-9 has different plans for her and none of them are reverent.
The dastardly, dogged shape-shifter brazenly arrives at her place of work at the car factory, disguised as her father. She later learns that papa will have died at his hands - if Rev-9 has taken on the identity of a human, then that human has had to die, she is told by the willowy action figure Grace (Mackenzie Davis).
However, help is at hand in the changing, but always androgynous shape of Grace, who is the first of Dani's saviours, an enhanced or augmented part-woman, part-machine creature. She falls into the story from the sky over Mexico city one murky night, determined to save Dani. Once she has gotten some clothes on - she was in her birthday suit - she sets to her task with a hell of a lot of kicking and punching. She is from the future, see, so she also knows the crucial role which Dani will play in saving humankind.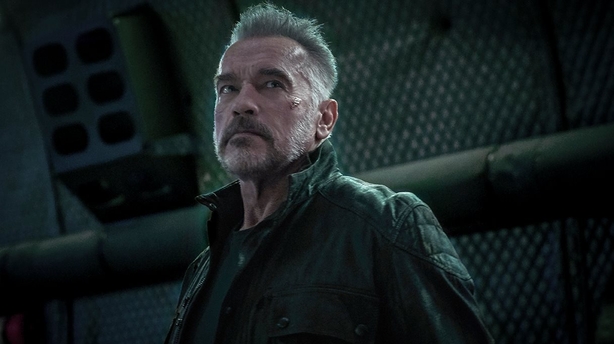 Proud to show her visibly lined features and tersely foul-mouthed in a voice that sounds coated with nicotine, the redoubtable Sarah Connor (Linda Hamilton) also helps out in the perpetually failing attempts to eliminate Rev-9. Were the role to be a bloke's, she would be played by Nick Nolte but he predates this kind of inclusive film-making with its risible tokenism towards age and femininity. You're history, Nick, I mean we can have Arnie in the last act but not you as well.
This unlikely trio of females, who fulfill all three age demographics - young, middle-aged, elderly - are led to the best-known T-800 north of the border, down Mexico way, played, yes, by the redoubtable Arnie. At 72, Master Schwarzenegger is beginning to look leonine and weathered, with the right lived-in qualities for that King Lear stage role that surely beckons in some bijou but trendy Los Angeles theatre.
Will the Triton T 90 - sorry, the T-800 - save the day or night or whatever it is, in all this time-shifting and characters from the future becoming past or vice versa so much that it might hurt one's head? One thing for sure - we know T-800 cannot rescue us from this awful nightmare.
Paddy Kehoe