Waterford actor Moe Dunford has no less than three films due for release at the moment. He talks to Alan Corr about suffering for his art in his latest, The Dig 
"No pain, no gain," says Moe Dunford, smiling his very winning smile. The 31-year-old Dungarvan native is recalling the almost heroic lengths he went to while shooting his latest film, The Dig, a gritty - in every way - Irish western that sees him and Lorcan Cranitch excavate a desolate Irish bog hoping (or dreading) to turn up something from their past.
We need your consent to load this YouTube contentWe use YouTube to manage extra content that can set cookies on your device and collect data about your activity. Please review their details and accept them to load the content.Manage Preferences
The film is the tight and economical debut feature from twin brothers Andy and Ryan Tohill and Dunford, playing Ronan Callahan, a man who returns to his hometown after 15 years in prison, really did suffer for this art.
At various points in The Dig he gets whacked across the head with a spade, falls down a well, gets beaten up by local thugs and then suffers the indignity and pain of being gunged by a malfunctioning shower in an abandoned house out on the bog.
It looks like the earth is going to swallow him up as he toils in Sisyphean agony with a spade as Cranitch's character glowers on from the distance. "It looks tough on screen and it was tough, it was freezing," says Dunford.
"I'd rather be digging hole in a bog in Antrim, making a good story"
"We had three weeks to do it, everyone pulling their weight. Vikings was a bit easier because you'd have a hundred lads saying `get up, Moe' - this time you're on your own."
Shot in Antrim, the Tohills, who honed their skills on various short films and documentaries, have described the shoot as "three weeks of creative hell" for the crew, Cranitch, Dunford and co-stars Emily Taffe and Francis Magee.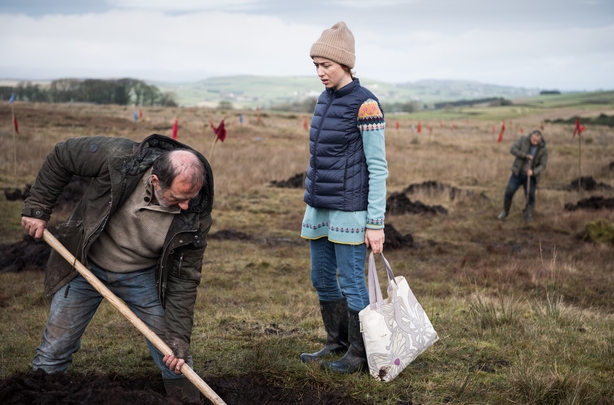 "On a normal working day, we'd get up at 5am and it would be dark out, you arrive on set, Lorcan Cranitch is behind you trying to put on his wellies before we get out of his car, you get to you trailer, it's black, and then you arrive on set, which is a bog . . . " Dunford says.
"All four of ye are sharing the one trailer and you arrive on this bog for the whole day but you've only a few hours of daylight and if you have one set-up and the camera is on you, it takes half an hour to move all that gear because of the bog.
"We're sinking into the bog, wellies are getting lost, people were getting sick with the flu so we were up against it. As my father said when I told him about it, you may get sick, you may get cold but it will look good on screen."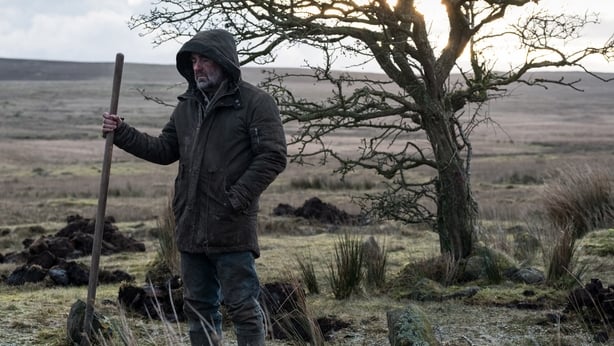 The Dig is a very impressive debut, not least for the brevity of the shoot and the conditions in which it was made. And like that bog, for Dunford, it was a role he could really sink into. "In its essence, it's a western. A man gets out of jail, comes home, it's in the first few minutes of the film but it's quite deep," he says.
"I like the idea of him being an alcoholic and he allows the people he's hurt in the past do or say anything to him, no matter how violent and that's the nature of atoning and AA."
31-year-old Dunford has had an impressive rise. Beginning with a four-year stint on bloody historical drama Vikings, he's gone to make acclaimed appearances in Michael Inside, Rosie and Patrick's Day as well as starring in RTÉ drama Striking Out.
"I want to keep telling stories like that but I want to branch out. If Hollywood happened, I would absolutely take a big gig."
Despite that seeming ubiquity, The Dig is Dunford's first lead role in five years and it's his latest star-making turn. Right now he has no less than three films about to be released. Along with The Dig, Metal Heart and Ian Fitzgibbon's adaptation of Kevin Barry's Dark Lies the Island are also on the way and he is currently working on The Dublin Murders, a new BBC drama with his Rosie co-star Sarah Greene.
So is he a boy who just can't say no? "No, I'm very particular," he says without hesitation. "I'm been off work for a couple of months now and a few things have been offered to me but I said no because they're not right for me, they're not what I want to put out there.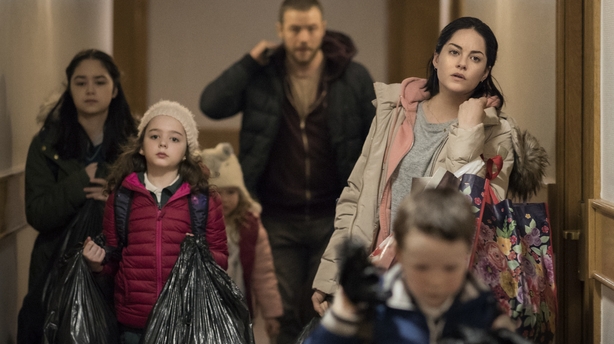 "It's all about making the right choice. I want to branch out, I've done a lot of good Irish stories and worked with people I admire, like Kevin Barry and Roddy Doyle and Frank Berry. I want to keep telling stories like that but I want to branch out. If Hollywood happened, I would absolutely take a big gig."
"That's the real Ireland to me, what's going on in Dublin and on our streets. I hope more stories are told like that."  
The Dig is another story of the squinting windows of small town Ireland, something Dunford has always been very attracted to. "I'm from a small town and they've been very good to me and supportive of me and I've seen over the years how the town has struggled and people have been lost along the way but this character of Callahan goes home and nobody wants him.
"They wish he was dead and that to me was very attractive as a character because he has to overcome those obstacles. Ireland isn't just about Dublin and I like stories that show Ireland's dark and angry and raw and not shiny Dublin."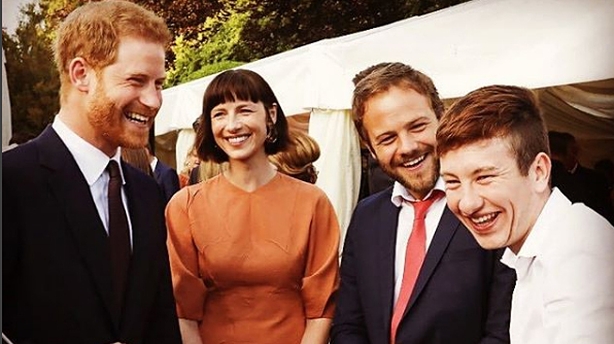 Last year's Rosie is set in a very un-shiny Dublin. A harrowing family drama about Ireland's housing crisis written by Roddy Doyle, Dunford says he felt real anger while making it. "It came from a place of anger. Roddy heard about the woman who was living with her family in a car and he wrote the screenplay from a place of anger. The characters we were playing weren't angry people, they're trying to survive.
"They're going about their day as they do every day except their home was in a car. Myself and Sarah, all of us, were feeling pretty damn angry - 100% that's coming from a place of anger. That's the real Ireland to me, what's going on in Dublin and on our streets. I hope more stories are told like that."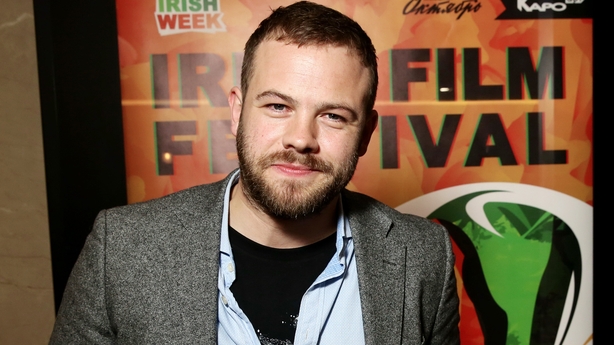 Already a two-time IFTA winner, Dunford is due in California to accept a Breakthrough Artist Award at the Newport Film Festival this weekend where he has three movies being screened, Metal Heart, Rosie and The Dig.
What do the gongs and accolades mean to him? "I'd rather be digging a hole in a bog in Antrim, making a good story. I'm tell you honestly, they rang me and asked me to come out so they could give me some recognition for the movies I've done, the three Irish movies I have at the festival, and that to me means a great deal. 100% I'll go out for that but it's all about the work for me.
"When we were shooting The Dig, the likes of California was never on my mind. It's all about the story, all about the story. That's everything to me."
Alan Corr @CorrAlan2
The Dig is in cinemas now