Peter Coonan and Charlie Kelly, stars of the new pitch-black comedy Dark Lies the Island, said they hope the film will get audiences talking.
Directed by Ian Fitzgibbon from a script by acclaimed Irish author Kevin Barry, the film centres on a small Irish town over a week long period. As well as Coonan and Kelly, the stellar cast of top Irish acting talent includes Tommy Tiernan, Pat Shortt, Charlie Murphy and Moe Dunford.
Speaking to RTÉ Entertainment at the film's premiere at the 2019 Virgin Media Dublin International Film Festival in Cineworld on Wednesday (February 27), Kelly said: "I think this film touches on the dark comedy that we love in Ireland, but it also touches on other things like mental health.
"I know the character that you [Coonan] play is suffering from several different things that he hasn't got treatment for over a long period of time and you see the results of someone who doesn't talk."
We need your consent to load this Facebook contentWe use Facebook to manage extra content that can set cookies on your device and collect data about your activity. Please review their details and accept them to load the content.Manage Preferences
He continued: "And it's the same for the character that I play, TJ, and for I think my brother Patcho, it's people that don't talk and aren't good at talking. Dark humour is a massive part of this film but there's that strand of it as well of people not talking and hopefully people can see the effects that that has, because in this film the effects are quite strong."
"And hopefully people will just want to talk and not be like these characters in a way", he added with a laugh.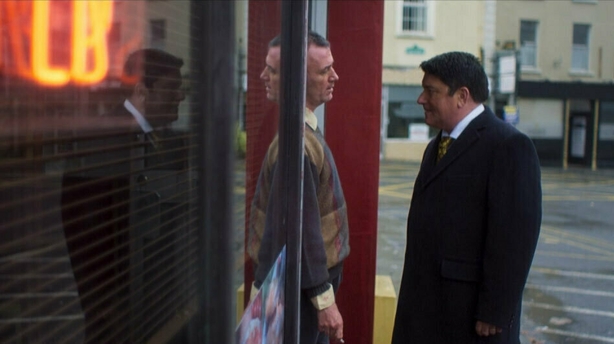 Peter Coonan continued: "As Charlie touched on there, it's the world that he [Barry] encapsulates with these well drawn out characters, but also he's speaking about a kind of forgotten people in small town Ireland. When other people move away, and move to Dublin or move to different places, these are left behind with the problems of maybe a family, or people who've spent time in institutions.
"I think ultimately what we are able to do well, and what Kevin is able to do incredibly well, is to draw out the comedy and the darkness in these characters while also making it relatable to the everyday person who is maybe struggling with something."
He added: "I think from a cinematic point of view, it's a very visceral, beautifully thought out film and the colours and the vibrancy of it are there to counteract this dark world that's being created."
Virgin Media Dublin International Film Festival premiered Dark Lies the Island in Cineworld on February 27.
Watch our interview with director Ian Fitzgibbon below.
We need your consent to load this rte-player contentWe use rte-player to manage extra content that can set cookies on your device and collect data about your activity. Please review their details and accept them to load the content.Manage Preferences