C'est La Vie! is a zesty diversion, funny and touching and set almost entirely at a wedding in a glorious-looking 17th century French chateau.
Max (Jean-Pierre Bacri) is the wedding caterer under pressure in his curiously funereal black suit and dark shirt, racing around the place trying to organise a ragged bunch, his decidedly eccentric gang of wedding operatives. These guys, cooks and waiters and musicians, are working hard, sort of, behind the scenes, to prepare what will hopefully be a successful and sumptuous wedding for the equally eccentric but utterly vainglorious groom, Pierre (Benjamin Lavernhe).
The omens are not good. Max's love life is not in good shape, hence he often wears the expression of a sad clown. Bacri, the actor who plays him has an amazingly expressive and malleable set of features and we mildly wonder why we haven't seen him star in other French films to date. His new love interest, the alluring Josiane (Suzanne Clément) works with him in the wedding business. She is none too pleased that he is slow to tell his wife that he has someone new in his life - grasp the nettle and be done with it, in other words.
One doesn't want to spoil the wedding, as it were, but suffice to say that everything that could go wrong, well, goes wrong. Ruined food, power outages, awkward and ongoing requests for Maurice Chevalier songs from the older guests, stand-up rows between Max and his seditious staff, you name it.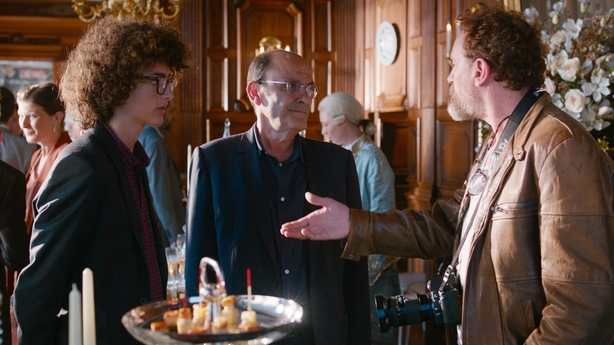 Add in too Gilles Lellouche as James  - er, real name Etienne - an unduly assertive singer who must quell his unusual James Brown tendencies for the sake of a wedding which is to be 'sober, chic and elegant,' by request of the ghastly, preening groom.
We need your consent to load this YouTube contentWe use YouTube to manage extra content that can set cookies on your device and collect data about your activity. Please review their details and accept them to load the content.Manage Preferences
The movie crests engagingly towards a visually dynamic finish in which the groom becomes alarmingly more airborne than he intended (to say more is to spoil.) Despite all the aggro between Max and his staff, in the end, he is, er, wedded to it. He can't resist the gig, and just can't, when the chips are down, agree to the proposed buy-out by another party, can't ultimately contemplate retirement, despite all the headaches. Speaking of the chips, do they ever get down, one wonders, because things go radically wrong with the culinary arrangements.
Heart-warming and anarchic, C'est La Vie is unpretentious fun and it opens at the IFI on Friday.