Irish trad band Beoga have been announced as the opening act for Ed Sheeran's Irish tour this summer.
The Antrim-based five-piece group first worked with Sheeran when they co-wrote his massive hit Galway Girl for his 2017 album ÷ [Divide]. They also appeared on another track on the album, Nancy Mulligan.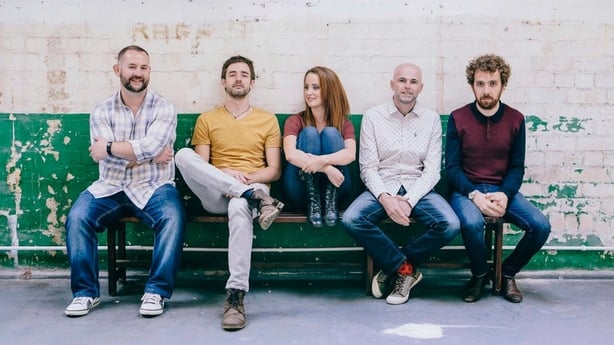 The band performed with Sheeran in front of 150,000 people at last summer's Glastonbury.
Beoga tweeted their excitement at supported Sheeran on his Irish tour dates, writing "YUSSSS!"
**BIG NEWS** Our new song 'We Don't Have To Run' featuring @ryanmcmusic will be released on May 4th. OHHH and we can finally reveal that we're supporting #edsheeran on his Irish tourdates. YUSSSSS! pic.twitter.com/vcxhO1z87J

— Beoga (@beogamusic) April 26, 2018
The trad band have been working on new material with Snow Patrol's Johnny McDaid and Foy Fance and are set to release the first single from these recording sessions, We Don't Have To Run featuring Ryan McMullan, on May 4. A new album is slated for release in the near future.
Beoga's bodhrán player Eamon Murray said: "We know how lucky we are to be working inside such a collective of super musicians, producers and co-writers. Everyone brings something different to the table and it's been a different process this time round."
The band have been together for 15 years and have produce five critically acclaimed albums and have been shortlisted for a Grammy. Their new material sees them finding the precise intersection between trad music and contemporary pop.
"We were making music like we'd never done before," says accordionist Damian McKee. "It was like starting again from scratch."
"It's less pressure as well," agrees Sean Og Graham (accordion / guitar). "You only have to come up with eight bars of something or find a really good hook. But it's challenging to find something that's vibey enough to last through an entire song."
The band are headlining a gig in Cork's Cyprus Avenue on May 3, before embarking on Sheeran's outdoor Irish summer tour which will take them to Cork's Páirc Ui Chaoimh on May 4, 5 and 6, to Belfast's Boucher Playing Fields on May 9, Galway's Pearse Stadium on May 12 and 13 and Dublin's Phoenix Park on May 16, 18 and 19.
Alarm hitmaker Anne Marie will also be supporting Sheeran this May. She revealed the news on social media in February telling her followers that she is supporting her "favourite human on tour this year! I can't wait. this is gan (sic) be FUN!"
THE SECRET IS FINALLY OUT. I am supporting my favourite human on tour this year! I can't wait @edsheeran ❤️❤️ this is gan be FUN! pic.twitter.com/4sGnjecxcC

— ANNE♥MARIE (@AnneMarie) February 16, 2018