Ed Sheeran brought Glastonbury to a close on Sunday night with a set that divided festival goers and commentators alike.
The 26-year-old singer songwriter admitted he was battling nerves as he stepped out on the Pyramid Stage with his guitar, however it wasn't long until the crowd were singing back every word at him.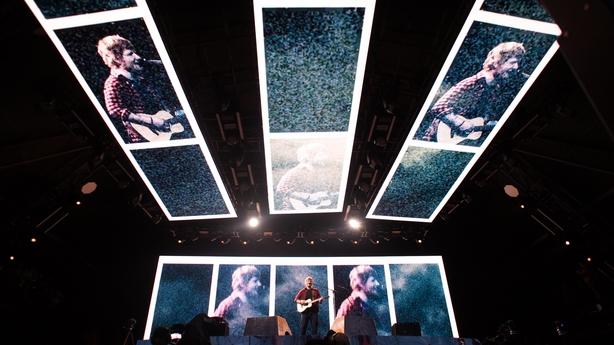 His nerves firmly put to bed, Sheeran performed some of the biggest hits of his career during the set, including Castle On The Hill, Shape Of You and Galway Girl, which he introduced by saying: "I'm going to play a song now that you might not like but I'm pretty sure you know the words to."
Irish trad group Beoga joined Sheeran onstage for a rendition of Nancy Mulligan, a song about his paternal grandmother, which went down a storm with the crowd.
Nancy Mulligan with Beoga! pic.twitter.com/w7NYMUxke9

— Ed Sheeran Updates (@EdSheeran_EU) June 25, 2017
Trad music on the main stage at Glastonbury 🇮🇪  🙌 #Beoga #Glastonbury2017 pic.twitter.com/DF88vrfEPH

— Mary Mc Intyre (@Mc1988) June 25, 2017
Little Kerry trad band beoga  on main stage with ed Sheeran. Fair play

— brian hickey (@bhickey156) June 25, 2017
Beoga bringing a bit of trad to Glastonbury with @edsheeran ..class #glastonburyfestival2017

— Emmett McGuckin (@EmmettMcGuckin) June 25, 2017
In his final moments on stage, the mega-selling artist took out his mobile phone, snapping a quick picture before carrying on singing.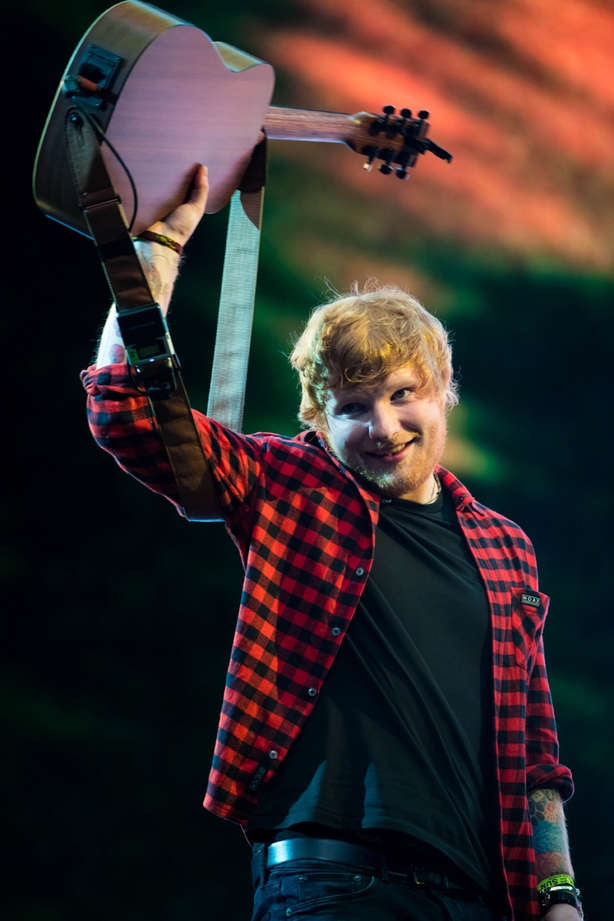 Reaction to his set has, as expected, been mixed, with some taking to Twitter to applaud his raw talent, while others thought he shouldn't have landed the leading time slot at the legendary festival.
How can anyone say anything bad about Ed Sheeran. Pure genius. One man, one guitar and I'm hooked #glasotonbury2017 pic.twitter.com/zZUMFYIjMk

— Blaine Tulley (@CptBeardyman) June 25, 2017
1 bloke
1 guitar
1 loop pedal
Thousands singing every word back at him 👏🏻👏🏻👏🏻#EdSheeran #Glastonbury

— Dan Walker (@mrdanwalker) June 25, 2017
Ed sheeran headlining Glastonbury with just his guitar and killing it with what he's come from is encouraging for the music industry.

— Brian Mcfadden (@BrianMcFadden) June 25, 2017
Ed Sheeran is literally the most talented person in the industry, what an incredible performer #glastonburyfestival2017 🎤✌️🎤

— JJ HAMBLETT (@JJHamblett) June 25, 2017
In many walks of life people are born with a gift but gotta say Ed Sheeran was born with bucketloads amazing.. pure raw talent #Glastonbury

— Iwan Thomas MBE (@Iwanrunner) June 25, 2017
However, others have not been so positive.
Talented singer-songwriter? Yes. Talented guitarist? Yes. But how on earth is this man headlining Glastonbury? #EdSheeran

— James Coles (@jcoles1977) June 25, 2017
I was just thinking, "Ed Sheeran's fairly inoffensive, not for me but whatever" and then he started 'rapping'.
Worst thing I've ever seen.

— Ian Salmon (@IanRSalmon) June 25, 2017
The irony of someone holding up a 'punks not dead' flag whilst watching Ed Sheeran headline glasto

— Jack Stirling (@JackStirling) June 25, 2017
Oh no. The headline act on the Pyramid stage at Glastonbury has been held up because the stage has been invaded by some busker.

— David Baddiel (@Baddiel) June 25, 2017
To get the maximum enjoyment from Ed Sheeran's performance - press your red button now! pic.twitter.com/68wkJwXbrB

— T'Other Simon (@TOther_Simon) June 25, 2017
Other commentators were confused by the fact that the Shape Of You hitmaker used a loop pedal on stage, accusing him of using a backing track rather than playing live.
Is Ed Sheeran signing to a backing track??? Guitar music still playing as it lies on stage #glastonbury2017 he's scamming it!!!

— David (@WeeLowry) June 25, 2017
think it would have given a better atmosphere if Ed Sheeran had employed a band instead of a backing track? #glastonbury2017 #glastonbury

— sam bramwell (@bumfluffboo) June 25, 2017
#Glastonbury
Basically it's Ed Sheeran singing to a backing track.
Couldn't he get real musicians?
I like him but all a bit karaoke.

— William Snootsworth (@Snootsworth) June 25, 2017
A serious question: does Ed Sheeran have an invisible backing band or does he play to a backing track? #theguitarkeepsplayingwhenhestops

— Paul Douglas (@paulyd1107) June 25, 2017
Am I right to say, Ed Sheeran isn't actually playing that guitar and the sound is in the backing track ??? #Glastonbury #Glastonbury2017

— Swebb (@Stephen32126670) June 25, 2017
Where is Ed Sheeran's band? Glastonbury supposed to be about live music, not singing to a backing track. Need #Davegrohl #Glastonbury2017

— Natalie Tambini (@NatDTam) June 25, 2017
Luckily, Ed wasn't short of defenders who came to his rescue.
People are really out here thinking Ed Sheeran uses a backing track... HE LITERALLY CREATES THE ENTIRE SONG ON STAGE IT'S A LOOP PEDAL

— Noshin Chowdhury (@noshinxD) June 26, 2017
I can't believe that there are still people in the world who think Ed Sheeran uses a backing track.
EVERYTHING IS LIVE. EVERY SOUND IS HIM.

— Sami 🎭 (@LANYDreamer) June 25, 2017
So many people complaining that Ed Sheeran is using a 'backing tape' clearly don't understand the concept of loop pedals

— nicola✖️ (@nixola_) June 25, 2017
If people understood a loop pedal Ed Sheeran would get more credit, everything you hear is done on that stage live

— GTHEB (@BruceRioch4) June 25, 2017
Irish actress Saoirse Ronan, who starred in Sheeran's Galway Girl video, looked like she was having a ball as she watched the performance in the heaving crowd while filming on her phone.
Saoirse at Ed Sheeran's Glastonbury set! pic.twitter.com/mfHuerUKb4

— Saoirse Ronan News (@saoirsenews) June 26, 2017
Sheeran closed Glastonbury on the famous Pyrmanid main stage on Sunday following sets from the likes of Biffy Clyro and Laura Marling.
Haim, Rag 'n' Bone man and Emeli Sande played on The Other Stage while other stages saw performances from Goldfrapp, Kano, Kiefer Sutherland, and Scouting For Girls.
The Pyramid stage was also home to a number of political statements throughout this year's event.
Marking a year since the EU referendum result, British Labour Party leader Jeremy Corbyn delighted crowds on Saturday as he walked on to introduce rap duo Run The Jewels.
There were also sets from Katy Perry and headliners Foo Fighters, who made a triumphant return to the festival two years after they were forced to pull out because of frontman Dave Grohl's broken leg.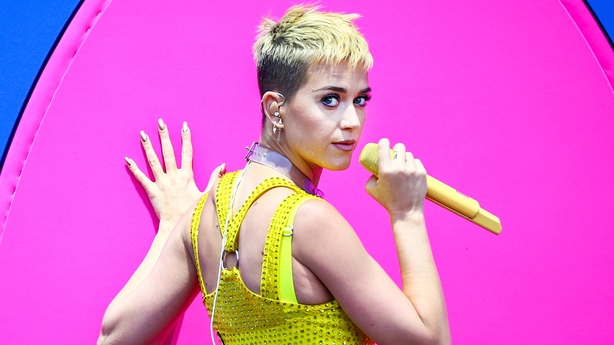 The band played a lengthy set that ran to about two hours and 20 minutes, frequently promising the crowd they intended to keep going until they were forced to leave the Pyramid Stage.
Taking festival-goers on a tour of their hits including Best Of You, Monkey Wrench, Learn To Fly, These Days, My Hero and All My Life, the band were accompanied by chants of "10 more songs" and "three more hours".
Grohl opened by thanking Florence Welch for filling in for them two years ago when he broke his leg.
Another of Saturday's performers, Liam Gallagher, paid a special tribute to the victims of the Manchester and London terror attacks, as well as the Grenfell Tower fire, as he performed.
He led the crowd in an acapella singalong of Oasis hit Don't Look Back In Anger as he rounded off his set on The Other Stage on Saturday afternoon.