Irish trad and folk band Beoga say they have been sworn to secrecy over their collaboration with Ed Sheeran on his upcoming third album, ÷.
The acclaimed Antrim-based fivepiece, who have released six albums and played shows all over the world, joined Sheeran at Decoy studios in Suffolk last June to record two trad/folk tracks, one about Galway and one about Wexford, where Ed has strong family roots.
But Beoga fiddle player and vocalist Niamh Dunne, who hails from Limerick, is remaining tight-lipped about further details of the songs. Speaking to RTÉ Entertainment, she said: "We did two songs with Ed but I can't tell you anymore! I'm sworn to secrecy! That's all I can say."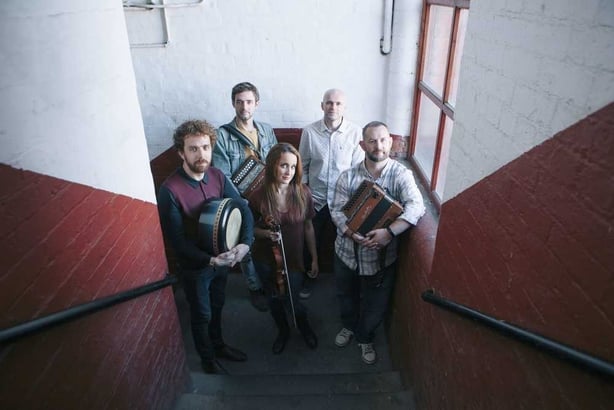 "The songs are about Wexford and Galway and we did one song when we got there that he hadn't written so the whole thing was very organic. I'd say the songs are folky." she added.
Beoga first made their connection with Sheeran through their mutual friend, Co Down singer songwriter Foy Vance. "Foy played Ed some Beoga tracks and when Ed was making his new album he thought it might be a good idea to get us over to record some songs with him." says Dunne.
"So we went over and the weather was gorgeous and we just had a great time," she continued. "We had a few beers and just hung out and it was just very relaxed. When we first met Ed, it was `oh my god!' because he's so recognisable but after that, it was just like getting to know a fellow musician really. He was great craic."
Sheeran is already well-known for his love of Irish trad and folk. He has said that one of his earliest musical memories is listening to the Irish Heartbeat album by Van Morrison and The Chieftains and he is also a fan of The Bothy Band and Planxty.
Dunne is also keeping schtum about the release date of Sheeran's new record and downplayed the fact that Beoga are about to be a big part of what is sure to be a Number One album across the world.
"We just feel massively privileged to have a break like this. We've always made a living from music so we see this as the next chapter for us." she said.
On Monday, Sheeran revealed that he had written two "full-on Irish trad songs" for his new album and that he's on the lookout for ceili dancers to appear in a video which he will be shooting in Ireland very soon.
Speaking on The Eoghan McDermott Show on 2fm, he said, "I've actually got a song on the new album which I think is really gonna explode in Ireland. It would be something to do with the county of Galway.
"I've got a trad band called Beoga, they're actually from Belfast. It's a fiddle, a pipe, a bodhran and piano and we really jam."
Sheeran, who made music streaming history last Friday with his two comeback singles, also promised to release "a couple of more" new songs before the official release of ÷ later this year.
"I should be over in Ireland soon so I'll probably put something out then," he said. "I'm definitely shooting a video for one of the songs in Ireland and I will be doing a casting because I need proper ceili dancers."
Alan Corr @corralan