Legendary Star Wars star Mark Hamill appeared on Friday night's Late Late Show where he spoke about reviving his much-loved character Luke Skywalker for new episodes of the franchise, saying "it's much more enjoyable now" compared to when he was in his twenties.
The 66-year-old actor first played Luke Skywalker in George Lucas's original 1977 Star Wars movie which ignited the hugely successful franchise.
Speaking to host Ryan Tubridy, Hamill admitted it was "a thrill" to reprise the role, saying: "I had a beginning, a middle and an end with this thing, I didn't think that even if they went on and did new films that they'd ask us to come back.
"It's so much more enjoyable now because you have a little perspective. When you're in your twenties, it was my first film, I was like 'they're all going to be like this!'"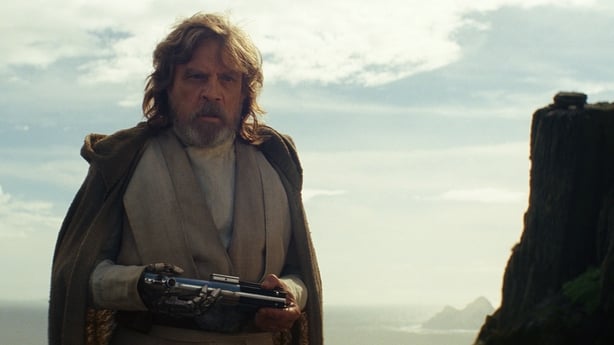 He continued: "I think the most gratifying thing it the generational aspect. The original fans have grown up, they're sharing them with their children and they're timeless in a way."
Hamill filmed his scenes in The Force Awakens and The Last Jedi on the scenic Skellig Michael island off the coast of Kerry. When Tubridy asked him what he thought when he read the script and saw the location was "an abandoned monastic site off the coast of Ireland", the actor admitted he didn't expect he would be on-location.
"I was cynical when I read it, I thought on this will be green screen, I'll just go up the road to Santa Monica to JJ's [Abrams] offices, I'll be done by lunchtime, all I'll have to do is remove my hood!", Hamill joked.
The Star Wars icon had only kind things to say about the location, apart from those infamous steps.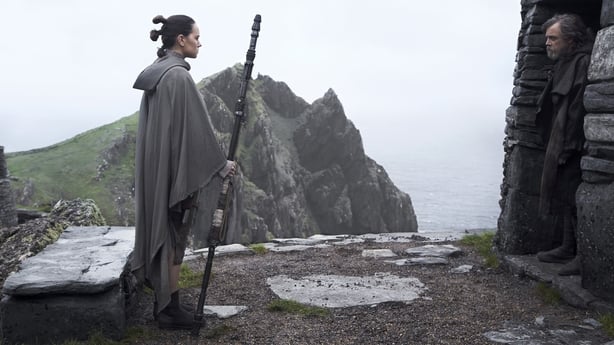 "What a spectacular location that is", Hamill said. "They make you work to get there, that climb is brutal. It's over 600 steps, your steps are kindly, these are big stone slabs.
"We had mountain climbers, one behind me, one in front of me. Not because I'm so special because I'm sort of like an investment and they don't want me to be a splat at the bottom of the mountain.
"But boy when you get up there, it's just breathtakingly beautiful and easy to believe that you're not on this earth because you've never seen anything like it in your life."
Hamill and his fellow Star Wars cast and crew located to Portmagee in Kerry while shooting, and he said that while he didn't get to sample the nightlife too often due to a rigorous schedule, his foremost memories of the time are of the people.
He said: "I'm already in love with the country because the people are so wonderful, they make you feel like family. I love this country, I really didn't go out for the nightlife because of the hours on the film, you have to get up at six in the morning.
"You come for the country but it's the people that stay in my memory."
Tubridy asked Hamill about the late, great Carrie Fisher who played Princess Leia in the Star Wars franchise.
The 60-year-old actress Fisher died suddenly in December 2016 after suffering a heart attack on a transatlantic flight.
Hamill said of his former co-star and very close friend: "Its really tough because she was irreplaceable and it's part of life, but it's very hard to deal with.
"She's so vibrant, it's hard to think of her in the past tense" - @StarWars' @HamillHimself on the late, great Carrie Fisher #latelate pic.twitter.com/1aVaHDuKrQ

— The Late Late Show (@RTELateLateShow) March 16, 2018
"She's so vibrant, it's hard to think of her in the past tense. And it's really a shame because in this next episode she was meant to be more prominent."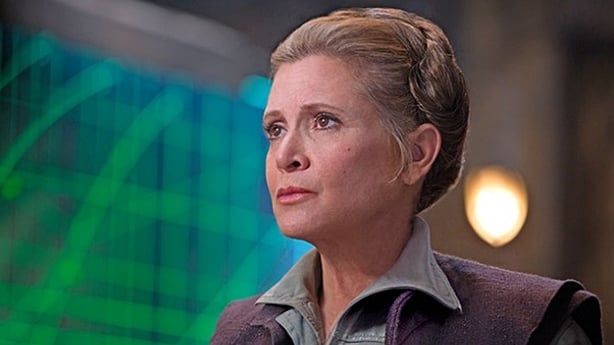 Warning: Spoiler alert about Star: Wars: The Last Jedi!
Tubridy also asked Hamill about his Luke Skywalker's fate in the Last Jedi, is he really dead or will he be returning for the next episode?
"JJ wouldn't tell me! I'd go on Ryan's show and blab it to everyone", Hamill said with a laugh.
"I haven't received a script, but listen, I had a spectacular entrance in seven, a spectacular exit in eight, and I'm just as happy to be in the audience as I am up on the screen.
"The new cast, what a cast, it's the best cast I've ever been near!", he said, before name-checking some of his co-stars such as Irish actor Domhnall Gleeson and Oscar Isaac.
Hamill is the inaugural International Guest of Honour at the St Patrick's Day parade on Saturday, which he says is a "pinch me" moment.
"I was the youngest of seven children, I went to nine schools in 12 years, I never really felt like I had a sense of community, so to be welcomed like this, pinch me! I can't believe it!"
Catch up on The Late Late Show on the RTÉ Player.