Star Wars legend Mark Hamill has been announced as the inaugural International Guest of Honour for this year's St Patrick's Festival.
The role has been created to celebrate the achievements of an individual from the worlds of business, the arts, or the media, who has a special connection or significant affinity with Ireland.
Hamill will be a special guest in the Presidential stand to view the National Festival Parade on March 17 as it passes through the centre of Dublin.
Susan Kirby, St Patrick's Festival CEO said: "The role of International Guest of Honour is something we have been considering for a few years. There are so many examples of Irish people and the diaspora achieving eminence across many different art forms and disciplines worldwide.
"Many of these have a special connection with Ireland and we want to celebrate and recognise this. Mark has a special affinity to Ireland through his filming of Star Wars and family history and has done much for our film industry.
"We're looking forward to welcoming him back 'home' to celebrate our national holiday and St. Patrick's Festival with us."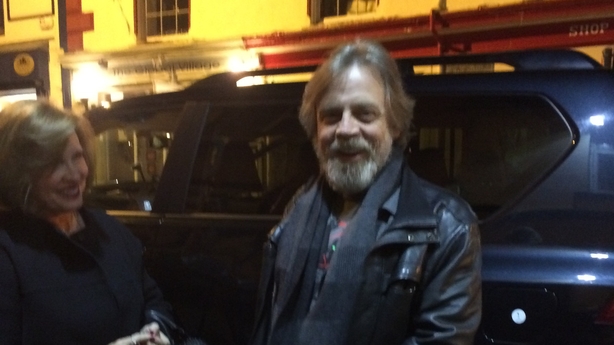 Fáilte Ireland's Head of Festivals, Ciara Sugrue added: "The Force will truly be with us on March 17 and we are delighted to hear that Mark Hamill will be joining us as the first ever St Patrick's Festival International Guest of Honour.
"Since filming Star Wars: The Force Awakens in County Kerry, Mark has been a great ambassador for Ireland and it is amazing to have someone of such universal – even galactic - acclaim in this new honorary role.
"Fáilte Ireland continues to invest significantly in the St. Patrick's Festival, an event which not only attracts tens of thousands of international visitors but also showcases Ireland as a fantastic tourist destination to global media.
With this year's special guest, we will have an extra bit of magic for this wonderful showcase for an Irish welcome."
Click here to read our review of Star Wars: The Force Awakens