The British royal brothers had a boys' night out at the European premiere of The Last Jedi at the Royal Albert Hall in London, where they met members of the film's cast and crew.
William and recently-engaged Harry reportedly have secret cameo roles as stormtroopers in the latest instalment of the hit sci-fi series.
The siblings - both Star Wars fans - visited the set of the movie in April 2016 and were rumoured to have filmed a scene in disguise.
Dressed in tuxedos, William and Harry were driven up the red carpet and greeted by Star Wars character BB-8.
Click here to read our Star Wars: The Last Jedi review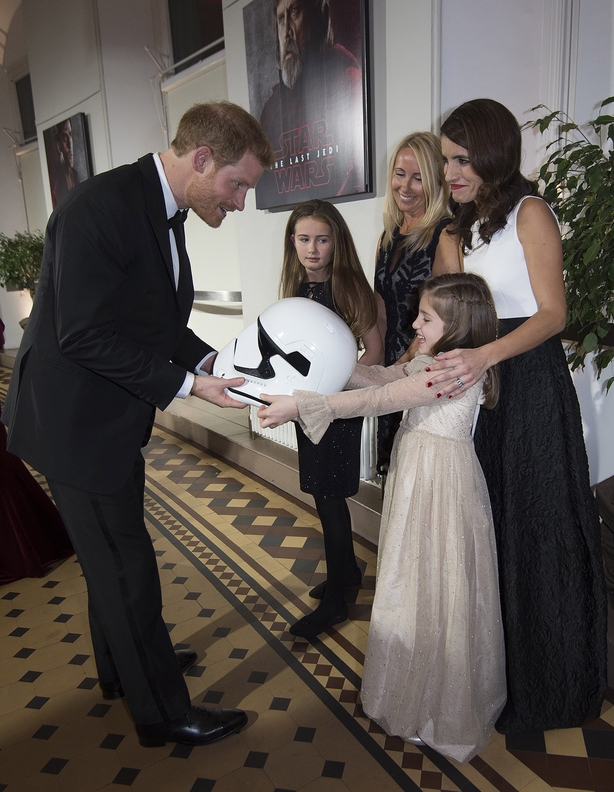 After meeting representatives from charities, the royal pair met the cast of the film and were presented with stormtrooper helmets.
Making the presentation of the helmets were Lily Chambers, 12, and eight-year-old Eloise Lerner - whose fathers both work for Disney.
Joking with Eloise, Harry said: "Am I supposed to wear this during the film?"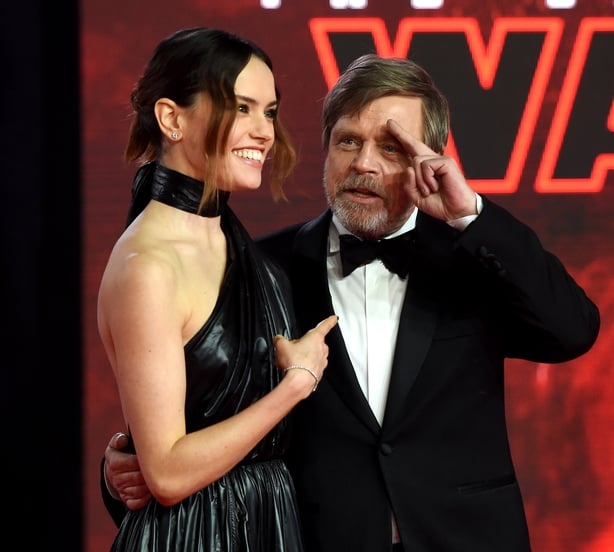 John Boyega, who plays Finn, also took to the red carpet alongside fellow stars Mark Hamill (Luke Skywalker), Daisy Ridley (Rey) and Gwendoline Christie (Captain Phasma).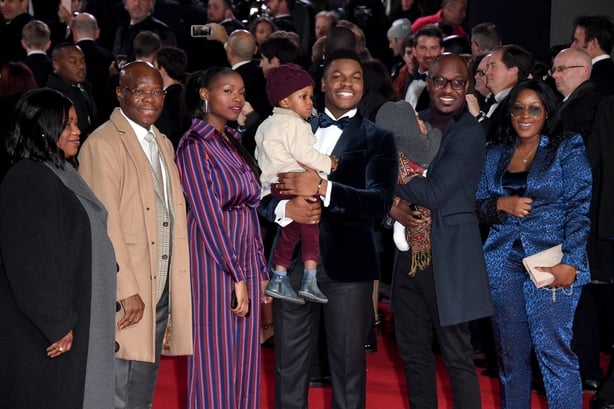 Boyega, 25, excitedly introduced his parents to the crowd before being interviewed, saying: "This is crazy, you lot, thank you so much, the love is appreciated."
His glowing father said that they were "very proud of him".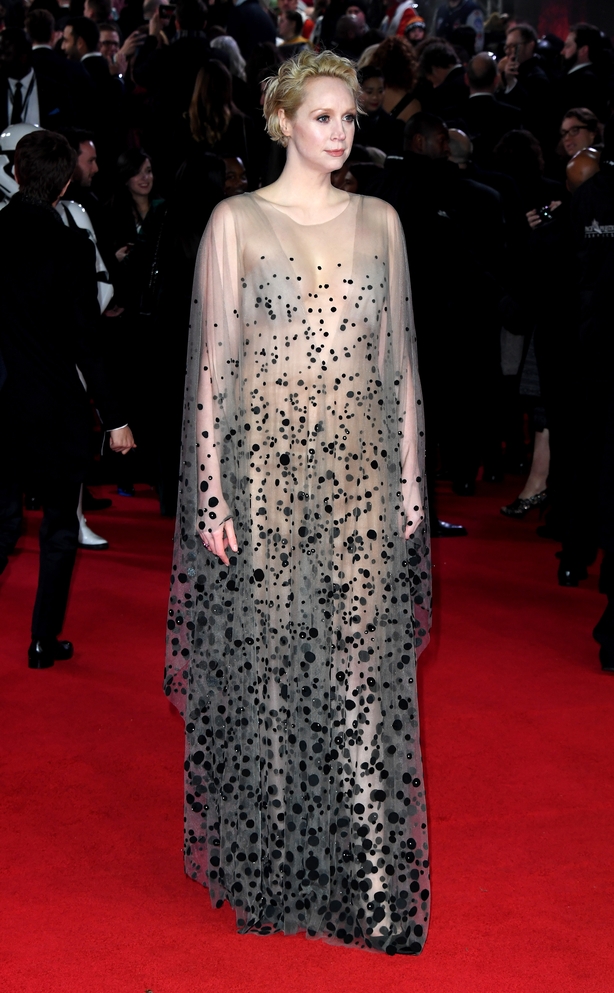 Meanwhile, Gwendoline Christie stepped out of her foreboding Captain Phasma uniform and into a flowing floor-length gown patterned with black.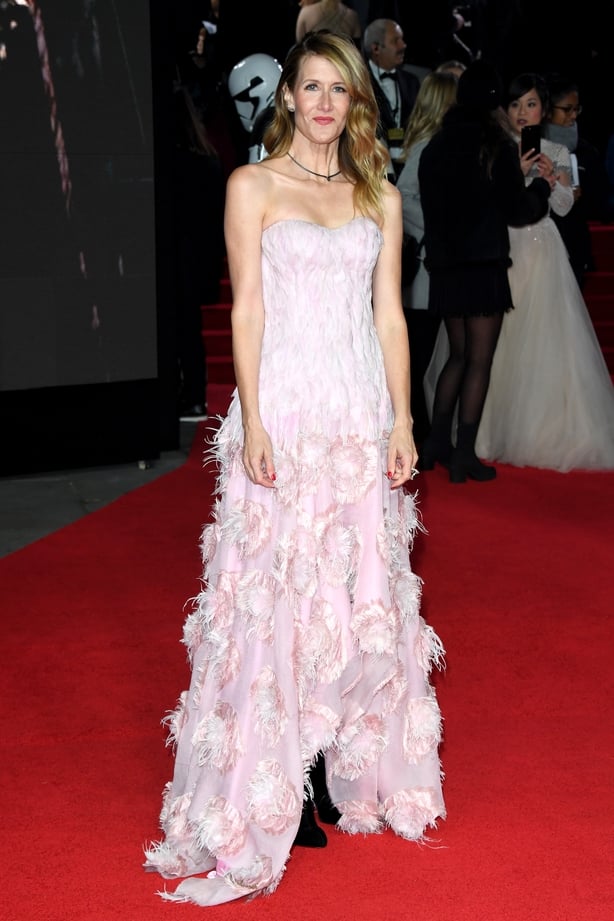 Laura Dern proved pretty in pink as she celebrated her portrayal of Vice Admiral Amilyn Holdo.
Alexandra Burke took a break from her Strictly Come Dancing final training and swapped her colourful costume dresses for a chic green trouser suit.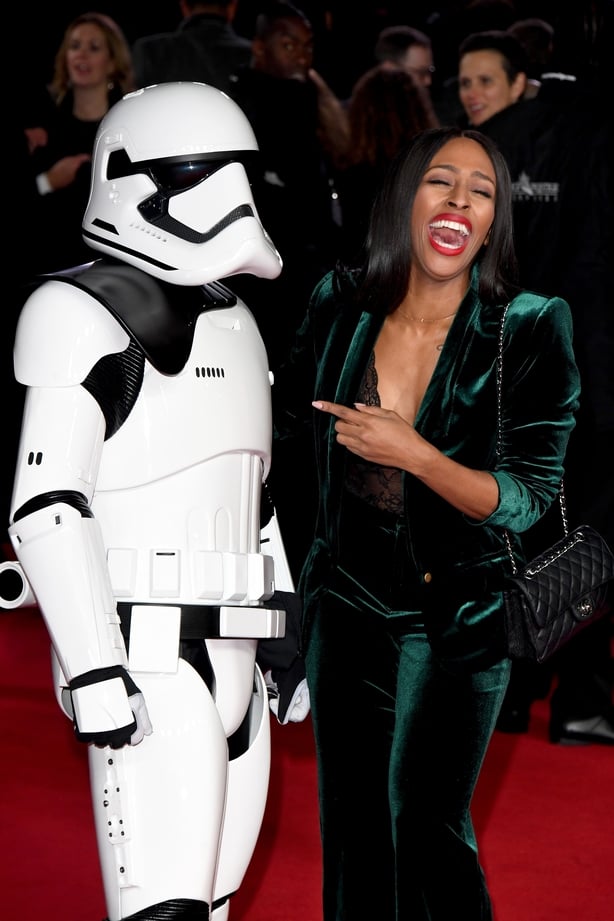 The Last Jedi is the eighth film in the Star Wars saga, following on from 2015's hit The Force Awakens.
It is the last film where Carrie Fisher will appear as Princess Leia - the actress died aged 60, shortly after completing her final scenes.
Paying tribute to Fisher Boyega said: "Family, I think that's the biggest thing, especially in terms of our late, great Carrie Fisher.
"It's coming up to a year (since her death) and it's strange to see how it goes... I'm in something that will last a lifetime. I will pass away, everyone will, it's crazy to see the fans will always appreciate what you've done."
Star Wars: The Last Jedi is released in cinemas on December 14