U2 have paid tribute to the victims of Monday night's terrorist attack at the Ariana Grande concert in Manchester, saying that the city has an "undefeatable spirit".
On a night off from their 30th anniversary Joshua Tree tour in the US, the band were guests on Tuesday's Jimmy Kimmel Live! where the talk show host brought up the "senseless terrorist attack" in which 22 people died and 59 were injured. 
#Manchesterstrong pic.twitter.com/ov4LHrsu2W

— U2 (@U2) May 24, 2017
"They hate music, they hate women, they even hate little girls," said Bono.
"They hate everything that we love. And, you know, the worst of humanity was on view in Manchester last night. And so was the best as people took perfect strangers into their hands and queued up for blood banks."
"Manchester has an undefeatable spirit, I can assure you," added the singer to cheers from the audience.
U2 had been due to play in Paris on the weekend of the November 2015 terrorist attacks in which 130 people were killed. In an interview that December ahead of the rescheduled Paris concerts, Bono revealed that he had begun writing a song in honour of the victims of the attacks by the so-called Islamic State.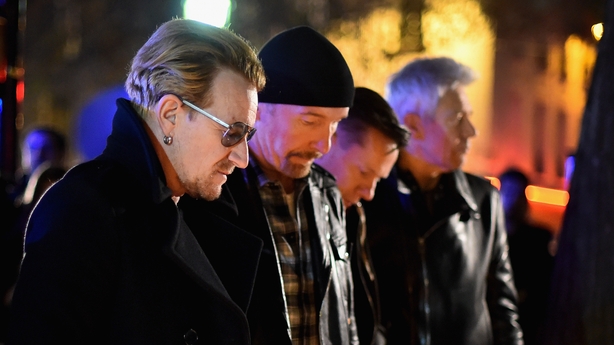 On Tuesday night's show, Kimmel also asked the band about how the Troubles had impacted on their songwriting. 
"It was so commonplace for a number of years that it just became this constant background to life," replied The Edge.
"And occasionally something particularly awful would happen and it would really affect you. That was almost the worst of it: you got to the place where it was just ongoing, every week, every month."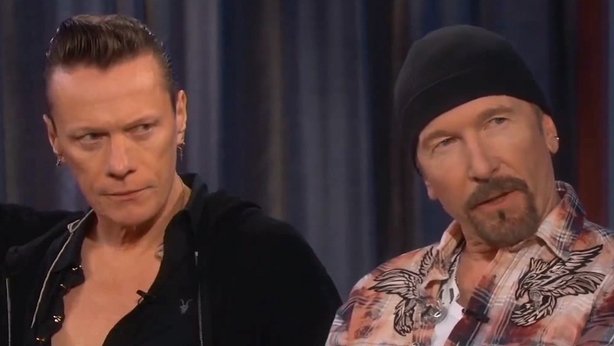 "Jake Burns, the singer of the incredible band called Stiff Little Fingers, he said that the cure to the Troubles in Northern Ireland was a thousand punk bands formed," added Bono. 
"Music... All that sort of division disappeared. We learnt that; we were quick to that. It made us suspicious of partisanship. It made us suspicious of sectarian ideas, people in churches that... This one church is just smashed into a thousand pieces is kind of the way we started to see things."
When asked by Kimmel if US President Donald Trump is someone Bono would "like to meet with and work with" on humanitarian issues, the singer said that "everything's different now".
We need your consent to load this YouTube contentWe use YouTube to manage extra content that can set cookies on your device and collect data about your activity. Please review their details and accept them to load the content.Manage Preferences
"It really is; the game has changed," he continued. "And I've so much respect for a lot of the people who voted President Trump into office. I really understand. I have some of the anger myself, coming from where we came from.
"I understand people being disillusioned with the political process and they think the body politic is sick and whatever. But I don't think President [Trump] - if you'll allow me to say this - I don't think he's the cure for this problem. And I think he might even make it worse.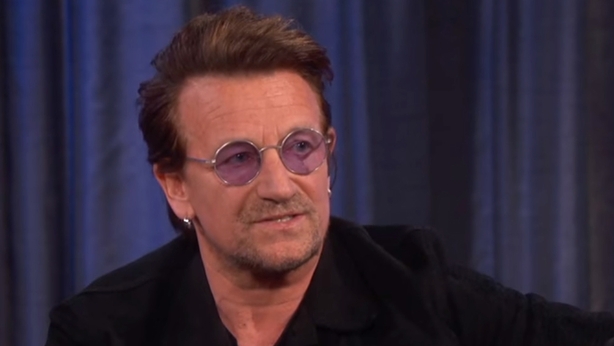 "I don't think there is any evidence in his life that he has the people who are hardest hit in mind. And that really saddens me, because I know he likes to see their faces in the crowd, but I don't think he wants to know who they are when they go home.
"And that saddens me. And again, it's with great respect for Republicans that I know and love, and their party I admire. It's just... This is a different thing."
U2's appearance on Jimmy Kimmel Live! saw them perform I Still Haven't Found What I'm Looking For with gospel singers, and new song The Little Things That You Give Away.
We need your consent to load this YouTube contentWe use YouTube to manage extra content that can set cookies on your device and collect data about your activity. Please review their details and accept them to load the content.Manage Preferences