U2 closed their European tour in Paris on Monday night, where they were joined onstage by Eagles of Death Metal, the band who had been playing the city's Bataclan venue when last month's terrorist attacks took place.
Eighty-nine of the 130 people killed in the terrorist attacks were in the Bataclan during Eagles of Death Metal's set.
In a highly emotional return to the city, the US band joined U2 on stage for a cover of Patti Smith's People Have the Power. Smith herself had been the special guest for the song during Sunday night's show at the AccorHotels Arena.
"They were robbed of their stage, so we would like to offer them ours," said Bono, introducing the band.
U2 also left the stage while Eagles of Death Metal performed their own track, I Love You All the Time.
Ovation pour les #EaglesOfDeathMetal et #U2 #u2ietour #u2paris @AccorH_Arena pic.twitter.com/QT8UYKrSUG

— GALA.fr (@GALAfr) December 7, 2015
Eagles of Death Metal: live in Paris again. pic.twitter.com/YrLdl3xcwI

— Tony Connelly (@tconnellyRTE) December 7, 2015
As with Sunday night's concert, U2 again paid numerous tributes to those who were killed in the attacks. Each of the victims' names was beamed within a blue, white and red Eiffel Tower peace symbol on the giant screen in the venue.
During City of Blinding Lights, Bono sang a snippet of the Jacques Brel classic Ne Me Quitte Pas (Don't Leave Me). The French tricolour was also draped over Larry Mullen's drums.
. @u2 interprétant ne me quitte pas en hommage aux victimes #U2ForParis #U2ieTour #U2Paris @AccorH_Arena pic.twitter.com/rKRZRUKcSC

— Alexandre Maras (@AlexandreMaras) December 7, 2015
The shows, rescheduled from November 14 and 15, were the first big cultural events to take place in the city since the attacks, and security at the AccorHotels Arena was tight. Concert-goers underwent a full body search as they entered and there was a heavy police presence outside the venue on both nights.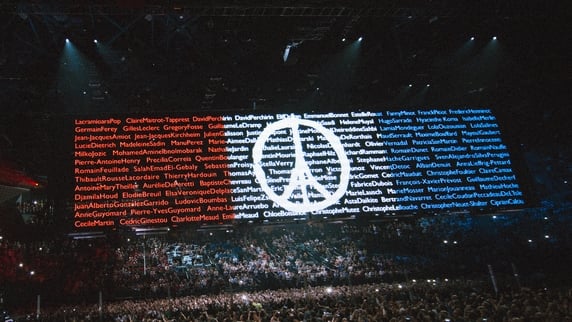 Photo: Eoin McLoughlin