Bono has revealed that he has started writing a song in memory of the Paris terror attacks.
Speaking to CNN, the U2 star said that he has started writing a song for the Italian singer Zucchero that pays tribute to Paris called the Streets Of Surrender (S.O.S).
He recited some of the lyrics which pay tribute to the terror attacks on November 13 which claimed the lives of 132 people in the French capital, with 89 people being killed at the Eagles of Death Metal's concert in Le Bataclan.
U2 had been scheduled to play in Paris the day after the attacks, but they rescheduled the gigs for HBO special iNNOCENCE + eXPERIENCE to today (December 6), where they will reportedly be joined by Eagles of Death Metal.
Reciting some of the lyrics to his song, Bono said: "Every man has two cities he needs to be. The one he can touch and the one he can't see. The one where a stranger's a friend. Every man has got one city of liberty, for me it's Paris, I love it.
"Every time I get lost down these ancient streets, I find myself again. You're free baby, baby free now and forever. It's Christmas time you can decide to forget or to remember."
Bono also described the so-called Islamic State as a "death cult" and the Dublin band as a "life cult" in the interview on Fareed Zakaria GPS.
He said: "The celebrating, all the things we love - food, soccer - they're trying to, you know, they're trying to destroy those things. They don't like women. What else is there?!"
"You know what I mean? Music, women…," he continues. "We've sensed that defiance in Paris and the word from our fans is - I think there was 300 tickets not taken up coming back - I mean something - [it's a] really small figure."
U2 were scheduled to play the third of their four Paris concerts on Saturday November 14, the night after the attacks. That show and their November 15 date were postponed and the band will now play at the city's Accor Hotels Arena this Sunday and Monday.
"We of course hoped we could play the next day but then it dawned on us just how serious it was and we had to give up on that," the frontman says of the November 14 show.
"We actually didn't have a choice," adds The Edge. "Because within a few hours of the problems starting we were given word by the city that they were shutting down all events."
"We were very determined to get back there as quick as we can [sic]," says Bono. "Paris is a very romantic city, and the essence of romance is defiance. And defiant joy, we think, is the mark of our band and of rock and roll."
In the interview Bono and the Edge link IS to other movements that have targeted music over the years.
"The Taliban banned music and during Mao's Cultural Revolution, also, music was banned," says the Edge. "And we think of music as the sound of freedom. We think that rock and roll has a part to play, and so going back to Paris, to us, is not just symbolic; I think we're actually starting the process of resistance, as it were, and defiance against this movement."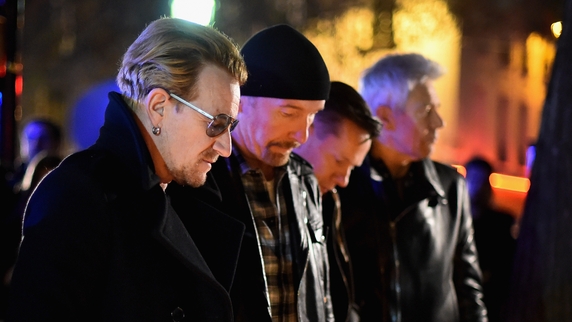 U2 paying their respects last month in Paris following the terrorist attacks