Star Wars fans have come out in force to remember Carrie Fisher as they celebrate the first Star Wars Day since the actress died.
May 4 is designated as the annual Star Wars Day, due to the clever play on the words of the Star Wars motto, "May the force be with you". (May The Fourth Be With You, geddit?)
#MayTheFourthBeWithYou is trending on Twitter as fans from all over the world celebrate the occasion and many have taken the opportunity to pay tribute to Princess Leia icon Fisher, who died in December of last year.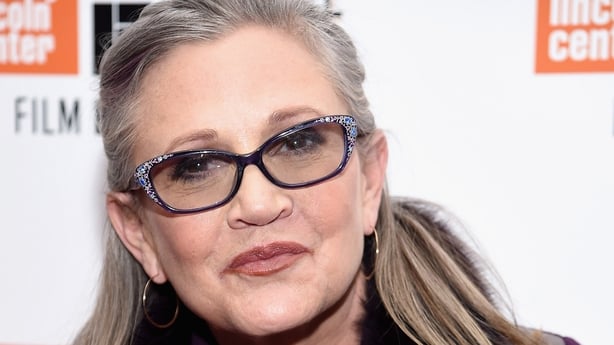 Fisher died aged 60 on December 27, a few days after suffering a heart attack during a flight from London to Los Angeles after filming on the third season of Catastrophe.
Fans have been saluting the late actress again, saying she is "truly irreplaceable" and that her "legacy will live on".
#MayTheFourthBeWithYou always xx

A tribute to the truly irreplaceable Carrie Fisher on #StarWarsDay @HamillHimself pic.twitter.com/Rb5ouRkzx1

— MoviesYouLoved (@moviesyouloved) May 3, 2017
#StarWarsDay: Remembering Carrie Fisher #MayTheFourthBeWithYou #MayThe4thBeWithYou #CarrieFisher #StarWars @carrieffisher @theheraldsun pic.twitter.com/dF5vHKhJXG

— Chris 'ROY' Taylor (@chrisroytaylor) May 4, 2017
first #MayTheFourthBeWithYou w/o the wonderful Carrie Fisher... hope you're having a good one, Carrie

— Jennifer Bond (@JennifersFaults) May 4, 2017
May the fourth be with you!

Thinking of @carrieffisher.#may4th #maythe4th #MayTheFourthBeWithYou pic.twitter.com/DfAPH8w6F7

— Darren Fisher (@DarrenFisherNS) May 4, 2017
#MayTheFourthBeWithYou #RIPPrincess @ChristianKane01 "Carrie Fisher put her hand on my face and told me I was cute!!! Best day ever!" pic.twitter.com/hHoallQEyp

— Linda Irving (@spnfan65) May 4, 2017
Remembering the amazing #CarrieFisher. #GoneTooSoon #MayTheFourthBeWithYou 💪 pic.twitter.com/h0x5s3DQ7T

— WomanthologyUK (@WomanthologyUK) May 4, 2017
#MayTheFourthBeWithYou also would just like to take a moment to remember the legend that is, Carrie Fisher 😔🙏🏻

— ruby (@lomlwatson) May 4, 2017
Remembering Carrie Fisher this star wars day. Raise your cups of blue milk to the Princess of Hoth.#MayTheFourthBeWithYou #StarWarsDay pic.twitter.com/wK2RCwXw61

— Akashdeep Hazarika (@AskHazarikant) May 4, 2017
This day won't be the same without you, your highness. Your legacy will live on #CarrieFisher #MayTheFourthBeWithYou

— Scott Descalso (@redhottSCOTT) May 4, 2017
Sad to say and remember that this is the first Star Wars Day without our Princess Leia, Carrie Fisher. #MayTheFourthBeWithYou #StarWarsDay

— Sofiα❣️ (@sofiagrlu7) May 4, 2017
Carrie Fisher and her stunt double on the set of ROTJ. #starwars #MayThe4thBeWithYou pic.twitter.com/dR5R0VXbAc

— Star Wars 1977-1983 (@StarWars7783) May 4, 2017
Fisher's final Star Wars scenes will be seen when Star Wars: The Last Jedi opens in cinemas on December 15.
While fans had seen the digital recreation of Fisher as a young Leia in last year's spin-off Rogue One: A Star Wars Story, the same technology will not be used in future instalments of the blockbuster franchise, including Episode IX, which is due in May 2019.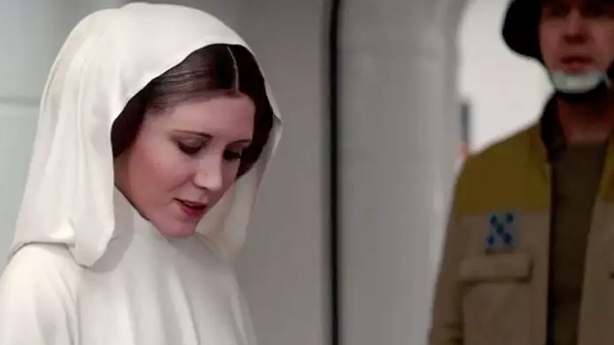 Speaking at the Star Wars Celebration event in Orlando, Florida last month, producer Kathleen Kennedy said: "We have not read a script yet for Episode IX. 
"Obviously, when Carrie passed away in December, that was a huge blow for all of us and it caused us to sit with Colin [Trevorrow, Episode IX director] and really rethink where we're headed with Episode IX."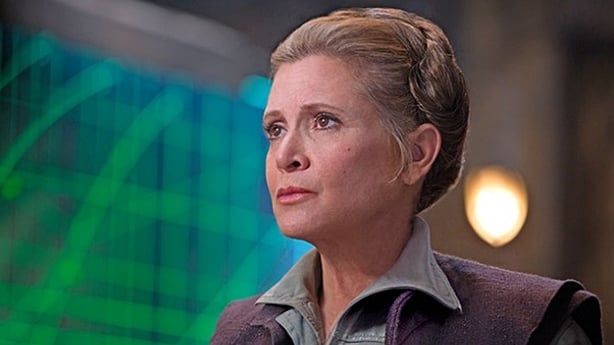 "Carrie was a significant part of that story - that was something she very much wanted and we very much wanted," Kennedy continued.
"But given the circumstances, we would not carry on with that."
We need your consent to load this YouTube contentWe use YouTube to manage extra content that can set cookies on your device and collect data about your activity. Please review their details and accept them to load the content.Manage Preferences