The late Carrie Fisher's final TV role in the season finale of acclaimed relationship comedy Catastrophe aired on Tuesday, three months after the Star Wars legend died as a result of a heart attack she suffered on a London to Los Angeles flight.
Catastrophe wrapped filming on the third season in the UK last December, just days before Fisher suffered a heart attack on her flight home.
The 60-year-old died four days later on December 27, with her mother Debbie Reynolds passing away the next day.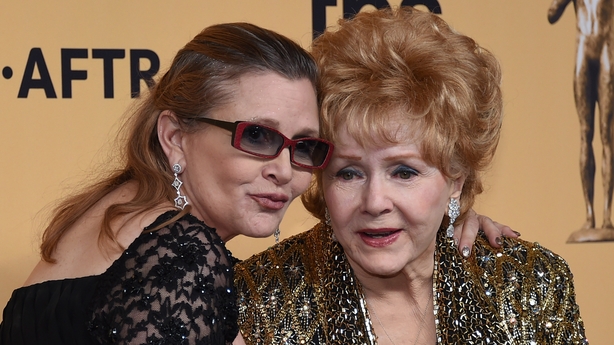 The season finale on Channel 4 saw Fisher's character Mia travelling to Ireland to support her daughter-in-law Sharon (Catastrophe co-creator and star Sharon Horgan) and son Rob (played by Rob Delaney) at the funeral of Sharon's father.
We need your consent to load this YouTube contentWe use YouTube to manage extra content that can set cookies on your device and collect data about your activity. Please review their details and accept them to load the content.Manage Preferences
Cue some awkward moments, some flirting even and a couple of jokes about Ireland too.
So this is where it all began.

What???

Riverdance.
After the credits rolled, a picture of Fisher appeared with the words: "For Carrie."
Fans took to Twitter to pay tribute to the late actress after the episode aired, saying it was "hilarious and heartbreaking at the same time".
Watching #CarrieFisher for the last time in #Catastrophe is hilarious and heartbreaking all at the same time ???

— Marie McCormack (@MarieLMcCormack) April 4, 2017
@catastrophe_tv @SharonHorgan Carrie Fisher so funny tonight, brilliant and emotional final episode #Catastrophe #CarrieFisherRIP

— The Beauty Birdy (@beauty4youths) April 4, 2017
Well #Catastrophe has made my night!! Another episode with the legend #CarrieFisher

— Megan Carr (@MeganLCarr) April 4, 2017
Tonight's #Catastrophe made all the more better by the appearance of #CarrieFisher I feel like I'm grieving her all over again! ??@Channel4

— Mr Joy Photo (@Mr_Joy_Photo) April 4, 2017
Can someone explain to me why a comedy just made me cry? #Catastrophe

— Mundane Kara (@Roxy_Hart) April 4, 2017
Carrie Fisher is just amazing and luminous and hilarious in this ep of #catastrophe. So sad. #channel4

— Jessica Twentyman (@jtwentyman) April 4, 2017
Remember Carrie Fisher for many things, but her part in #Catastrophe is screen magic to be remembered for. #PrincessWho

— Jem Roberts (@JemRoberts) April 4, 2017
Seeing @carrieffisher in #Catastrophe is so heart breaking, especially with the themes involved in this episode. #ripcarriefisher

— Bilal Chaudhry (@Revanche90) April 4, 2017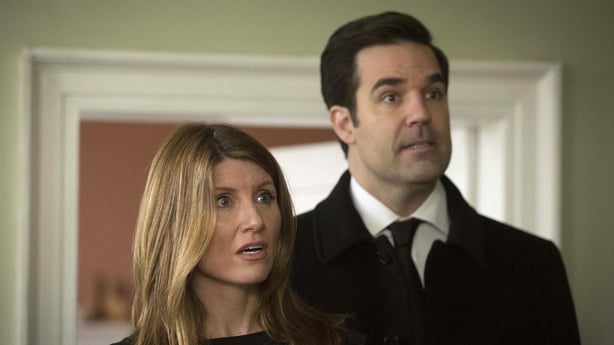 Last month, Sharon Horgan promised Fisher's role in the season finale would be "bigger, chunkier" than fans had seen in the previous two series.
Click here to see why Catastrophe might end up in a care home
Speaking at a press conference in London for the show, Horgan said: "The first series and even the second series we didn't have her for very long: she flew in and did her bit over a day or two and, of course, we wanted to get to know her better.
We idolised her but just didn't really have a chance to, and then in series three we wrote this bigger, chunkier part for her in episode six and got to spend time with her.
"She was part of the gang and we really feel very privileged and honoured."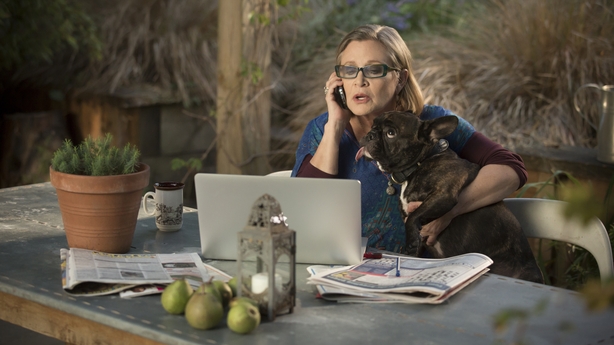 "She was funny all the time and incredibly witty company and loved saying a**holey things to everyone but also was just a kind, lovely, supportive person," she added.
The fourth series of Catastrophe is due on screens next year.