Billy O'Callaghan's My Coney Island Baby takes place over the course of one wintry day as a clandestine affair approaches a critical point - should we stay or should we go, the protagonists seem to ask of each other, as they meet under increasing pressure and difficulty.
O'Callaghan has had three short story collections published to date, notably The Things We Leave Behind, which appeared in 2013 and which won a Bord Gáis Energy Irish Book Award. The collection was selected as Cork's One City, One Book for 2017. The author's short story The Boatman was shortlisted for the 2016 Costa Short Story Award, and his fans include John Banville, Edna O'Brien and Bernard McLaverty.
In short, the Cork author has had good innings.
In this, his second novel – his first, The Dead House, appeared in 2016 - we are not talking the Tóibín school of sculpting sentence by pithy sentence, it's more a slow contemplation and a lyrical looseness.
At times indeed, the narrative is like an epic ballad or saga where elements get verses to themselves, like set-pieces. Thus we get the thatched cottage in which his protagonist, Michael, the married, harried salesman grew up in. That's before he emigrated to New York from Inishbofin at the age of 16. Or at another juncture in the swathes of fecund recollection, it's his father's watch which he now wears.
Or you could envisage a sub-head along the lines of The Kettle is Observed as it Boils. The kettle, which gets a fair whack of description, is observed coming to its inauspicious climax in the grotty hotel room on Coney Island, as the couple decide to drink some lousy cheap hotel coffee powder. For it is in functional hotel rooms that Michael meets the Irish-American Caitlin for their monthly appointment, which has passionately endured for 25 years. Meanwhile, Michael's wife Barbara has cancer, which means she is wrapped up with that, while Caitlin's husband Michael seems in his dim way to know nothing about what his wife is up to.
So, a watched kettle never boils – its as though the author wants the world to slow down and be observed in acute detail, a little like Louis McNeice in his classic poem Snow. I peel and portion /A tangerine and spit the pips and feel/ The drunkenness of things being various.
O'Callaghan is indeed attracted to the variousness of things; the variety of passing strangers, the motley crew of passengers on the Coney Island train. Indeed, many a walk-on part in this 240-page novel gets exceptional attention. Never mind the plot, O'Callaghan seems to say, there is the physical world here in the room, or the passengers on the train whom we must summon and study in detail.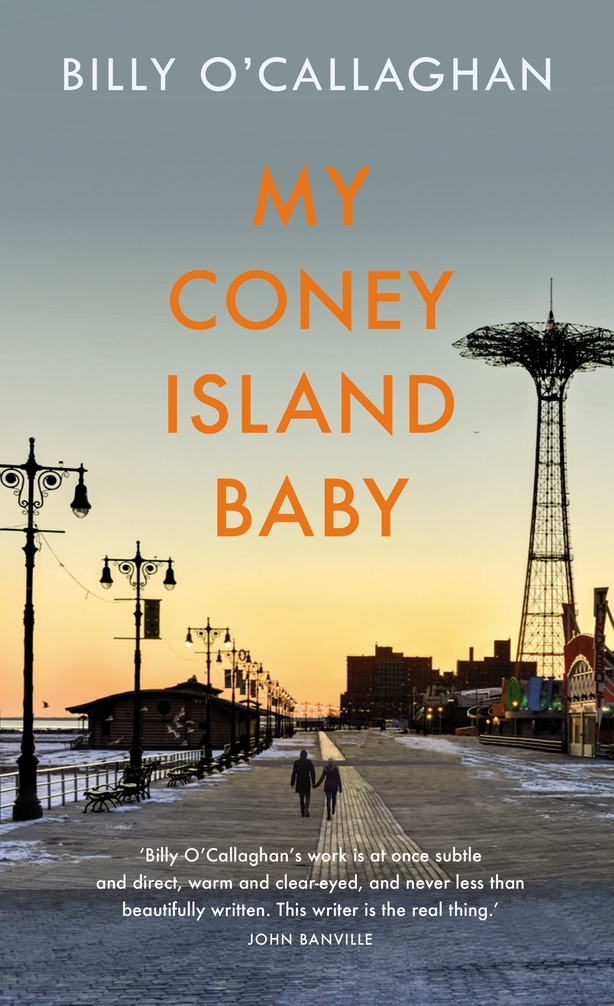 The book luxuriates in the surface of things, for instance, how the clandestine couple feel about nakedness before their curiously chaste lovemaking. There are long passages about how the pair feel about their health, their attitude to their own physical appearance. It's strange, but perhaps apposite too in a world cruelly caught up in body image, to see such self-conscious treatment of how their skin feels, how weight or wrinkles encroach on two ordinary people in late middle age.
My Coney Island Baby is fuelled in large part by Michael's memories of his Irish upbringing, and the narrative voice is compassionate, humane and tolerant, if acknowledging some shame about the secret liasion. The morality of the sordid winter tryst on Coney Island, around which the story pivots, will prove a likely talking point, should this become a Book Club favourite in this country.
There is a potential problem attendant upon the business of writing fiction concerning infidelity, in that the secretive lovers tend to be allocated the most stage time and the best camera angles. The hapless spouses tend, on the other hand, to be reduced to ciphers. This feature marred Molly McCloskey's otherwise fine novel about infidelity, When Light is Like Water and I believe it also mars My Coney Island Baby.
Take the following sentence, for instance, in which the unfaithful Caitlin reflects on her husband. "Thomas is a good man – a better man, perhaps, than she deserves - but he drums to a practical beat and love to him means saucepans for Christmas, or steak knives, love to him is another bullet point on a long list, and never a priority."
Can characters be safely reduced to such simplicities in a novel? People, even dull, decent husbands are much more complex. Maybe the author might consider writing up Thomas's story for a sequel to My Coney Island Baby.