Who is he? This is the central, burning question concerning the character Cyril Avery in John Boyne's ambitious The Heart's Invisible Furies, now out in paperback and in the charts. Avril Hoare was enthralled.
Who are we? Are we our names? Our families? Our birthplace? Are we identified by who we are born to, or who we live with, whether through choice or circumstance? What if we can't answer those questions, or if the answers we have aren't enough?
Cyril Avery isn't defined by his name. He isn't allowed to be. His adoptive parents continually remind him that he isn't a 'real Avery'. So, who is he? This is the central, burning question in John Boyne's ambitious and deeply moving new novel.
Before he was born, Cyril Avery's mother Catherine Goggin - teenage, single - was denounced from the pulpit and called a whore by the parish priest. Ireland in the 1940's wasn't big on giving voice or choice to unmarried pregnant girls. So she did what she had to do, she left. Packed a bag and got out of the small rural parish of Goleen, west Cork.
Cyril's birth, in a dingy flat on Dublin's Chatham Street, is married by extreme violence and prejudice. It wasn't aimed at his mother, but at her flatmate, a young man she met on the bus to Dublin. It is heartbreaking.
Loved by the woman who couldn't keep him and tolerated by the people who raised him, Cyril Avery's story is one of trying to hold on. For dear life. To people, to hope, to the desperate need to belong. A story of holding on to anyone and anything. Not easy when you don't feel like you belong anywhere.
How do you anchor yourself in that situation? Who or what do you latch on to? For Cyril, it is Julian Woodbead, a childhood friend who seems to have everything Cyril doesn't - confidence, glamour, the freedom to be himself. Cyril loves him with a passion and intensity that isn't reciprocated. This friendship snakes its way through Cyril's life, at times leaving him sad, angry, frustrated and jealous.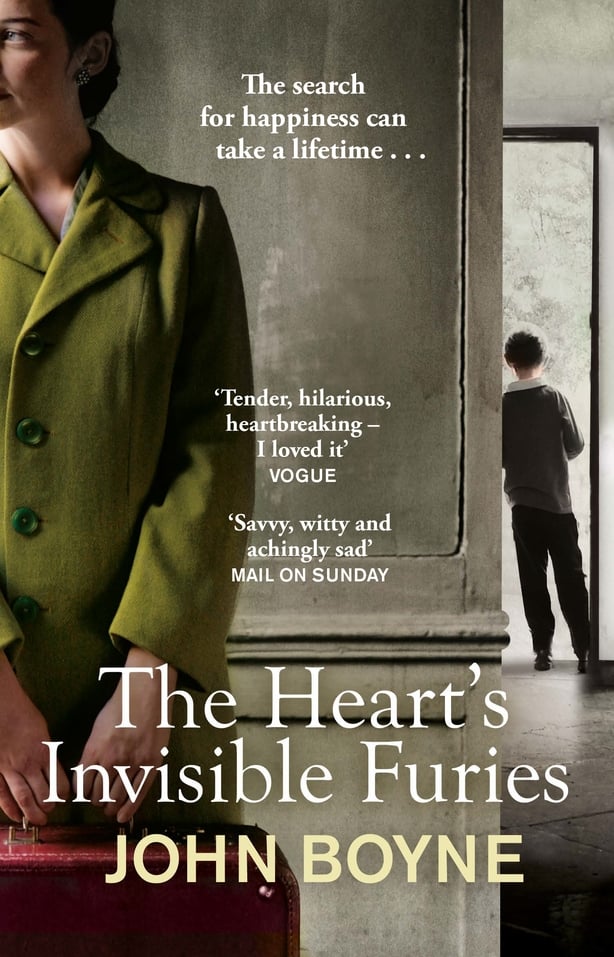 It's a relationship that could be described as toxic and Cyril doesn't always behave honestly or honourably around Julian - and others. This gives the book an edgy feel. The discomfort is beautifully written. Cyril is so lonely. But he never stops trying to fit in, which is desperately tragic at times but heroic in its own way too. He tries to shapeshift, fit into a society that refuses to make room for him. Oppressive and conservative, it presses down on him like a heavy wet blanket.
Being gay in Ireland in the 1950's and beyond was not simply frowned upon. Decriminalisation didn't happen until 1993. When Cyril finds himself in an intolerable situation, he does what his mother did before him - he gets out. This second section of the book, (broken into three parts - Shame, Exile and Peace), was for me, the most satisfying. Through chance and coincidence (and there are many in this book), he makes a new life for himself, first in Amsterdam, then in New York.
He stops holding his breath. But his past isn't done with him, even if he is done with it. Maybe he is anchored after all? To borrow from the title of Carson McCullers' famous work, the heart is indeed a lonely hunter - and Cyril never stops searching, he never gives up.
John Boyne's The Heart's Invisible Furies is epic, cinematic, poignant. It lingered long after I read the final words. It is a story of Ireland from the 1940's to the present day. It broke my heart in places, it pieced it together again in others. Though full of well-crafted characters, it is essentially the story of one man's search to find out who he is and where he belongs.
Does he find out? Does anyone really? Highly recommended, I loved it.
Read Paddy Kehoe's interview with John Boyne here