A few weeks ago I heard writer/director Peter Sheridan talking about this book on radio: 'I don't need to read reviews of O'Connor's work,' he said, 'I buy them anyway'. I'm sure many readers concur, Star of the Sea, Redemption Falls, Ghost Light, all of them favourites, would lead us to anticipate any new publication with excitement.
But here's my 'two and fourpence worth' all the same. Shadowplay revolves around acclaimed Dracula author Bram Stoker, actor and impresario Henry Irving and leading lady Ellen Terry, and the complicated relationships between them.
It opens with a letter from Bram to Ellen years after the main thrust of the story. He is sending her notes and documents for use in her forthcoming memoir, notes that he possibly intended to use for his own (memoir), but never got around to. "Some of it is in code even its maker has forgotten, " he tells her. "I wonder what I can have been trying to hide and from whom." Thus, the shadow play.
The narrative begins in Dublin in 1878 with Stoker the unhappy, angst-ridden civil servant stalking the streets late at night while dabbling in theatre criticism and short-story writing. His favourite actors include Henry Irving and Ellen Terry - 'her gift, her presence enthrals him'. When he reviews a production of Hamlet starring Irving, he is summoned to a meeting in the Shelbourne Hotel by the actor himself, who thanks him for his 'sensitive notice'. In fact he bids him sit with him a while, "I don't bite," he tells him.
He also offers him a job in London, at the Lyceum Theatre on the Strand which he has just purchased. It is the chance Stoker has been waiting for and he fears it won't come again, but his girlfriend Flo, described as the most radiant young woman in Dublin, is not convinced. However, as Ellen relates, "Young Brambles and his wife, off they pootled to London. Jolly good luck say I."
When they arrive, the job title has changed to 'General Manager.'"But I have no experience of such matters" protests Bram. "How difficult can it be?" replies Irving, "Let it manage you", and so it does in a way, taking over his life completely.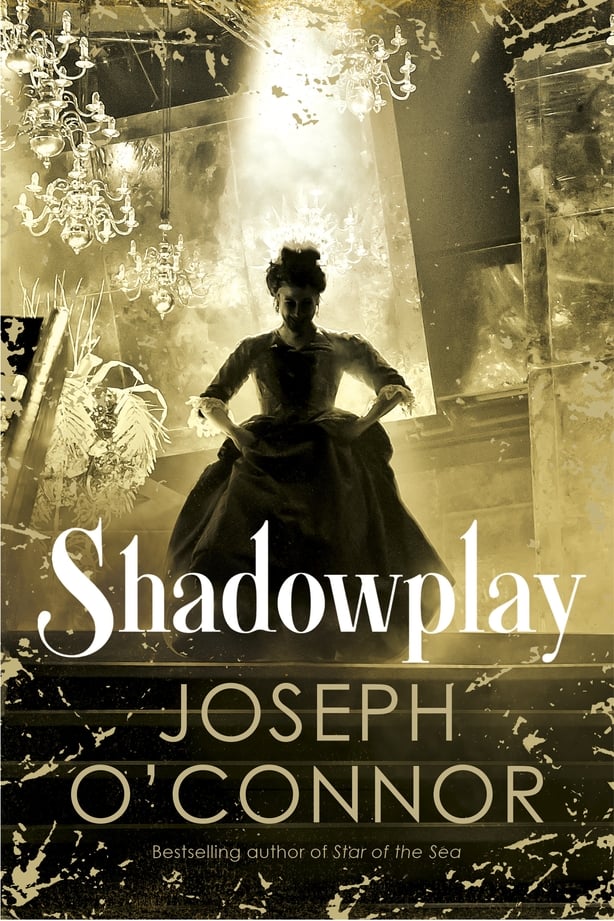 These were turbulent times in London, the threat of Jack the Ripper hovers and all actresses are urged to share cabs home. Even the great Ms Terry must abandon her pony and trap and ends up sleeping at the theatre, as do Stoker and Irving, further complicating things, as all three are married.
There are other pressures too. The Oscar Wilde trial has everyone running for cover and Stoker tells Ellen he has burned letters he received from him. He becomes alienated from his wife and son and in an effort to get some 'scribbling' done, retreats to an attic in the theatre where we encounter Mina, the ghost of a murdered maidservant. By this stage we are so far in that anything seems credible, even the thought that the irascible Irving could yet become the fictional Count Dracula.
Shadowplay is a roller-coaster and it is written with élan, some of the best lines being reserved for Ms. Terry. "By the time you'd boil an egg, he'd have pledged undying devotion elsewhere and be about to leap off London Bridge if rejected. One admired his energy... "
On acting: "You see acting is not a matter of pretending to be someone else but of finding the other person in oneself and then putting her on view" and on opening nights at the theatre: "the best acting at a First Night is never on the stage. It's always at the party afterwards"
I can't wait for the actors of my acquaintance to read it...