Seven Irish authors have made the long-list for the International Dublin Literary Award, a list which features 150 titles.
McCormack is nominated for his novel Solar Bones, Eimear McBride for The Lesser Bohemians and Emma Donoghue for The Wonder. Days Without End by Sebastian Barry is also on the list, as is Lying in Wait by Liz Nugent, All We Shall Know by Donal Ryan and The Years That Followed by Catherine Dunne.
Valued at €100,000, the International Dublin Literary Award is the world's most lucrative annual literary prize for a single work of fiction in English.
The longlist for the award is selected from library nominations in 37 countries. The novel which received most nominations this year, Colson Whitehead's The Underground Railroad, was nominated by 15 libraries.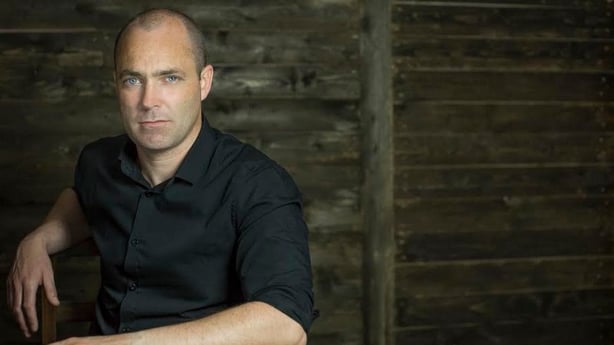 Sebastian Barry won the Costa Book of the Year for 2016 with Days Without End while Mike McCormack's Solar Bones was the Irish Book of the Year at the Bord Gáis book awards the same year.
A shortlist of 10 books will be published in April 2018 and the winning novel will be announced on June 13  by a judging panel which includes the renowned Irish poet Vona Groarke. Should the winning novel have been published in a language other than English on its first appearance, the prize will be divided between author - a sum of €75,000 - and the translator who wins €25,000.
Angolan novelist José Eduardo Agualusa won the prize last year for his novel A General Theory of Oblivion, translated from the Portuguese by Daniel Hahn.
2018 Longlist
In order of Title, Translator (where applicable) and Author
The Power - Naomi Alderman
Enchanted Islands - Allison Amend
The Red Bicycle - Dave Anthony
13 Ways of Looking at a Fat Girl - Mona Awad
Britt-Marie Was Here (Translated from the original Swedish by Henning Koch) - Fredrik Backman
The Young Bride (Translated from the original Italian by Ann Goldstein) - Alessandro Baricco
The Noise of Time - Julian Barnes
Days Without End - Sebastian Barry
The Other Einstein - Marie Benedict
The Mothers - Brit Bennett
Seven Days in August (Translated from the original Norwegian by Becky L. Crook) - Brit Bildøen
The Terranauts - T. C. Boyle
The Museum of You - Carys Bray
Baba Dunja's Last Love (Translated from the original German by Tim Mohr) - Alina Bronsky
All Things Cease to Appear - Elizabeth Brundage
The Muse - Jessie Burton
This Too Shall Pass (Translated from the original Spanish by Valerie Miles) - Milena Busquets
Don't Tell Me You're Afraid (Translated from the original Italian by Anne Milano Appel) - Giuseppe Catozzella
Moonglow - Michael Chabon
The Wish Child - Catherine Chidgey
The Girls - Emma Cline
The Extra-Terrestrial Delivery - Sudipta Das
Here Comes the Sun - Nicole Dennis-Benn
The Wonder - Emma Donoghue
The Dark Flood Rises - Margaret Drabble
The Sound - Sarah Drummond
The Years That Followed - Catherine Dunne
Heroes of the Frontier - Dave Eggers
Sudden Death (Translated from the original Spanish by Natasha Wimmer) - Álvaro Enrigue
LaRose - Louise Erdrich
After the Lie - Kerry Fisher
I Am No One - Patrick Flanery
Here I Am Jonathan - Safran Foer
The Island of Books (Translated from the original French by Rhonda Mullins) - Dominique Fortier
Things To Leave Behind - Namita Gokhale
Dear Charlie - N.D. Gomes
The Regional Office is Under Attack! - Manuel Gonzales
Waking Lions (Translated from the original Hebrew by Sondra Silverston) - Ayelet Gundar-Goshen
Homegoing - Yaa Gyasi
This Marlowe - Michelle Butler Hallett
This House is Mine (Translated from the original German by Anne Stokes) - Dörte Hansen
The Dry - Jane Harper
Like the Starlings - Diyar Harraz
Barbed Wire and Cherry Blossoms - Anita Heiss
Where Love Begins (Translated from the original German by Margot Bettauer) - Dembo Judith Hermann
The Transmigration of Bodies (Translated from the original Spanish by Lisa Dillman ) - Yuri Herrera
War and Turpentine (Translated from the original Dutch by David McKay) - Stefan Hertmans
The Nix - Nathan Hill
Faithful - Alice Hoffman
One Patrick Holland
The Repenters - Kevin Jared Hosein
The Parcel - Anosh Irani
To the Bright Edge of the World - Eowyn Ivey
The Unseen (Translated from the original Norwegian by Don Bartlett & Don Shaw) - Roy Jacobsen
News of the World - Paulette Jiles
Our Tiny, Useless Hearts - Toni Jordan
Dancing in the Rain - Lynn Joseph
Human Acts (Translated from the original Korean by Deborah Smith) - Han Kang
Lilac Girls - Martha Hall Kelly
Dirt Road - James Kelman
The Good People - Hannah Kent
The Other Side of Silence - Philip Kerr
All Day at the Movies - Fiona Kidman
Almost Everything Very Fast (Translated from the original German by Aaron Kerner) - Christopher Kloeble
One of Us is Sleeping (Translated from the original Danish by Martin Aitken) - Josefine Klougart
Dear Mr. M (Translated from the original Dutch by Sam Garrett) - Herman Koch
Two Gentlemen on the Beach (Translated from the original German by Ruth Martin) - Michael Köhlmeier
Mischling - Affinity Konar
None Like Her (Translated from the original Slovene by Olivia Hellewell) - Jela Krečič
The Allegations - Mark Lawson
The Conjoined - Jen Sookfong Lee
The Party Wall (Translated from the original French by Lazer Lederhendler) - Catherine Leroux
Shtum - Jem Lester
Death in Sunset Grove (Translated from the original Finnish by Lola Rogers) - Minna Lindgren
Niagara Motel - Ashley Little
The Shelf Life of Happiness (Translated from the original Portuguese by Hillary Locke) - David Machado
An Isolated Incident - Emily Maguire
The Association of Small Bombs - Karan Mahajan
The River is Indigo - Suleiman Manan
Thus Bad Begins (Translated from the original Spanish by Margaret Jull Costa) - Javier Marías
The Yearning - Mohale Mashigo
Behold the Dreamers - Imbolo Mbue
The Lesser Bohemians - Eimear McBride
Gone to Drift - Diana McCaulay
Solar Bones - Mike McCormack
Nutshell - Ian McEwan
The North Water - Ian McGuire
I Will Send Rain - Rae Meadows
Bricks and Mortar (Translated from the original German by Katy Derbyshire) - Clemens Meyer
Pleasure - Nthikeng Mohlele
Flannery - Lisa Moore
Distant Light (Translated from the original Italian by Richard Dixon) - Antonio Moresco
Ladivine (Translated from the original French by Jordan Stump) - Marie Ndiaye
Billy Bird - Emma Neale
Five Rivers Met on a Wooded Plain - Barney Norris
Lying in Wait - Liz Nugent
The Woman Next Door - Yewande Omotoso
Judas (Translated from the original Hebrew by Nicholas de Lange) - Amos Oz
Version Control - Dexter Palmer
Anatomy of a Soldier - Harry Parker
Commonwealth - Ann Patchett
The Essex Serpent - Sarah Perry
La Superba (Translated from the original Dutch by Michele Hutchison) - Ilja Leonard Pfeijffer
Black Deutschland - Darryl Pinckney
The Attempt (Translated from the original Czech by Alex Zucker) - Magdaléna Platzová
Sergio Y (Translated from the original Portuguese by Alex Ladd) - Alexandre Vidal Porto
By Gaslight - Steven Price
Barkskins - Annie Proulx
The Hill (Translated from the original Croatian by Tomislav Kuzmanović) - Ivica Prtenjača
Freya - Anthony Quinn
The Bird Tribunal (Translated from the original Norwegian by Rosie Hedger) - Agnes Ravatn
Today I Learned It Was You - Edward Riche
The Museum of Modern Love - Heather Rose
The Last Half of the Year - Paul Rowe
All We Shall Know - Donal Ryan
Cry, Mother Spain (Translated from the original French by Ben Faccini) - Lydie Salvayre
Panorama  (Translated from the original Slovene by Rawley Grau) - Dušan Šarotar
The Tobacconist (Translated from the original German by Charlotte Collins) - Robert Seethaler
Ma Belle (Translated from the original Serbian by Persida Bošković) - Maja Herman Sekulić
Scythe - Neal Shusterman
Why Did You Lie? (Translated from the original Icelandic by Victoria Cribb) - Yrsa Sigurdardóttir
The Black Widow - Daniel Silva
The Core of the Sun (Translated from the original Finnish by Lola Rogers) - Johanna Sinisalo
Moonstone: the Boy Who Never Was (Translated from the original Icelandic by Sjón) - Victoria Cribb
Vigil - Angela Slatter
The Last Painting of Sara de Vos - Dominic Smith
Swing Time - Zadie Smith
The invisible life of Ivan Isaenko - Scott Stambach
Fish Have No Feet (Translated from the original Icelandic by Philip Roughton) - Jón Kalman Stefánsson
Mothering Sunday - Graham Swift
All That Man Is - David Szalay
Do Not Say We Have Nothing - Madeleine Thien
Estoril (Translated from the original Serbian by Christina Pribichevich Zorić) - Dejan Tiago-Stanković
A Gentleman in Moscow - Amor Towles
The Gustav Sonata - Rose Tremain
Reputations (Translated from the original Spanish by Anne McLeanJuan) -Gabriel Vásquez
The Man I Became (Translated from the original Dutch by David Colmer) - Peter Verhelst
The Latecomer (Translated from the original Dutch by David Colmer) - Dimitri Verhulst
The Break - Katherena Vermette
I'll Sell You a Dog (Translated from the original Spanish by Rosalind Harvey) - Juan Pablo Villalobos
Living Memories - Joseph Wanshe
Miss Jane - Brad Watson
The Underground Railroad - Colson Whitehead
A Beautiful Young Wife (Translated from the original Dutch by Sam Garrett) - Tommy Wieringa
Another Brooklyn - Jacqueline Woodson
The Lost Time Accidents - John Wray
Multiple Choice (Translated from the original Spanish by Megan McDowell) - Alejandro Zambra