To celebrate Sebastian Barry's Costa Prize win, here's Paddy Kehoe's original review of Days Without End.
The old ships started to bring ruined people to Canada, people that were so hungry they might eat each other in the holds. I am not saying I saw that. But I was thirteen or so and I knew in my heart and soul I had to flee. I crept onto one of those ships in the darkness. I am telling this as best I can. It's long ago, before America.
The son of a Sligo butter exporter whose business collapsed sometime before the Great Famine, young teenager Thomas McNulty emigrated to America after his mother and sister died during the horrors of 1847. Hundreds died of fever on arrival in Canada, but young Thomas was one of the lucky ones.
In the course of those disorienting early days in a foreign land, Thomas meets ``under a hedge in goddamn Missouri' an equally pitiable but likable New England youth named John Cole. Forced to resort to desperate measures to survive, the lads agree to impersonate two attractive women for an impresario named Titus Noone for 50 cents a night. Their nightly saloon audience comprises men without women, a band of miners in Missouri. Maybe we were like memories of elsewhere. Maybe we were the girls of their youth, the girls they had first loved. Man, we was so clean and nice, I wished I could of met myself.
Later the ebullient pair enlist, and our two heroes find themselves right in the middle of the blood and dust of the Indian Wars, witnessing the slaughter of various Indian tribes under the command of the relatively kindly major and the bloodthirsty, ultimately doomed sergeant.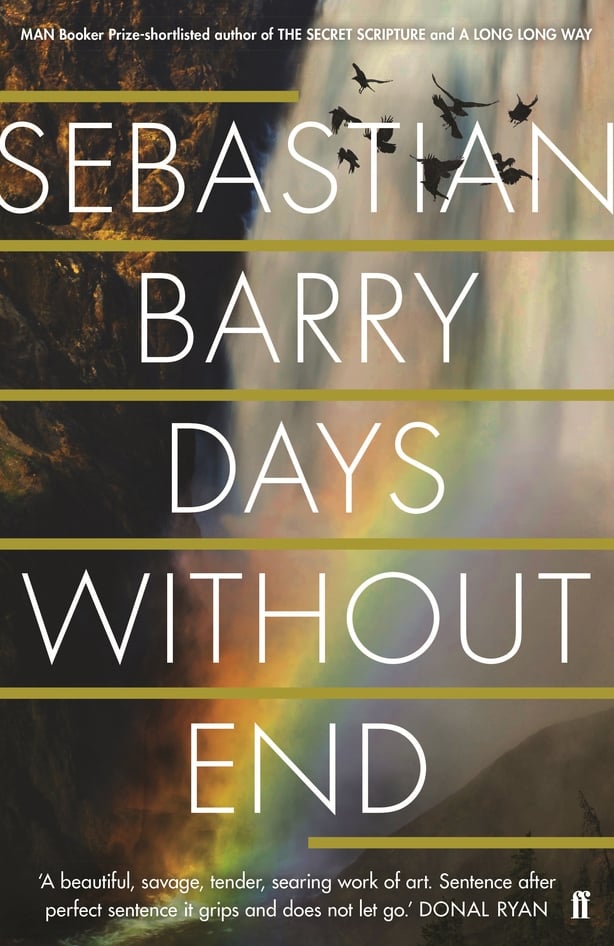 One of the marvels of the 259-page story is the beguiling story-teller's tone which the author has granted McNulty, a spicy flow of consciousness that combines wide-eyed naivete, some furtive coarseness and deliberate understatement. All unite to project the sense of a young lad who has quickly learned to have extra wits about him, as he is tried and tested in the cauldron of battle.
Absorbed as you will be in the often thrilling story, one is reminded of the tone of Mark Twain's The Adventures of Huckleberry Finn, with the baleful spirit of Moby Dick also informing proceedings. While the twenty-three chapters have their share of hardship, privation and almost demonic killing, Days Without End regularly brings down the temperature by its mildly picaresque tone.
There is an air of serendipity, of brief lives encountered along the trail - which ranges from Wyoming to Tennessee - chancers thriving, or coming to grief under all weathers in the theatre of battle, or during the breathing spaces in between that can scarcely be called 'peace time'. Recommended.
Paddy Kehoe