Analysis: aside from the financial implications, the ongoing cost of living crisis is also having a psychological impact on us
Whether it's heating your home, fuelling your car, rising food costs, back-to-school costs , or rising rents, there's no doubt that we are going through a cost-of-living crisis in Ireland. The effect isn't only being felt financially but our mental health is suffering too.
Youth mental health charity Jigsaw has warned that services are stretched more than ever, with thousands more accessing their services in 2021 due to covid and the cost of living. Wait times for mental health services increased by 68% last year, according to the Dublin Simon Community's latest annual report.
"It is incredibly stressful. There's insecurity of food, energy, and housing at the moment," says Dr Aisling O'Donnell, lecturer in psychology at University of Limerick. "A lot of that is uncertainty. The cost of living crisis is affecting pretty much everyone at the moment. It's not just those who were always on a low income. When it's in the news that another energy company is going to put up their prices, there's a lot of uncertainty about, what's that actually going to mean for me, and for our household income? What are we going to have to do without?"
We need your consent to load this rte-player contentWe use rte-player to manage extra content that can set cookies on your device and collect data about your activity. Please review their details and accept them to load the content.Manage Preferences
From RTÉ One News, Government considering €3bn budget package
The numbers paint a bleak picture. In the year to August, prices are up an average of 8.7% across all the different goods that are measured by the CSO, though some everyday essentials are up a multiple of that. Petrol and diesel prices are up 24% and 35% respectively, while electricity is up 38%, gas 56%, solid fuel 32% and home heating oil 73%. While we are paying 9% more for our food on average, some items are much dearer: milk is up over 20% and bread is up 15%. Rent is up an average of 12%.
Taking choice away is taking someone's agency away; the subjective feeling that you are in control of your own life, that you have freedom. "A lot of people will be feeling quite helpless because that agency is going to be severely restricted," says O'Donnell. "At the moment, it feels like a ticking time bomb. You're kind of waiting to see how bad is it going to get? And what kind of help might be afforded? Is it going to be sufficient? All that is very disempowering and severely disrupt feelings of agency."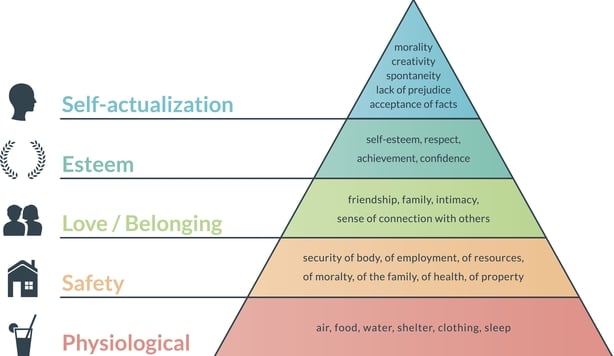 "At the basic level, we can find that we're not necessarily aware that we're experiencing stress, but we find it coming out in different kinds of ways. Something like not having enough money to pay your energy bill when it comes in, that's a stressor, and objectively that should be a stressor. But actually whether or not it's perceived as stressful depends on your perceived ability to cope with it. I think our perceived ability to cope with all kinds of different things gets really stretched."
Stress goes way beyond mental distress, it also affects out immune functioning and our physical health, says O'Donnell. "It is obviously distressing to live with that type of uncertainty, but it also means people are going to focus on immediate needs." Maslow's Hierarchy of Needs illustrates the idea that we have basic, fundamental needs that have to be met before we can achieve the other needs. At the very top, is self-actualisation.
"What the hierarchy suggests is you can only focus on higher level needs if your basic level needs are met. Your most basic level needs would be things like food and shelter. Physiological and safety needs would be fairly low [on the hierarchy], but then things that might be more important to you at a more abstract level, you can't really focus on them."
We need your consent to load this rte-player contentWe use rte-player to manage extra content that can set cookies on your device and collect data about your activity. Please review their details and accept them to load the content.Manage Preferences
From RTÉ News, supermarket owner left in tears at €21k energy bill
"For example, if it's most important that you and your children are able to actually eat, then you may not be able to focus on or prioritise the healthfulness of the food, you just won't have that that freedom. If people are having to choose between enough food to eat and enough heat in the home, then they definitely can't indulge other things that are good for their psychological health. All that stuff is going to go for people which has knock on psychological effects."
"If you have been suffering from poverty for a long time, you've maybe had to make your peace with various supports that you might try to access. But there's a real stigma attached to seeking help for all kinds of things," says O'Donnell. "People have to get to really dire straits before they feel they can access those supports, regardless of the stigma. That's another really difficult thing that we will probably see over the coming months, as more people are hit by these incredibly skyrocketing energy bills, on top of the the housing issues."
"In order to be able to feed families, people are going to feel they need to reach out to services they wouldn't previously have contemplated and that's going to be hard. Because stigmatisation has strong effects on depression and anxiety."
---
The views expressed here are those of the author and do not represent or reflect the views of RTÉ
---