Analysis: Sabina Coyne Higgins is not the first political spouse to take an interest in matters of state
The recent intervention by Sabina Coyne Higgins (wife of President Michael D. Higgins), on matters relating to the Russian invasion of Ukraine, has led to a deluge of mainstream and social media commentary. Her decision to pen a letter to the Irish Times was prompted by dismay at an editorial on the war, which she observed had failed to 'encourage any ceasefire'.
She also took the opportunity to indirectly call upon the Russian and Ukrainian presidents to negotiate. Additionally, she cited approvingly a provocative article by historian Geoffrey Roberts, in which he opined that Ukraine should concede territory to Russia in exchange for peace.
We need your consent to load this rte-player contentWe use rte-player to manage extra content that can set cookies on your device and collect data about your activity. Please review their details and accept them to load the content.Manage Preferences
From RTÉ Radio 1's Liveline, listeners react to Sabina Coyne Higgins' letter
The public response was mixed. Her approach found favour with many on Irish social media, from elements within academia and amongst some on the political Left, together with positive commentary from the Russian ambassador to Ireland.
But the general view across mainstream media and much of the political spectrum has been critical. A former Ukrainian First Lady advised Higgins not to 'weigh in on something you obviously know nothing about'. More diplomatically, the Ukrainian ambassador, Larysa Gerasko, said that she did not believe the letter to be the president's 'official position' on the conflict. As debate unfolded, it was not limited to whether Mrs Higgins' suggestions were best for the Ukrainian nation as it battles an invading army.
The furore also raised questions of the 'appropriateness' of the President's unelected spouse intervening at all. For some, proximity to the first citizen meant that her public contributions on such a sensitive matter were demonstrably problematic. For others, arguments to the effect that she is a 'private citizen', entitled to opine publicly on any subject, appeared relatively cut and dried.
We need your consent to load this rte-player contentWe use rte-player to manage extra content that can set cookies on your device and collect data about your activity. Please review their details and accept them to load the content.Manage Preferences
From RTÉ Radio 1's Morning Ireland, Una Kelly reports on the mixed reaction to Sabina Coyne Higgins' Irish Times letter on the Ukrainian war
That was until it became clear that her letter was also published on the President's official website, lending it not just 'official weight', but arguably the effective imprimatur of the presidency itself. This brought matters into very different territory indeed. A signal, perhaps, that it is time for more formalised discussions on the position of presidential spouses in the Irish context, so as to ascertain what lines should not be blurred in future.
But Mrs. Higgins is not the first Irish spouse thought to have significant influence with an elected partner, though few have alerted the public to this reality in quite the same fashion. For example, Rita Childers, wife of Ireland's fourth president, Erskine Childers, was an essential confidant. Her early career in the British Foreign Office and Embassy in Dublin, together with her public relations experience, made her advice indispensable during her husband's periods in government.
Though she was well known to the public, few realised her importance in the organisation of her husband's presidential campaign. Her abilities were such, that Taoiseach Liam Cosgrave sought to have her nominated as Ireland's first female President, following the tragic death of President Childers in office in 1974.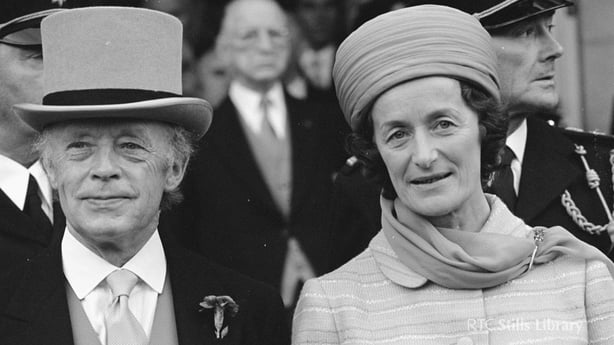 A presidential spouse with undoubted impact in the diplomatic sphere was Martin McAleese, husband of our eighth president, Mary McAleese. As the former president's engaging memoir attests, Martin was her most trusted adviser. He assisted greatly in her 'building bridges' approach, which saw the President reach out to Unionists in Northern Ireland in a manner that was unprecedented and successful.
Moreover, her husband was arguably instrumental in helping to cajole – and sometimes nudge – elements within the Ulster Defence Association to declare a permanent ceasefire in 2004, and begin serious decommissioning in 2009. This was a behind the scenes approach that required patience, stoicism and an eschewing of publicity, for which he proved adept.
Another recent example of indispensable spousal political support was that of Iar-Thaoiseach Enda Kenny's wife, Fionnuala O'Kelly. A formidable strategist and public relations expert, O'Kelly became the first woman to be appointed as head of the Government Information Service in 1997.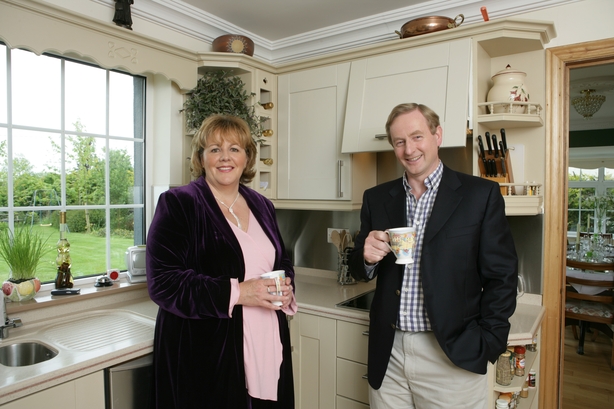 Informed political commentators agree that Fionnuala was Kenny's most important and effective conciliary throughout his political career. Indeed, some might speculate that the often underrated Mayo man would not have survived the internecine strife within Fine Gael during the 2000s and ever made it to the top job, without the sage advice of Fionnuala. Such was her tendency to eschew publicity (and public dramas) that few realised the true extent of this talented and accomplished lady's influence.
However, it is arguable that one of the most powerful, and publicly recognised, spousal influencers in modern Irish history was Máirín Lynch, wife of former Taoiseach, Jack Lynch. Lynch's reliance on Máirín's counsel was evident early on. During his contest with George Colley (who also greatly valued his wife, Mary's, political opinion) for the leadership of Fianna Fáil in 1966, the outgoing Taoiseach, Seán Lemass remarked sardonically: 'what kind of people have I got when one man has to get his wife's permission to run, and another has to get his wife's permission to withdraw.'
But the patriarchal political scene of 1960s Ireland was not limited to Lemass' retiring generation. As Lynch's period in office progressed, there remained rumblings within Fianna Fáil at the appropriateness of Máirín's influence, and the impact of what was disparaged as 'petticoat power' on the nation's leader.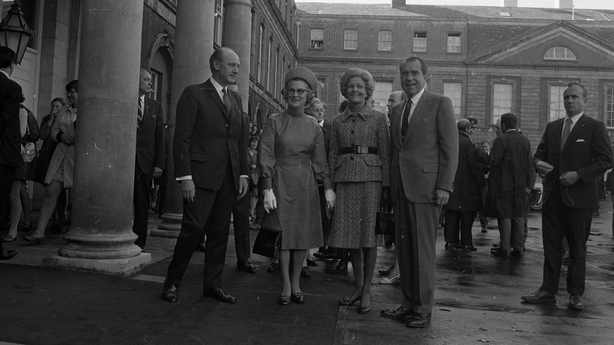 While Máirín denied emphatically that she was the 'power behind the throne', and claimed her political expertise was limited, the former civil servant at the Department of Industry and Commerce played a key supportive role for Lynch, particularly at times of acute governmental stress. When the outbreak of violence in Northern Ireland presented the Taoiseach with disloyalty at the Cabinet table, Máirín proved crucial in steeling him for the political battles ahead.
Many commentators are aware of her input into his infamous 'no longer stand by' speech in response to violence in Derry on 13 August 1969. Less known was Lynch's reliance on Máirín when he felt his leadership under threat in 1970, and the Taoiseach privately stated that he and his wife would be 'together' in resisting attempts to usurp him.

Despite her claims to have little knowledge of politics, Mrs. Lynch was not reticent in defending her husband's policies or commenting on topical issues, be it in the letters columns of newspapers or in phone calls to RTÉ's Late Late Show. Her vocal denunciation of the Provisional IRA's 'tarring and feathering' of women drew the ire of the paramilitary group's supporters in 1971, and she challenged their retaliatory accusations that the Taoiseach supported British army misconduct. Later, in a public dispute with the Peace People, she steadfastly defended Lynch against the direct opposite charge: that his Government was 'soft' on the Provisional IRA.
Máirín Lynch ensured one aspect would be crystal clear amidst any furore her missive might cause: she signed off with the words, 'P.S. My husband is unaware of this letter'.
A perhaps telling example of both Máirín's importance to, and clear autonomy within, her husband's political life was her defence of him during a difficult time in 1975. Now in Opposition, Lynch's authority within Fianna Fáil again came under pressure from more nationalistic elements. His attempts to maintain control by steering a middle (and ambiguous) course prompted criticism, with the Irish Independent's Bruce Arnold effectively accusing him of 'running away' from any substantive Northern Ireland policy due to a leadership crisis.

Mrs Lynch was having none if it! In a broadside published by the newspaper, she deprecated any notion of a crisis in Fianna Fáil. She opined that this 'healthy democratic party' would elect a new leader at the right time, and defended Lynch's cooling of the temperature in terms of Northern policy. Moreover, whilst Máirín noted Arnold was a 'widely regarded' journalist, she was 'weary' of his 'sustained criticism of the political ability of my husband'. Arnold subsequently responded privately to Máirín, explained his views and included complimentary references to Lynch's leadership qualities.

Notably, given our current context, Máirín ensured that one aspect would be crystal clear amidst any furore her original missive might cause: she signed off with the words, 'P.S. My husband is unaware of this letter'.
---
The views expressed here are those of the author and do not represent or reflect the views of RTÉ
---