HERSTORY is a cultural movement that tells the life stories of historical, mythic and contemporary women.
On 10 August 1976, a car driven by a Provisional Irish Republican Army fugitive crashed into three young children and their mother after the driver had been fatally shot by the British Army. The three children aged eight, two and six weeks, were killed and their mother seriously injured. Betty Williams, a young mother herself, was driving by at the time and witnessed the entire tragedy. The event struck home for Williams who later told the press that 'what happened to the Maguire family […] could have happened to any one of us women out walking with our children.'
'This is not an organisation it is just a collection of mothers from the areas affected.' - Williams
Within three hours Williams, along with other women in the Andersonstown area, helped to collect over 6,000 signatures on their petition for peace. A rally was quickly organised for Saturday 14 August to take place where the three children were killed to not only demand that 'the Provisionals lay down their guns, but we'll be appealing to all terrorists to stop, no matter in what area they operate from.' Williams' tearful plea for peace, which had been televised at the beginning of the week, struck a chord with people everywhere, and it was this that encouraged Muriel Kennedy, a Protestant woman, to begin canvassing door-to-door to whip up Protestant support for the rally.
Mairead Corrigan, aunt to the three Maguire children and sister to their mother, also came across Williams' efforts and phoned her to thank her. She also invited Williams to sit with her and her family at the top of the church at the children's funerals. On Saturday at the rally she 'sought her out and stood beside her.' From that week on, the two women organised together. The Peace People movement was formed.*
The rally on 14 August attracted an estimated 2000 people – mainly women. They sang songs and hymns and prayed for peace. A counter rally was organised but it was overwhelmed by the sheer number of people chanting for peace.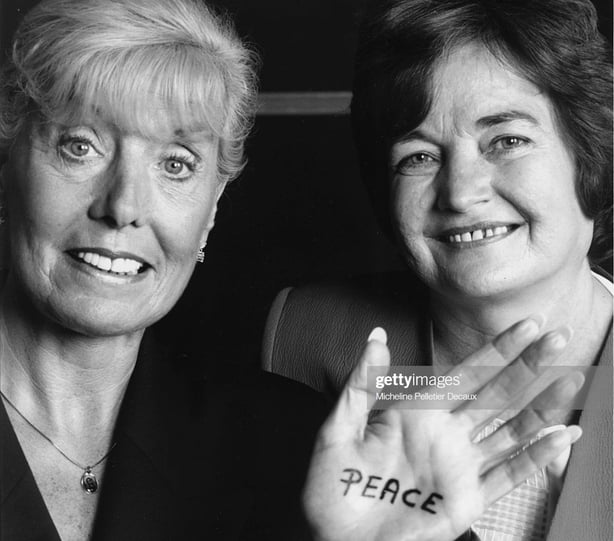 In the week that followed, Williams received serious backlash from those who saw her as a traitor. Sinister threats were scrawled on gable walls and on roadways and an arson attempt at Williams' home was foiled when a group of local men 'chased off a group of youths who were standing outside the house carrying petrol bombs.'
These threats did nothing to hinder the work of Williams and Corrigan, however, and the next rally, organised for 28 August, was an even bigger success. Coinciding rallies and meetings for peace took place in Dublin, Lurgan, Bangor, Whitehead, Newtownabbey, Galway, Connemara, Castlebar and Carlow, and buses from all over Northern Ireland were arranged to bring people to Belfast. A reported 25,000 people made it to Woodvale Park, Belfast for the rally but it was not only the size of the rally, but the geography, which made it historic. It was in part held on the Shankill road – the heart of Protestant Belfast – where they reached out to welcome thousands of Catholics over the peace line to march to Woodvale Park together.
From thence, rallies began to spring up all over Northern Ireland and mainland UK. Just over one month into the Peace People movement, there were about 120 branches in Belfast alone as well as branches 'in almost every town in the province.' By 24 September, both Williams and Corrigan were nominated for a Nobel Peace Prize.
On 15 October, a magazine, Peace by Peace, was launched by the Peace People, and sold in America, Germany, Norway, Northern Ireland, the Republic of Ireland, France, the UK and Australia. Both Williams and Corrigan, along with other co-founder Ciaran McKeown, travelled extensively to America, Germany, England and France to attend rallies, television spots, and radio interviews. In late November they travelled to Norway to accept a £200,000 cheque, raised by the Norwegian people for the peace movement.
'I am Betty Williams, the ordinary housewife, but I'm also Betty Williams, Nobel Prize winner.'
Over the next year, Williams, Corrigan and McKeown travelled the world giving speeches and encouraging peace work, but they were also faced with criticism from both loyalists and nationalists, and came up against controversy a number of times with church leaders – which a few times resulted in resignations from peace movement leaders in other parts of Northern Ireland and mainland UK. However, on 10 December 1977, both Williams and Corrigan were awarded the 1976 Nobel Peace Prize in Oslo for their efforts.
By April 1978, McKeown announced that the three co-founders would be stepping down from the Executive Committee and Williams stated that this was in order to let other people who had been working behind the scenes to have a chance to make decisions. In the following months, Williams and Corrigan travelled to New York to address the UN at a convention, was received by the Pope for a private discussion, and toured coast to coast in the US rallying support for peace in Northern Ireland.
By 1979, people began to become 'disenchanted' with the Peace People as 'the movement, which had started as a bringing together of ordinary people, had become too sophisticated and the nerve centre in Belfast had lost touch with the working class.' The fact that both women kept their prize money, instead of donating it or using it within Peace People, left many people bitterly disappointed. In February 1980 Williams resigned over the dismissal of Projects Manager Peter McLachlan, and Corrigan became chairman. Controversy surrounded the Peace People for days as it was not disclosed why McLachlan was sacked and while they assured the public that Williams had not resigned over the dismissal of McLachlan, she later revealed that it was for this reason exactly.
Shortly after her resignation, Williams got a divorce from her husband and moved to Florida where she remarried in 1982. She continued to tour America extensively. Corrigan's sister committed suicide in 1980 and in September 1981 she married her late sister's widower, Jackie Maguire. They had two children together. She became very involved in a number of campaigns on behalf of political prisoners and in 2006 she co-founded the Nobel Women's Initiative along with Williams and four others in an attempt 'to help strengthen work being done in support of women's rights around the world.'
The Peace People movement faced a lot of scrutiny and controversy. Some charged it with being more anti-Republican than anti-UDA, and others maintain that it doesn't deserve the credit it got, however, it managed to rouse thousands of women into action from across Northern Ireland and beyond. It inspired hope that the voices of ordinary, working class women could be heard far and wide, and indeed it did capture the imagination of foreign countries and shed light on the plight of the people in Northern Ireland for some time.
*Originally known as Women for Peace, it soon after changed its name to The Community for Peace People, or simply, Peace People.
Read more Herstory biographies here.