Analysis: A combination of civil War politics and poor political choreography scuppered Rita Childers in 1974
This weekend marks the 10th anniversary of the passing of Rita Childers, the wife of Ireland's fourth President, Erskine Childers. Although her life was far from uneventful, circumstance denied her the opportunity to make an indelible mark on the Irish psyche. But for a bout of poor political choreography, it is likely that she would have been Ireland's first female President.
Born Margaret Mary Dudley in Dublin in 1915, Rita, as she was known, was one of eight children. Her father's early death obliged her to move directly into the workforce at 17, foregoing the university education she had desired.
Following a number of secretarial positions, she was appointed assistant press attaché at the British Representative Office in Dublin in 1942. The then British Representative to Éire, Sir John Maffey, mentored her and recommended her for a position at the Irish desk in the Ministry of Information in London in 1943. From here, she moved for a time to the Foreign Office, before returning to Dublin in 1946 to once more take up the role of assistant press attaché at the Representative Office (later the Embassy).
Though supportive of the British war effort, Rita Childers was no critic of Irish neutrality
Her time in London broadened her perspective and contributed to the formation of the distinctive diction for which she was later known. Her work at the Foreign Office gave her access to unredacted accounts and images depicting the horrors of Nazi concentration camps, an experience that cemented her aversion to violence. Though supportive of the British war effort, she was no critic of Irish neutrality. Recognising the undeclared means by which Ireland aided the Allies, she also understood the domestic difficulties that public support for Britain would create for the Irish government at this time.
In 1952, she met the then Fianna Fáil Minister for Posts and Telegraphs, Erskine Childers. Romance quickly blossomed and they determined to marry that year. There were early obstacles, however. Discussions with Taoiseach Éamon de Valera highlighted the political difficulties inherent in a minister, particularly a Fianna Fáil minister, marrying an employee of the British Embassy and she would have to sacrifice her career for marriage.
More difficult still, was the reaction of Dublin's Archbishop, John Charles McQuaid, who refused to allow her (a Roman Catholic) and Childers (a Protestant) to marry in the capital. His love for her was such that Childers briefly considered converting to Roman Catholicism. In the event, no conversion was necessary, as the couple opted to marry in Paris in September 1952.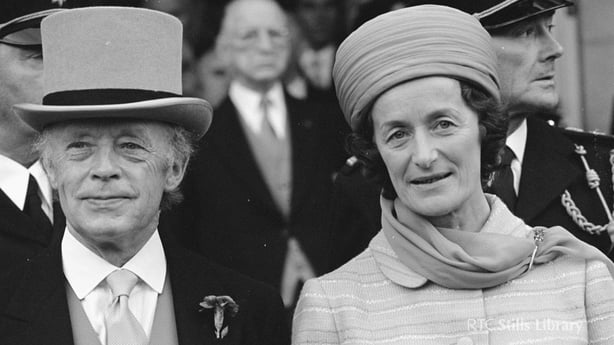 Though her family had Fine Gael leanings, and she never joined Fianna Fáil, her public relations experience proved useful to her husband throughout his political career. Often, when he spoke at public events, Rita mingled with the crowd and gauged reactions to him. When violence erupted in Northern Ireland in 1969, Childers valued her opinions greatly, particularly with respect to the views of the British establishment.
Her abilities also proved useful when he agreed to be Fianna Fáil's candidate for the Presidency in 1973. The closing weeks of de Valera's second term as President in mid-1973 finally signalled the end of the Long Fellow's presence in Irish political life. To some, however, it also heralded the potential for a total break with a past dominated by Fianna Fáil. A Presidential victory for the recently elected Fine Gael-Labour coalition government would further demoralise a Fianna Fáil organisation already shocked by its fall from power. Success for the Coalition was a distinct possibility, given that their candidate, Thomas O'Higgins (later Chief Justice), had come tantalisingly close to ousting de Valera in the previous presidential contest in 1966.
We need your consent to load this rte-player contentWe use rte-player to manage extra content that can set cookies on your device and collect data about your activity. Please review their details and accept them to load the content.Manage Preferences
From RTÉ Archives, a profile of Erskine Childers who was elected President of Ireland in May 1973
Fianna Fáil's selection of Childers for the Áras race proved inspired. He took to the campaign trail with gusto; traversing the state in an augmented campaign bus (dubbed the "Wanderly Wagon" by opponents), he promised to make the Office of the President more relevant to the citizenry. Rita was by his side throughout, and the media fascination with her elegance and dress sense contributed to his success.
However, this masked her true contribution to the campaign. For instance, she rather than Fianna Fáil Headquarters organised the press conference announcing his candidacy. Despite early speculation that he was likely to lose, his somewhat exotic appeal (Protestant, with a distinct English accent) clearly resonated with an electorate eager for a different type of presidency and his victory was emphatic.
As promised, his brief tenure as Ireland's first citizen proved a departure from the past. He travelled extensively throughout the state, attending functions, offering perspectives on society's challenges, and patronising charitable causes. Rita actively encouraged him, and exerted significant influence upon this new direction. It was thus fitting, that following his tragic death from heart failure in November 1974, Rita Childers was considered as an "agreed candidate" for the Presidency.
We need your consent to load this rte-player contentWe use rte-player to manage extra content that can set cookies on your device and collect data about your activity. Please review their details and accept them to load the content.Manage Preferences
From RTÉ Archives, Seán Duignan and John O'Donoghue report on the state funeral of President Erskine Childers in 1974
Unfortunately, Civil War politics and poor political choreography scuttled her chance to make history. Taoiseach Liam Cosgrave was eager to avoid an election and supported her candidacy. However, the Fianna Fáil leader, Jack Lynch, proved less enthusiastic. Having won the contest the previous year, his party saw it as their presidency. Although Childers was held in high esteem, she was perceived to have a "Fine Gaelish background". Thus, to soothe the egos of the party faithful, it was informally agreed by Cosgrave and Lynch that her nomination would be declared by Fianna Fáil, with the Fine Gael-led Government signalling its support in response.

But the plan came a cropper when a reporter queried the Minister for the Gaeltacht, Tom O'Donnell, on the matter before Lynch made his announcement. Reputedly hard of hearing, O'Donnell misinterpreted the reporter's question, mistakenly assumed the agreement was now public knowledge and confirmed the rumour.
Though Childers had yet to be formally approached, she made public her willingness to accept the nomination once the story broke, promising to build on her late husband's legacy as a servant of the people. It was not to be. Perhaps suspecting a Fine Gael double-cross, Fianna Fáil withdrew support for her in response to the scoop. The candidacy was later offered to the distinguished jurist Cearbhall Ó Dálaigh, a presidency that was itself ill-fated, as Ó Dálaigh would later resign amidst controversy.
We need your consent to load this rte-player contentWe use rte-player to manage extra content that can set cookies on your device and collect data about your activity. Please review their details and accept them to load the content.Manage Preferences
From RTÉ Archives, Private Views features President Cearbhalll Ó Dálaigh showing viewers around Áras an Uachtaráin (including the bathroom) in 1976
Though Childers wished the new President well, she was angered at how events had unfolded, and became intensely distrustful of "party politics" thereafter. She believed the disorganised manner of the succession had impugned the Office of the President, and that she had been a victim of patriarchal political intrigue: "I saw how, once again, a woman in Ireland can be regarded as mere baggage." Later, following Ó Dálaigh's resignation in 1976, she argued for a brief suspension of the Presidency, lest the Office fall further into disrepute.
A missed opportunity
Despite her understandable disappointment, Childers did not shrink into the background and she continued to play an active role in Irish public life. An energetic proponent of women's rights, she also contributed frequently to debates relating to youth education and training, the development of marginalised communities, the preservation of heritage (she was an early supporter of the Save Wood Quay Campaign), the fostering of North/South relations, and the ravages of alcoholism on society.
Had she received party support in 1974, Childers would likely have expanded upon her late husband's reforming role, utilising her public relations experience to highlight many of the issues she later came to advocate. As it transpired, Ireland would have to wait a further 16 years before another activist woman had the opportunity to dramatically change our perceptions of the Presidency.
---
The views expressed here are those of the author and do not represent or reflect the views of RTÉ
---