Analysis: the ambitious TV opera Patrick portrayed the saint as an Irish navvy in contemporary 1960s England rather than a bearded man in robes
St Patrick's Day has become a global celebration of Irishness and Irish identity, with heritage landmarks, government buildings and even major rivers turning green for the occasion. But how was St. Patrick depicted throughout the 20th century? Was he the captive emigrant who brought Catholicism to Ireland (and banished the occupier 'snakes' of paganism)? Or was Patrick a more working-class emigrant everyman?
First broadcast on Telefís Éireann on St Patrick's Day 1965, Patrick was a television opera written by Donagh McDonagh. Played by Edwin Fitzgibbon, Patrick was portrayed as an Irish emigrant labourer who tried to foster good will among warring gangs in an English industrial town. His peace mission sees him pursue a relationship with a local nurse, which almost gets him lynched.
We need your consent to load this rte-player contentWe use rte-player to manage extra content that can set cookies on your device and collect data about your activity. Please review their details and accept them to load the content.Manage Preferences
From RTÉ Archives, opening sequence from Patrick, the 1965 television opera
The cast included the mezzo-soprano Bernadette Greevy, Trinidadian musician and singer Othmar Remy Arthur, Martin Dempsey, Michael McCann and Patrick Ring and the music was composed by A.J. Potter. The Radio Éireann singers and choral society also star in the production, which was a first for Telefís Éireann. The opera was produced by Anne Makower and choreographed by Norman Maen.
In 1960, the first Director-General of the newly formed Telefís Éireann, Boston-born Edward J. Roth, sowed the seeds for an ambitious televised opera to depict the story of Ireland's national saint. Roth had previously worked on television operas in the US, such as NBS's television opera of Menotti's Amahl and the Night Visitors. The project was shelved for a number of years, notably owing to the death of singer Dermot Troy.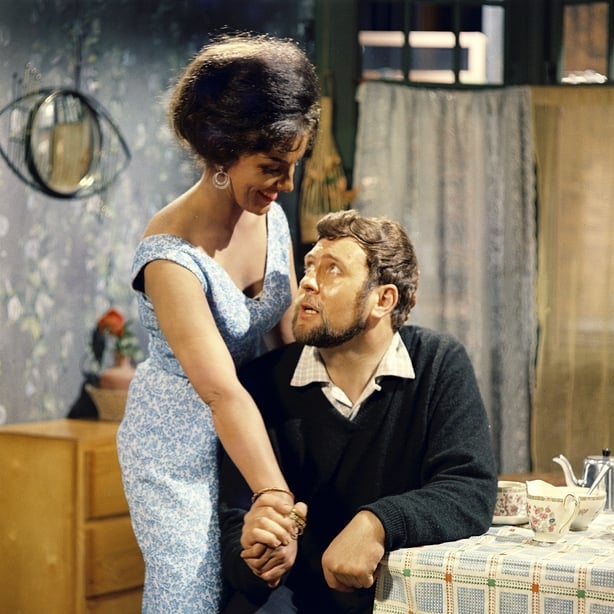 In the lead up to the 50th anniversary of the 1916 Rising in 1966, the opera project was revisited, but not without criticisms being directed as how Telefís Éireann was depicting Irish culture on screen. In February 1966, Cork TD Thomas Meaney criticised the depictions of the Irish abroad. He was likely referencing Patrick, as he denounced the version of Irishness (and indeed, masculinity) that RTÉ is presenting in advance of the 50th anniversary of the 1916 Rising.
We saw a certain type of play depicting the stage Irishman. There was the ordinary country boy who went across the Channel to earn a living and who fell into bad company. All the time, he is held up as a "gom" Irishman. We know that that type of thing is shown on films but to have it shown on Telefis Éireann is another matter.
The wider Dáil debates of the period also reveal how Government discussions made reference to the cultural ideal of St. Patrick in relation to Irish identity. For example, Gerry L'Estrange, TD for Longford-Westmeath, criticised Fianna Fáil policy for neglecting rural Ireland in May 1965:
We all know that Saint Patrick banished the snakes from this country and Brian Boru banished the Danes. It took Seán MacEoin and Michael Collins to help to banish the British but it has taken Seán Lemass and a Fianna Fáil city-dominated Government to drive the farmers and the agricultural labourers from the land of Ireland
The day after Patrick was broadcast, The Irish Times described it as "a landmark in Irish music", while the Irish Press described it as being a "post-West-Side Story', referencing the American musical play.
The opera's musical composer Potter said he overcame three challenges for how Patrick would represent Ireland and its national saint: "It had to definitely be Irish. The Irishness had to be of the present day, not of the eighteenth century, and it had to be good television". While Roth planted the seed for the opera, Potter delivered early drafts and scenarios that depicted an Irish labourer in an English industrial city, surrounded by emigrants from the West Indies and local mods and rockers, a place where an atmosphere of racism and prejudice prevailed towards the emigrant workers.
There can be no doubting the vision (and version) of a modern Ireland that McDonagh, Potter and Roth were seeking to portray. Ireland's patron saint would not fulfil an overtly Catholic imagery of a bearded man in robes with a staff, but rather an Irish emigrant navvy, labouring on the building sites of Birmingham in contemporary 1960s England. This was a plight familiar to tens of thousands of Irish men and women who left Ireland in the preceding decade, mostly out of economic necessity.
We need your consent to load this rte-player contentWe use rte-player to manage extra content that can set cookies on your device and collect data about your activity. Please review their details and accept them to load the content.Manage Preferences
From RTÉ Lyric FM's Culture File, curator Elizabeth Cooper on telling the story of the Windrush generation's relationship with Britain
Patrick in Potter and McDonagh's opera is not the romanticised 'Glorious Saint Patrick', but rather an everyman who is economically isolated from his Irish homeland. He finds himself socially and culturally isolated in the midst of a multi-cultural Birmingham in the peak of the Windrush migration years, which saw thousands of migrants from Caribbean countries come to England in search of a new life and employment.
One character in Patrick is Joey, a labourer from Jamaica, who was played by Trinidadian singer and musician, Othmar Remy Arthur. Arthur forged a reputation as a talented and versatile musician and performer, attracting a wide following in Dublin theatres since his first performance in Finian's Rainbow at the Gaiety Theatre in 1957.
He performed in the Pike Theatre late night revue, Irish Coffee in August 1958, performing 'Calypso Céilís' in the follies devised by Carolyn Swift and directed by Alan Simpson. Later, post the Pike, Arthur was part of cultural-political events such as an anti-apartheid folk and ballad concert at a capacity-crowd Metropole Hotel in Dublin, alongside other singers such as Luke Kelly and the Dubliners. The Gate Theatre's Hilton Edwards also gave a reading of writings by South African activist, Ronald Segal.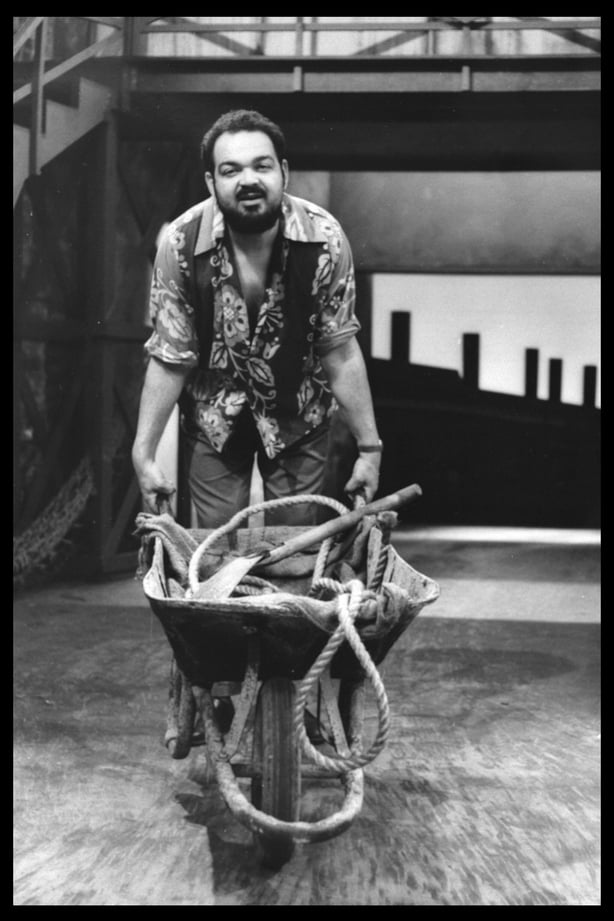 Arthur links many of the engagements of mid-20th century Ireland with an intercultural music and performance space. He also represents a wandering emigrant figure, as an outsider in a post-war British society, in which 'no blacks, no Irish" need apply. Working against themes and issues of forced cultural assimilation, Patrick, presents the Windrush migrants from the Caribbean into a similar form of statelnessess and shared post-colonial experience with that of the Irish emigrants.
In the opening scenes of Patrick, a shirtless Irish labourer pulls a garland of chains from his wheelbarrow and places them over the neck of Arthur's 'Jamaican Joey' character. He sings:
When first I came to this happy land
I expected the natives to take my hand
Now I am here there months or more
I expect the natives to shut the door.
Speaking on Radio Éireann in 1950, a Jesuit priest, Fr. Francis Shaw, gave a talk on St Patrick, describing him as: "a slave of God" and "a national apostle, a symbol of nationhood, who abandoned his own people and his own nation". These traditional visions of St Patrick, as an enslaved emigrant, became engrained within traditional Irish Catholic nationalism, a form of stage Irishness in its own right. With the televised opera Patrick, a new version of Ireland's national saint, and Irish identity was, for the first time, broadcast directly into the homes and television screens of Ireland.
---
The views expressed here are those of the author and do not represent or reflect the views of RTÉ
---