Analysis: Paulo Freire's writings enabled IRA prisoners to perform a more active role in the outside republican movement and the peace process than in previous decades and given his influence, he could be considered the peace process's hidden enabler.
19th September marked the 100th birthday of the Brazilian pedagogue Paulo Freire. The Socialist-Catholic Freire is best known for his radical approach to pedagogy. His innovative education influenced activists and educators around the globe, was also an inspiration for IRA prisoners in the H-Blocks and shaped the peace process.
Paulo Freire was born on 19th September 1921 in the northeast of Brazil. He graduated with a PhD from the University of Recife in 1959. Two years later, he became the director of the Department of Cultural Extension at his Alma Mater. At Recife, he was involved in educational projects dealing with mass illiteracy. During those years, Freire developed and practised his radically democratic pedagogy.
'Educate to liberate'
Freire's method was not just about teaching literacy; he also understood education as a process of politicisation. Freire was convinced that educating the masses would eventually lead to liberation from the oppressor.
Having been forced into exile by the military dictatorship in 1964, he moved to Chile, where he wrote his most influential book, the Portuguese best-seller Pedagogy of the oppressed. It was first published in English in 1970 and is now a Penguin Modern Classic.
Meanwhile in Ireland, the Northern Irish state descended into war. In August 1971, internment was introduced, and thousands were held in camps. The nationalists and republicans used their time in camps to study national history and military history until they lost access to reading material during the blanket protests and hunger strikes in the H-Blocks.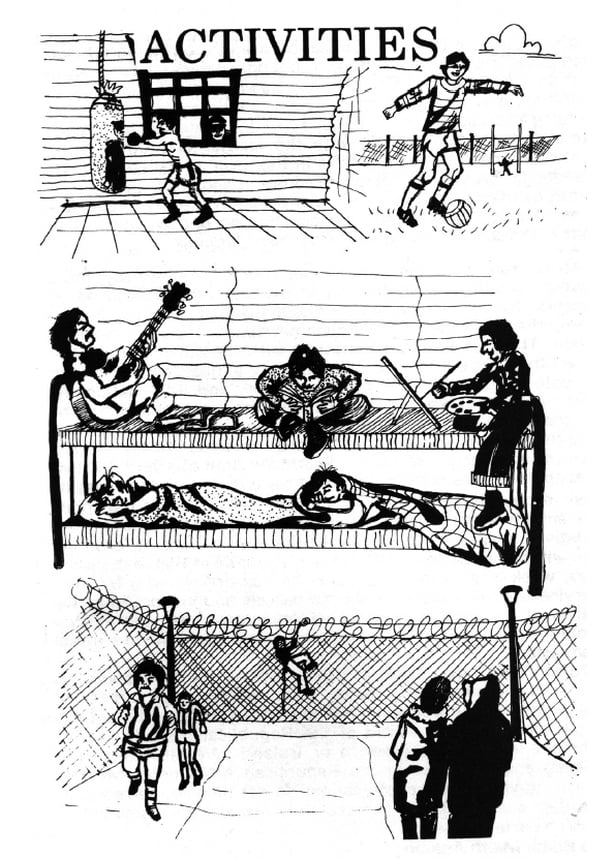 After the hunger strikes, the prison regime relaxed, and the IRA prisoners regained access to books, Open University education and prison facilities.
Freireian education after the hunger strikes
In 1982, prisoners in Long Kesh received a copy of Freire's Pedagogy of the oppressed. The book had an immediate impact on prisoners like the former hunger striker Laurence McKeown, who oversaw the education program for his fellow prisoners.
In an interview he recounts how 'the type of education program that we had within the jail (…) was very much influenced by Paulo Freire.' Based on Freire's approach, the IRA's Education Officer developed 'a very extensive program of education within the jail in terms of politics, world politics, guerrilla armies, whatever, as well as academic education.'
Since the beginning of the blanket-, and later no-wash-protests in 1976, some prisoners had no access to any reading material but the Bible for over five years. When the restrictions ceased, the prisoners had a vast appetite for reading whatever was available. Another former hunger striker, Gerard Hodgins, explains:
'Intelligent people rose to the leadership of the [republican] movement, and they realised that education could be a tool of liberation and emancipation. One of the people we were encouraged to read was Paulo Freire, the Pedagogy of the oppressed, a very difficult book to understand, very complicated language, very complex, precise, but what a book! We enjoyed it.'
'Libraries full of books'
Blanketman Anthony McIntyre was another prisoner who studied Freire and designed political and historical classes based on his ideas.
The structured classes involved a wide range of readings. In addition to the prison library, the IRA prisoners built their own collection, as Séanna Walsh, who read out a statement from the IRA Army Council announcing the end to its armed campaign in July 2005, remembers:
'We had libraries full of books. We had Ireland her own by T. A. Jackson, which was a favourite we would have used. We used Paulo Freire. (…) That would have been the political education – as well as that we would have studied General Giáp in Vietnam and his take on guerrilla warfare. We would have studied guerrilla warfare in Cuba, the likes of Castro and Guevara and all that. You would have studied Gramsci and all the contemporary stuff that would have been out there at that time, which would not only help to bring about an independent Ireland but a new type of political system in Ireland as well.'
In the true sense of Freire, studying was not a one-way process, and the prisoners used their newly acquired knowledge to reinterpret republican politics and history critically. One result of these discussions was writing a history booklet, as the former hunger striker Tommy McKearney describes:
'There were study groups around books. Paul Sweezy did a book on Socialism, and sometimes people were concentrating on [James Connolly's] Labour in Irish history. Then I used to organise study groups myself on Socialism, Communism, or Marxism. We developed a study program on Irish history. It was eventually published by the Sinn Féin publisher. It was called Questions of History, and I had written most of that. It was an attempt to bring Marxist analyses to the education in the jail based on Irish history.'
IRA prisoners were not monolithic, however. While they enthusiastically embraced a Freireian approach, McKearney explains that his 'revolutionary education', as he calls it, starkly differed from the 'pragmatic education' promoted by McKeown, McIntyre, and others.
We need your consent to load this rte-player contentWe use rte-player to manage extra content that can set cookies on your device and collect data about your activity. Please review their details and accept them to load the content.Manage Preferences
From RTÉ Radio One's The History Show, Thomas Leahy joins Myles to talk about the intelligence war Against the IRA during the Troubles.
'Education is the dynamo of the culture in prison'
In 1991, prisoner Féilim O'Hagan published a collection of writings from republican prisoners. In Éirí na Gealaí he writes about the influence of Freire:
'[Paulo Freire's] approach to education, in which the active learning process is rooted in the student's own experience of the world, and she/he is not just a passive recipient of what others define as knowledge, related very closely to what we ourselves had discovered to be the best approach. Education is the dynamo of the culture of our wings. It was through reading Freire's theories and from an examination of our own practical experience that we came to identify the term "education" as encompassing all aspects of our everyday life.'
Paulo Freire's writings enabled the IRA prisoners to perform a more active role in the outside republican movement and the peace process than in previous decades. The majority, influenced by the developments in South Africa and the release of Nelson Mandela from prison, supported the conflict transformation.
Two years after the Good Friday Agreement, Long Kesh/Maze prison closed in July 2000. Among the last items to leave the compound were 10.000 books – which the IRA prisoners had collected since reading Freire in 1982.
Without the support of the prisoners, the outside IRA leadership might have faced more obstacles during the peace process and the decommissioning of its weapons. Much of this support emerged from reading and studying conflict transformations as they happened in other parts of the world.
Paulo Freire did not live to see his impact on Ireland. He died on 2nd May 1997 in Sao Paolo. Given his influence on the IRA prisoners in Long Kesh, he could be considered the peace process's hidden enabler.
---
The views expressed here are those of the author and do not represent or reflect the views of RTÉ
---