Analysis: recent events in Derry and Belfast highlight the fact that those labeled the "biggest threat to Ireland" have not gone away
By Dieter Reinisch, University of Vienna
A car bomb outside the courthouse in Derry last month reignited fears that dissident republicans will use Brexit as an excuse to launch further attacks. Over the past months, politicians and commentators warned that a hard border would lead to "civil obedience", renewed attacks on border posts, or even bring back the Troubles.
The island of Ireland has arguably the densest net of paramilitary organisations in Europe. While public attention in the Republic focuses on republicans, Loyalist paramilitaries are still active. In October, representatives of the Ulster Volunteer Force met with Irish officials, warning that Brexit could "wind up working-class Loyalists".
From RTÉ Radio 1's Morning Ireland, RTÉ Northern Editor Tommie Gorman reports on January's series of security alerts in Derry and Belfast
In the past years, some of the most interesting Irish scholarly publications dealt with working-class Loyalism. One of these books is Aaron Edwards' history of the UVF. The research on Loyalism as well as recent developments would not suggest that Brexit will lead Loyalist paramilitaries to launch military attacks in the short-term. Their use of armed force to pursue political aims is long over. Instead, they focus their paramilitary activities on criminality. However, in the event of a border poll, as advocated by Sinn Féin, they might turn to civil unrest, as they did in protesting about the removal of the Union Jack from Belfast City Hall.
Dissidents: "the biggest threat"
Last September, Garda commissioner Drew Harris called dissident republicans the "biggest threat to Ireland". Dissident republicans are those political and paramilitary groups that left the main provisional republican movement, represented by Sinn Féin, over the past three decades in opposition to the peace process.
In order to understand if these groups pose a real threat to the political settlement at present or in a post-Brexit future, we need to ask three questions: First, do these groups have an interest in a return to armed conflict after Brexit? Second, are these groups capable of waging an armed campaign on a larger scale rather than sporadic attacks? Third, do these groups enjoy the necessary support among the population to wage an armed campaign?
From RTÉ Radio 1's Today With Sean O'Rourke, an interview with Marisa McGlinchey about her book Unfinished Business: The Politics Of 'Dissident' Irish Republicanism
Divided they stand
As the research of John Horgan shows, the various dissident republican groups increasingly splintered since their formations. Among the more visible groups is Republican Sinn Féin, founded in 1986. Widely considered as the political wing of the Continuity IRA (CIRA), the group split several times leaving merely a tiny rump of activists behind. For the past five years, the CIRA is largely inactive and incapable of staging attacks.
There exists a wide range of other organisations. Among those are Éirígí, the 1916 Societies, the 32 County Sovereignty Movement (the latter being the former political wing of the Real IRA), the Irish Republican Socialist Party (linked to the Irish National Liberation Army which officially decommissioned in February 2010) and the Republican Network for Unity (linked to Óglaigh na hÉireann which announced a ceasefire in January 2018. This situation leaves the New IRA as the main republican paramilitary organisation.
Are the New IRA exploiting Brexit?
The New IRA emerged as an amalgamation of various militant groups in July 2012 and its political wing, Saoradh was formed in autumn 2016. In November 2018, I interviewed the new chairperson, Brian Kenna, a former IRA prisoner. Asked if Brexit and a hard border will lead to increasing violence, he responded "I think it is inevitable. It depends what kind of deal will happen but if there (…) is a requirement that a physical hard border is established and this physical hard border is manned by British security forces, that increases the opportunity and the motivation for violence in that area, and this will most likely happen."
From RTÉ Radio 1's Marian Finucane Show, an interview with director Sinéad O'Shea about A Mother Brings Her Son to Be Shot, her documentary about Derry woman Majella O'Donnell who brings her teenage son, Philly, to be shot in both legs by dissident republicans
This statement and those from other activists show there is an interest in exploiting Brexit for their interests, even by military means if necessary. However, these comments must not be overrated. Dissident republicans want a united Ireland. Even if Brexit brings a soft border, Ireland will still be divided and, thus, the likelihood for occasional attacks exists – with or without a harder border. In the understanding of dissident republicans, every British security force member - no matter if it is a British soldier, a member of the Police Service of Northern Ireland, or someone manning a border post is a legitimate target. Their interpretation of Irish history will not be affected by Brexit, no matter what outcome it will bring.
The New IRA statement claiming the Derry car bomb underlines this: "all this talk of Brexit, hard borders, soft borders, has no bearing on our actions and the IRA won't be going anywhere." Paddy Gallagher, the spokesperson of Saoradh in Derry, shared similar sentiments in an interview with me shortly before the release of the New IRA statement: "I don't think that the attack had anything to do with Brexit."
Return to the Troubles?
Secondly, I would argue that even if any of these groups are willing to conduct a larger scale military campaign, their limited resources make this currently not likely. As mentioned above, the groups are splintered, small, and highly infiltrated by the intelligence service. The arms find in Co Louth further indicates this.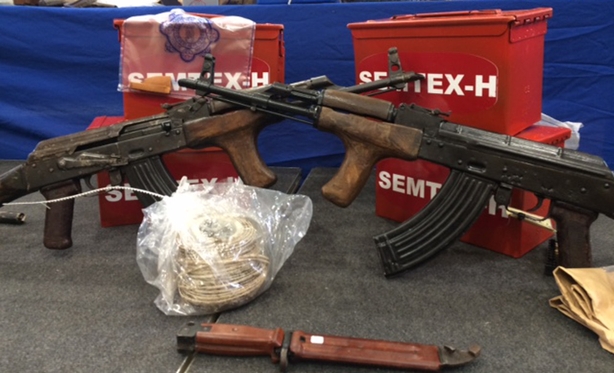 Finally, while there is increasing frustration with the outcome of the peace process in certain areas that leads to growing support for political alternatives to Sinn Féin, there is no appetite for a return to armed conflict as Richard English stresses. Nonetheless, the election of three dissident republicans to the Derry and Strabane District Council and the participation of 3,000 people at the Easter rally in Coalisland, Co Tyrone in 2016 indicate a small level of visible support among the nationalist population.
In sum, there will be no return to a higher frequency of attacks. Dissident republicans will continue with occasional attacks, such as they do for the past 20 years, with or without a hard border. Hence, all warnings that Brexit "could revive the Troubles" do not reflect existing research.
Dr Dieter Reinisch is an Adjunct Professor in International Relations at Webster Vienna Private University and a lecturer at the University of Vienna and University of Salzburg
---
The views expressed here are those of the author and do not represent or reflect the views of RTÉ
---