Analysis: all you need to know about the advantages, disadvantages, range, price and battery life of new electric vehicles.
2019 has been an amazing year in the world of electric vehicles. There has been no shortage of eye-catching headlines at home, from the government's new plan for a million electric cars by 2030 to the arrival of the Hyundai e-Kona and Tesla Model 3 on our shores. The ESB announced the closure of two peat generating stations as they prepare for greater electrification of society, especially for electric vehicles.
Tesla just launched their new cybertruck electric vehicle (complete with broken windows), and also recently announced that they made a profit. This is no mean feat in this business: just ask James Dyson of vacuum cleaner fame, who decided to scrap his electric vehicle business before the company lost any more money (over €2 billion at last count).
From RTÉ 1's News, "indestructible" windows shatter during Tesla's cybertruck launch
Ford teamed up with Volkswagen to develop electric vehicles, while General Motors in Detroit has just weathered a long strike as it prepares its business for electric vehicles. On the scientific front, John Goodenough won the Nobel Prize for Chemistry for the invention of the lithium-ion battery, the technology which has transformed our world from smart phones to electric vehicles.
When it comes to electric vehicles, your options have been multiplying throughout 2019, with lots of choice ranging from battery-electric vehicles to plug-in hybrid-electric vehicles to hybrid-electric vehicles.
What are the advantages of electric cars?
Electric vehicles are more efficient than the equivalent petrol or diesel car, emit less carbon and other toxic pollutants and require less energy to run. The battery-electric vehicles and plug-in hybrid-electric vehicles can be fuelled by renewable energy from the electricity grid, which reduces our dependence on imported fossil fuels and our related carbon emissions.
From RTÉ TEN, RTÉ Motoring Editor Donal Byrne reports on the changing motor industry
Electric vehicles have automatic transmissions, making them easy and quiet to drive, with fast accelerations due to the electric motor. An amazing feature is regenerative braking; the electrics can slow down the car and recharge the battery rather than use the brakes. Charging a battery-electric or plug-in hybrid-electric vehicle using a night-time electricity rate costs only about 1.5c/km! The rate is about twice as high for day-time charging, and over three times as high using the new ESB fast-charging rate.
Battery-electric vehicles have a motor tax of €120 while a hybrid-electric vehicle, such as the Toyota Corolla, costs about 7c/km and comes with a motor tax of €170. On the carbon side, battery-electric vehicles have indirect emissions of about 60 g/km due to the electricity grid, with the number varying depending on the amount and mix of fossil fuels used. The most efficient hybrid-electric vehicle emits just over 100 g/km.
And the disadvantages?
The principal disadvantage relates to the range of the battery-electric vehicles, though battery size has been increasing while cost has been reducing, and so a range of greater than 400 km is common in many models. We know that the battery degrades with time so the range could drop in half in several years under severe weather conditions, such as driving at highway speeds with the heating on in cold sub-zero winter days.
From RTÉ Radio 1's News At One, John Hayes discusses concerns that electric vehicles could drain the Exchequer of motor tax and fuel excise
There are serious environmental concerns around the batteries related to the energy and carbon intensity of manufacturing, the recyclability and the sourcing of key materials. These concerns have to be addressed for the long-term sustainability of electric vehicles. That said, serious environmental concerns have to be addressed for all options of mechanized transportation. The battery-electric vehicle has the key advantage of eliminating toxic tail-pipe emissions.
The battery-electric vehicle can be charged at home using a standard charger, which adds range at about 40 km per hour of charging, or on a fast charger adding range of about 150 to 200 km in 30 minutes of charging. Home charging at night is probably the better environmental option as regular fast charging can shorten the life of the battery. The hybrid-electric vehicle and plug-in hybrid-electric vehicles can be refuelled at the petrol station using petrol adding range of about 800 km in less than two minutes
Some highlights on the forecourt
Given the breadth of vehicles from different manufacturers with wide price ranges, here are some select models which debuted in 2019. Note that we use the newer WLTP figures published by the manufacturer for range and emissions.
From RTÉ Radio 1's Mooney Goes Wild, motoring journalist Michael Sheridan takes us for a virtual walk through the elective vehicle showroom
The Hyundai e-Kona (battery electric) debuted in early 2019. The crossover has a large 64 kWh battery with a range of 449 km and a 200 horsepower motor accelerating from 0 to 100 km/h in 7.6 s. The battery comes with an 8 year or 160,000 km warranty, it has no towing capacity and retails at €38,630.
The Tesla Model 3 (battery electric) saloon finally arrived in Ireland this summer. With the lowest-cost model retailing at €48,900, it is within the price range for buyers in the luxury market. The basic model has 54 kWh of battery and a range of 409 km. The basic 283 horsepower motor accelerates the car from 0 to 100 km/h in 5.6 s, while the premium model can do it in 3.4 s. The car can tow up to 900 kg. The battery also comes with an 8 year or 160,000 km warranty.
The Toyota Corolla hybrid electric saloon is the most efficient petrol or diesel car on the road today. The 122 horsepower engine sips petrol at 62.8 mpg with carbon emissions of 102 gCO2/km and NOx emissions of 3mg/km. Toyota now even warranties the battery on its HEVs for 15 years. The benefit of the hybrid electric is that the car combines the improved efficiencies of the EV with the easy fuelling and range of a petrol car. Prices start from €26,920.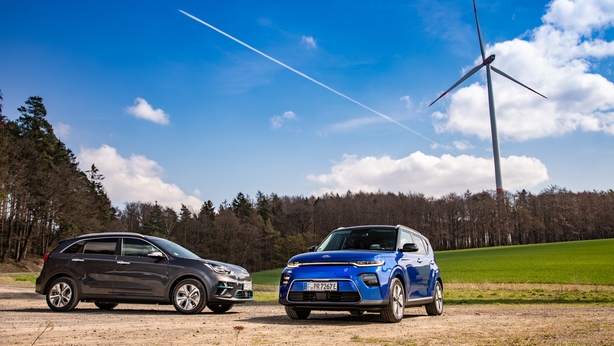 The Kia Niro crossover made a splash in Ireland in 2019 and sells at €32,494. The advantage of the plug-in hybrid electric vehicle is that it can be charged at home and can drive as a battery electric vehicle using the battery only for about 50 km, which is the average daily commute in Ireland. Going beyond the 50 km is not a problem as the 1.6 L engine kicks in and the vehicle runs as a hybrid. The battery comes with a 7 year or 150,000 km warranty.
The full list for 2020
The following alphabetical list is a starting reference for electric cars on the market in early 2020. The model and base price are typically quoted. The vehicle type is shown as coupe (c), crossover (x), estate (e), hatchback (h), liftback (l), saloon (s) or SUV (V). Aside from the factors discussed above, you should consider seating (mostly 5, but it can vary), storage space for shopping or golf clubs, and how easy it is to wire your home for charging.
Please note that there may be errors or omissions, and that there will be variations due to delivery charges, etc. New vehicle launches are fast and furious in the electric vehicle world, so check with dealers to confirm prices, availability, new and premium models, and variations for 2020 and beyond
Battery electric vehicles
Audi e-tron (V) €91,750; BMW i3 (h, four-seater) €35,760, Mini Cooper (h, four-seater) €27,200; Ford Kuga (V); Hyundai Ioniq (s) €34,850, Kona (x) €38,630; Jaguar I-Pace (x) €82,895; Kia Niro (x) €37,495, Soul (x) €37,495; Mercedes Benz EQC (V) €81,950; Nissan Leaf (h) €30,890; Opel Corsa (h); Peugeot 208 (h) €27,334; Renault Zoe (h) €26,990; Tesla Model 3 (s) €48,900, Model S (s) €89,800, Model X (V) €95,500; Volkswagen e-Golf (h) €32,250.
Hybrid electric vehicle
Ford Mondeo (s, e) €34,080; Honda CR-V (V) €41,650; Hyundai Kona (x) €28,495; Lexus CT (h) €34,750, ES (s) € 49,950, IS (s) €47,525, LC (c) €114,575, LS (s) €115,345, NX (x) €49,000, RC (c) €58,525, RX (V) €70,750, UX (x) €40,200; Toyota Camry (s) €39,950, Corolla (h, s, e) €26,390, C-HR (V) €30,260, Prius (l, e) €33,075, RAV4 (V) €36,900, Yaris (h) €22,385.
READ: The second coming of the electric car
Plug-in hybrid electric vehicles
BMW 225xe (h) €38,100, 330e (s) €43,070, 530e (s) €53,000, 745e (s) €93,800, i8 (c) €134,500, Mini Cooper Countryman (x) €39,000; Ford Kuga (V); Kia Niro (x) €32,494; Mercedes Benz E300 (s) €58,110, S560e (s) €109,410; Mitsubishi Outlander (V) €39,900; Opel Grandland X (V) €36,500; Peugeot 3008 (V); Porsche Panamera (s, e) €120,000; Skoda Superb (s) €41,000; Volkswagen Golf (h) €41,450, Passat (s) €46,495; Range Rover Sport (V) €96,805, Vogue (V) €138,015, Autobiography (V) €163,855;Volvo S60 (s) €55,068, S90 (s) €70,004, V60 (e) €61,300, V90 (e) €73,295, XC40 (x) €46,885, XC60 (x) €65,984, XC90 (V) €85,647.
UCC engineering students Luke Hennessy and Peter Milner also worked on this article.
---
The views expressed here are those of the author and do not represent or reflect the views of RTÉ
---