Opinion: decentralisation will only work if local government can make decisions about raising revenues and spending on services
Recent reports suggest that decentralisation is on the government's agenda again. The Minister of State for the Office of Public Works and Flood Relief Kevin 'Boxer' Moran is leading the charge and tabling it as part of the negotiations for budget 2020. Specifically, he has identified Athlone and Sligo as ideal urban areas to act as civil service hubs and to accommodate different wings of government departments. By coincidence, one of the minister's constituency offices is located in Athlone. 
The minister has argued that decentralisation will help ease the housing crisis, help free up much sought after office space and reduce transport congestion in the capital, whle also addressing under-investment in regional cities and towns. So what's not to love about such a win-win proposition? Let's look at the case for and against such a proposal.
We need your consent to load this rte-player contentWe use rte-player to manage extra content that can set cookies on your device and collect data about your activity. Please review their details and accept them to load the content.Manage Preferences
From RTÉ Radio 1's Today With Sean O'Rourke show, John Moran, chair of the Land Development Agency, discusses decentralisation
The case for decentralisation
Many countries have attempted to relocate civil servants, and of course we have also tried it in the past. The most recent example in the Irish case, was Charlie McCreevy's proposal in 2003, where he floated his idea of decentralisation just hours before the 2004 Budget. In the then Minister for Finance's plan, 10,300 civil and public servants were to relocate from Dublin to 53 locations in 25 counties. Since the plan was enacted back in 2004, only a third of the planned number of workers relocated, and it was subsequently abandoned in 2011 and considered a failure.
McCreevy said back in 2003 that Ireland needed to get away from "the Dublin mindset". To be fair, relocating the hubs of decision-makers should broaden their mind-set, resulting in strategic plans that encompass whole of Ireland concerns. Other arguments often put forward for such geographical spreading of government departments is to bridge growth imbalances. It is akin to IDA Ireland directing FDI to a regional town or a sort of "manna from heaven" panacea for lagging areas.
We need your consent to load this rte-player contentWe use rte-player to manage extra content that can set cookies on your device and collect data about your activity. Please review their details and accept them to load the content.Manage Preferences
From RTÉ Radio 1's Drivetime, Declan Jordan from the Spacial and Regional Economics Research Centre in UCC on a new decentralisation scheme for civil servants that the government is considering introducing as part of Budget 2020
With limited thought, it would be easy to jump to the conclusion that it might actually work. The relocation of workers to regional hubs would bring incomes directly into regional towns and help create further spin-off businesses and jobs in their localities (a multiplier effect). The added bonus often lauded with such proposals is the cost savings that could potentially be made by selling government buildings in the capital and implementing lower regional wage adjustments to new recruits. In all, it is easy to see why the proposal to move civil servants crops up so often. 
The case against decentralisation
However, we need to think carefully about why it hasn't been successful before and why it is often abandoned. The reason why agglomerations such as Dublin exist in the first place is that positive technological, cultural, cognitive and organisational learning externalities and efficiencies are acquired by people, firms and sectors that cluster in geographical proximity with one-another. Consequently, locating in less densely populated areas is sub-optimal as such positive externalities are less likely to be gleaned.
We need your consent to load this rte-player contentWe use rte-player to manage extra content that can set cookies on your device and collect data about your activity. Please review their details and accept them to load the content.Manage Preferences
From RTÉ Archives, a RTÉ News report on former Taoiseach Bertie Ahern discussing decentralisation on the European elections campaign trail in 2004 
Most firms and people are drawn towards such agglomerations like a magnetic force. For example, three out of every five jobs in 2018 were created in the Dublin city region and Dublin's job growth share of all jobs created is increasing in recent years. In effect, people, firms and consequently jobs are favouring the Dublin region to locate and grow. This is despite the much acclaimed rhetoric that Dublin is over congested and is operating at full capacity.
So if most sectors, firms and people are choosing Dublin, why would it make sense for the civil service to move out of Dublin? The reality is it doesn't make sense once the pros and cons are weighed up. A report by the Department of Public Expenditure and Reform in 2012 identified that the civil service was badly damaged by McCreevy's decentralisation plan. It resulted in a major haemorrhaging of corporate knowledge, serious staff churn, and the creation of inefficiencies, where the necessity for staff to work out of two locations (the Dublin based and decentralised location), with increased travel and time costs was associated with much organisational disruption. Such plans are also usually resisted, as in many cases it involves the uprooting of families that have made a home and become embedded in communities.
Many also point to the increased opportunity with modern technologies for remote working. Yes, some functions and aspects of the daily grind can be replaced and conducted remotely, but significant amounts of it cannot. The reality is that the need for face-to-face interaction is still dominant. Otherwise, all sectors and firms would be dispersing to regional hubs to avail of the lower costs of living and doing business.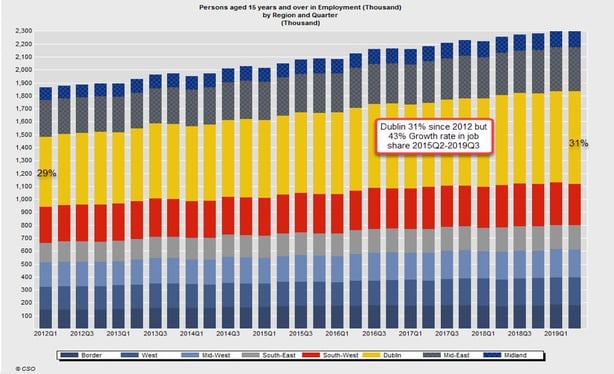 The case for real decentralisation
It's important to note that the ideas from ministers McCreevy and Moran are not decentralisation as it is typically understood, but a plaster job that will only temporarily conceal the deeper underlying problems that Ireland's current institutional set-up creates. There is, however, a strong case for proper decentralisation, which is the transfer of powers and responsibilities from central government level to elected authorities at regional or local government level who have some degree of autonomy.
The degree of autonomy varies considerably across Europe but it is highest currently in Switzerland and the Nordic countries, with Ireland having the least local autonomy in Europe. In many other countries, local governments have autonomy over raising revenues or receive significant proportions of revenues from taxes such as income tax, corporation tax and VAT to emission taxes, entertainment taxes, lottery taxes etc.
They also have a wide autonomy of spending on services, such as industrial policy, infrastructure, housing, policing, education and health. With an increased responsibility for collecting revenues and delivering services at a local level, there will be a natural shift in the share of civil servant numbers required from Dublin to other regions and cities, as local government capacity will need to increase.
We need your consent to load this rte-player contentWe use rte-player to manage extra content that can set cookies on your device and collect data about your activity. Please review their details and accept them to load the content.Manage Preferences
From RTÉ Radio 1's Morning Ireland, Brainstorm contributor Frank Crowley describes Cork City's no vote to a directly elected mayor as a missed opportunity
Evidence across the OECD indicates that there are reduced regional disparities in countries, where local spending is mainly financed by local taxation. Two patterns are clear in Ireland: (i) its lack of local autonomy and (ii) it is clearly suffering from severe regional inequalities. Not only are there significant population disparities across space, but the average GDP per person for people in the border and western counties is less than a third of that of the average Dubliner.
Seventeen (17) counties have average per person disposable incomes of 75% or lower than that of Dublin. The Dublin region has 51% of the nation's honours degree graduates, five out of eight of the nation's universities and 59% of all employment in the creative industries. Future expected shocks of climate change, Brexit and automation will also be felt more harshly outside the Dublin city-region. The future is all pointing to an even more unbalanced regional story so the housing crisis in Dublin needs fixing to accommodate significant future demands - not distractions.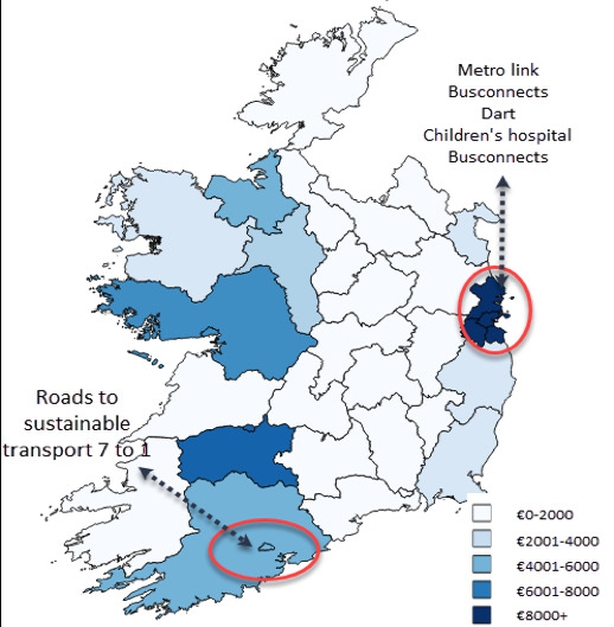 The government will point to the Ireland 2040 plan as the intervention that will disrupt the pro-Dublin development bias. I have zero faith in this plan resulting in regional convergence and/or in its ability to meet the population growth targets it has set for areas outside of the Dublin city region. Let's recall some of the targets. Each of the provincial cities are expected to grow its population by between 50 and 60%, i.e. at more than twice the rate of Dublin. The NPF growth target for Cork, Limerick, Galway and Waterford is two-and-a-half times the long-term historical growth rate from the past 50 years of these centres combined.
But despite the optimistic growth plans for areas outside Dublin, Ireland's 2040 plan per capita spend at county level from 2018-2027 has Dublin receiving the highest. How will that help rebalance growth? Vast areas of the country are receiving very little, while provincial cities are receiving what I would argue are the wrong big ticket programmes for their current needs (i.e. roads leading to sprawl and dispersed development). The Ireland 2040 plan is also being implemented with largely an unchanged institutional top down approach, albeit with some implementation and oversight changes at regional assembly level. 
READ: Why Project Ireland 2040 is doomed to fail
Minister Moran may be wrong about dispersed centralisation, but he is navigating in the right direction. We just need him to veer off completely down a different decentralisation junction, because the only credible plan that will result in directing growth towards regional hubs will be their capacity for autonomy, so they can control and guide their own future. 
---
The views expressed here are those of the author and do not represent or reflect the views of RTÉ
---