The Brainstorm Long Read: what are the transport, housing and employment factors to consider to make Cork a great city?
According to Project 2040, Cork is expected to increase its population by 125,000 by 2040. I believe this can be achieved and the city has the potential to grow even larger if the right decisions are made. But there are a number of comparative disadvantages that need to be overcome.
A recent OECD report has indicated that Irish urban areas are sprawling and our cities in particular are performing poorly on decentralisation, fragmentation and polycentricity indicators. This means large areas of where we live are broken (fragmented) and split from the city core of the region (decentralised) and the densities in some satellite towns are higher than the city core (polycentricity).
Recent work by the European commission also supports the premise that Cork is a sprawled city relative to our European neighbours, it has low potential for efficient public transport, poor access to green urban areas and, according to TOMTOM commuting data, Cork is on the wrong end of the congested small cities table in Europe. We're in bad company because this data also says Dublin is the fourth worst city in Europe. A recent report by LSE Cities at the London School of Economics used American data to put the costs at more than €10,000 per capita for citizens living in the worst sprawling cities versus the smartest compact cities. Sprawl and congestion are bad news.
From RTÉ Archives, Tom MacSweeney reports for RTÉ News on the Cork Land Use and Transportation Study published in 1978
When we look to the international scene, people are returning to the inner-city areas as future opportunities are being driven by increasingly more complex knowledge combinations (innovations) and service intensive industries. In America, 73 per cent of employment gains between 2010 and 2016 have occurred in cities over one million. And in the past 12 months; Dublin has swallowed up the majority of the new job opportunities in Ireland.
The companies of the future will less likely want to be located in out of city locations and will more likely want to be located near a university, the buzz of the city and in locations that are already key employment hotspots. The likelihood of a company willing or wanting to locate in Blarney, Brinny, Kinsale, Middleton, Mallow or in out of city industrial parks is falling.
Current trends indicate that the jobs will spin-off and be more centralised around employment hotspots and cores of cities than ever before
This is evident in the recent planning applications and approvals for office development in Cork's city core. Such locations provide a more enhanced learning environment where the proximity of being close to other firms, educated people and universities helps firms to generate new ideas and innovations. Current trends indicate that the jobs will spin-off and be more centralised around employment hotspots and cores of cities than ever before.
But this is not just a trend with companies, it's also a trend of Millennials. The employees of Apple and Voxpro want to live close to work and be where all the city buzz and amenities are rather than living out in suburban locations. Household composition has changed substantially over time, but our mental image of what constitutes a home has not. An increasing share of us are living alone as fertility rates decline, divorce increases and single parent families increase.
From RTÉ Radio One's Today With Sean O'Rourke Show in October 2017, Cork councillors Seamus McGrath and Des Cahill on the ongoing battle between Cork City and Cork County councils over a proposed redrawing of council boundaries
What now constitutes a family has vastly changed as our society has evolved. 25 percent of households in Ireland contain only one person and this is likely to increase. Currently, our housing infrastructure is under-occupied with unused excess space in many homes. Most house sizes do not match house size need. Only 18 percent of the housing stock in Cork city and suburbs are apartments. The city needs to build around 100,000 apartments over the next 20 years to meet existing unmet demand and future demand.
This will require a remarkable change in knowledge capabilities and mind-set. At a time when liveability is a key urban goal for most cities to maintain a comparative advantage, the alarm bells should be ringing loud and clear. We need to get smart on compact planning and sustainable transport quickly. Other cities have been much smarter.
But we need to ask ourselves if people follow railways or do people follow jobs?
The biggest problem for me is the fact that we are not changing direction. As Keynes put it, "when the facts change, I change my mind, what do you do, sir?" For instance, we are currently sticking to outdated 'parts' and old 'mind-sets' of development plans like the Cork Area Strategic Plan (CASP). The National Planning Framework states the regional spatial and economic strategic plans for Cork will be based on CASP until the national government decides on an appropriate level of political and administrative governance of the greater metropolitan area. I suspect we could be waiting a while until that happens.
Outside of the plans for the city docklands, CASP represents a manifesto for further sprawl and spread development in the wrong direction for the city. The city-region immediately needs to stop spreading outwards and look inwards towards an enhanced live-work-play high density model.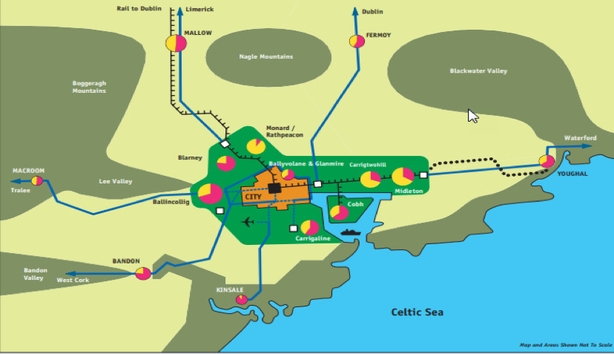 The CASP plan has substantial population growth targets for Midleton, Blarney, Bandon, Fermoy, Macroom, Youghal, Mallow and a new town at Monard/Rathpeacon (see figure above). Some of these towns are a significant distance away from two (Airport and Ringaskiddy) of the city's six key employment hotspots (the city, Ringakiddy harbour area, Airport, Mahon, Little Island and Blackpool area). The Airport and Port (Ringaskiddy) are also key infrastructural assets that will play a big part in Cork's future.
The pull by planners for development to the North appears to be the Midleton-Cork-Mallow railway line. Railways are great if they match where people live and work. But we need to ask ourselves if people follow railways or do people follow jobs? How many people will use this sustainable transport option? If you live in Monard or Middleton and work in Ringaskiddy or the Airport, how are you going to get there?
Displacing population and resources to a railway and spreading an already sprawled, congested city doesn't make sense if it is disconnected from key employment hotspots. Rail needs to be surrounded by highly compact and dense development to be viable. Most of this railway line will never have that as we are starting off a very low population surround.
Without rapid transit, the southside of the city will continue to be car dependent and restrictions to parking and increased parking costs will be vehemently opposed
It will also be difficult to incentivise people to use it as a large proportion of the current population to the south of the city will still have poor bus infrastructure. Without rapid transit, the southside will continue to be car dependent and restrictions to parking and increased parking costs will be vehemently opposed. The appeals for investment in roads will continue which, in turn, will cause more congestion and inefficiencies as greater numbers of people will be converging to the same employment zones.
Our primary problem is that there is a lack of sustainable connectivity between the six key employment hotspots of the city-region. Our sole focus should be on connecting these areas by rapid transit. In doing so, the majority of the city's residential footprint will also be incorporated.
Within and outside this footprint; community bus systems and park and rides can feed onto the transit system. From there, it's about city-building and concentrating on building a thriving community. This should see higher density mixed development, firms located in close proximity, cost rental options, public realm investment, cycling investment, flood protection, green family areas, playgrounds, and supporting the key educational and cultural institutions of our city to help assist our businesses to thrive and innovate.
---
The views expressed here are those of the author and do not represent or reflect the views of RTÉ
---