Analysis: a new report shows Ireland's patchy environmental record is still amongst the worst in Europe in many key areas
Not for the first time, Ireland's patchy environmental record is taking centre stage in a new report, which reveals everything from the quality of our air and the pollution in our rivers, to the amount of waste we produce and the greenhouse gasses we're emitting.
We already have the title of 'worst-performing EU country' for our overall efforts in climate change protection and we're still dragging our heels. Climate change is affecting our health and our lifespans and will hit countries economically regardless of whether they are hot or cold, rich or poor, and our institutions, laws and policies might not be up to the task of slowing things down.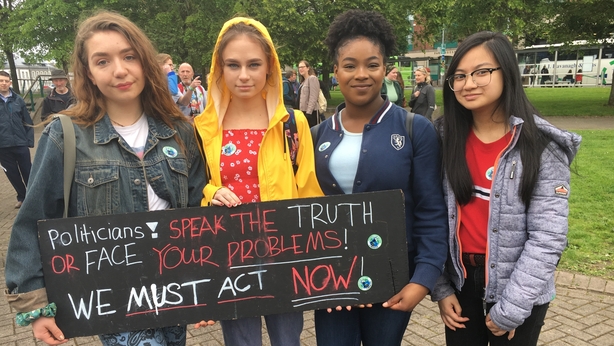 The Environmental Indicators Ireland 2019 report, the fifth and most recent edition published by the Central Statistics Office (CSO) this week, updates a set of 65 indicators across ten different domains, shining a light on the current state of our environment and how are green credentials measure up to other European Union (EU) members.
The bad news is that Ireland performs poorly in a number of key areas: air pollution, greenhouse gas (GHG) emissions, renewable energy, biodiversity protection and organic farming.
Air
Ireland has the third highest level of greenhouse gas emissions in the EU and air quality has improved on all other indicators but ammonia emissions. We also have the highest levels of nitrogen oxides (NOx) emissions, pollution which primarily comes from traffic exhaust fumes, followed by agriculture, at 70% above the EU National Emissions Ceiling set in 2010. Only three other countries - Germany, Australia and Luxembourg - exceed the limit and all by smaller amounts.
We are also ranked worst for Non-Methane Volatile Organic Compounds (NMVOC) emissions at 106% above the EU National Emissions Ceiling set in 2010, 11th worst for sulphur dioxide and 18th worst for PM2.5 emissions - a very small particle which can penetrate the lungs and cause damage. These chemicals all contribute to air pollution across land boundaries, which is why they are regulated by the EU.
"Air doesn't abide Brexit, if you like," says John Sodeau, Professor Emeritus of Chemistry at University College Cork. The level of nitrogen oxides and NMVOCs is an "enormously bad problem," he says.
"The thing that struck me the most is that throughout the EU28, Ireland is the worst offender for NOx and these so-called NMVOCs. So we're not in a great position... and that's before you even get to ammonia." The increasing levels of ammonia - now 7.9% higher than in 1990 - are largely due to ammonia-based fertilisers and poor husbandry of poultry and pigs, Sodeau says.
"All in all - If this was a chemistry student that I was teaching, I would tell that student to go away and if you want to leave with a degree, do a bit better."
Renewable energy
The CSO report also showed that renewable energy accounted for just 3% of Ireland's total energy consumption in 2016, the joint third lowest in the EU and Ireland remains largely dependent on oil for the generation of energy. Piyush Verma, Senior Energy Market Analyst with International Energy Research Centre, says there's a huge gap between the current situation and the future ambitions as set out in the Climate Action Plan 2019, published in June.
From RTÉ One's Six One News, EPA warns over traffic-related pollution in Dublin
"We need to dramatically speed up our effort," he says. "Our economy is primarily dependent on oil and we need to reduce this dependency. While it is true that we need to be realistic (about) how the economy functions and how the society prospers, and we cannot immediately reduce this, we need to recognise that our growth towards renewables is very slow as compared to what it should be. We are a long way from losing our dependency on oil, while we want to be a net zero economy by 2050."
On the positive side, 30% of electricity in Ireland is being generated by renewable energy now, an increase from 5% in 1990-1994. Verma believes Ireland has done a "fantastic" job in this regard compared to other countries, but the change has happened much too slowly. "It took more than two decades," he says. "We need to achieve 70% by 2030 - there is only a decade to do this."
From the RTÉ Brainstorm podcast, should Ireland be looking at the option of nuclear power?
Ireland will have to take multiple actions to achieve the ambitious targets and we should be looking to the UK to replicate their use of offshore wind power and to solar energy as well, an area that has seen a declining cost trend, Verma says. We also need to support decentralised generation and micro-generation with new, innovative community-centred business models, he says. To manage the demand and maintain the efficient flow of power in the future, Verma also believes we need to consider energy storage.
Verma points to the forced temporary outage of Ireland's only coal-fired energy station, Moneypoint in Kilrush, County Clare, as a big factor in the 6.8% fall in greenhouse gas emissions in 2018 - versus a 2.5% EU average in 2018 - and says it shows that we were able to survive without it.
From RTÉ Radio 1's Drivetime, Philip Boucher-Hayes reports on Moneypoint and asks if we can live without Ireland's largest carbon emitter
As we face the permanent closure of Moneypoint in 2025, he believes that timeline could be brought forward to help meet Ireland's emission target in a timely manner.
Biodiversity
Rather than show us what we know, what the report really shows us is how little we know about biodiversity decline in Ireland and how few monitoring schemes we have in Ireland to be able to provide the data, says Dr Dara Stanley, Lecturer in Applied Entomology in the School of Agriculture and Earth Institute at UCD.
Ireland ranks joint third smallest for the proportion of Special Protected Areas under the EU Birds Directive and eighth smallest for the proportion of Special Areas of Conservation under the EU Habitats Directive, at 6.1% and 13.1% respectively, and there hasn't been a massive change in the amount of common birds in Ireland between 1998 and 2016. While birds are a useful indicator species in many circumstances, the index just doesn't cover the range of taxa that we have in Ireland, Stanley says.
From the RTÉ Brainstorm podcast, where have all the bees gone?
The issue with just measuring common birds is that it's likely rare birds, not the common ones, that are more threatened to extinction or changes, which isn't actually captured by the common bird index at all, Stanley says. Not only that, but the general ecological health of our special areas of protection and conservation might be in a more questionable state than the report reflects.
"You can have areas designated as protected, but if they're not in good ecological status, so they're not being well looked after, then it could be even worse," she says. A recent National Parks and Wildlife Service report revealed that many of our habits and species have a "bad" or "inadequate" status.
"So Ireland is very low in terms of the amount of protected area that we have, but also unfortunately the ecological status of the area that we do have is bad," Stanley points out. "I would imagine, if the status was included within these graphs as well, we could even be lower on the list than we are right now."
From RTÉ Radio 1's News At One, restoration ccologist and expert in biodiversity Catherine Farrell on what we can do to help the natural world
Ireland also have one of the lowest levels of forest cover in Europe, which is interesting because before humans started to alter the Irish landscape, the country was completely covered in forest, Stanley says.
In Ireland, we have only really been recording biodiversity in a strategic way in since the National Biodiversity Data Centre was established in 2007, meaning over time there will be much better datasets available, Stanley says. "Protected areas are really important in the conservation of biodiversity, but also biodiversity needs to be conserved outside of protected areas for it to have any kind of meaningful effect."
Read: Will cow poo be more valuable than milk in 2030?
"Quite often, people see farming as being at loggerheads with biodiversity. But I think we have to start looking at that the other way around - where biodiversity is actually really important to farming for example. Some insects can be pests, but the vast majority of insects are actually beneficial. They're the natural enemy of pests, they're the pollinators, they're the soil decomposers. I think we've got to get past this mentality of protecting biodiversity for biodiversity's sake and really begin to think about how biodiversity is so important for us in so many ways," she says.
Organic farming
Although the total area of land that is farmed organically continues to increase incrementally, only about 1.5% of farming land in Ireland is organic, the second lowest percentage in the EU, according to the figures in the CSO report.
However research done by Teagasc and NUI Galway into organic farming reveals an interesting story in Ireland when it comes to the conversion to organic farming, says Áine Macken-Walsh, Senior Research Officer at Teagasc's Rural Economy and Development Programme. "Someone who has no farming experience whatsoever is more likely to become an organic farmer than someone with a background in farming. So, it's not necessarily the case that the increase in the percentage of land farmed organically is the result of existing farmers converting to organic farming."
From RTÉ Radio 1's CountryWide, the Department of Agriculture announces the reopening of the organic farming scheme to encourage conventional farmers to convert
Rather, although there are a certain number of farmers that have converted to organic farming, the increase may be at least partially explained by a trend in people who are "exiting urban based lifestyles and professions, driven by a desire to live in a rural location and reconnect with nature – organic farming is a way to do that and express particular types of values," she explains. "The people come from a surprisingly diverse variety of backgrounds. It wouldn't be unusual to see former solicitors, medical doctors, selling vegetables and home-baked goods at farmers markets."
The Citizen's Assembly on climate also revealed a broad trend around how the public perceive organic farming and climate change: 99 % of members recommended that "the State should review, and revise supports for land use diversification with attention to supports for planting forests and encouraging organic farming" in order to make Ireland a leader in tackling climate change.
Read: Why agriculture should clean up its act
"This is consistent with a common perception that organic farming is climate friendly – and while organic farming can be climate friendly and can be climate smart and there can be many benefits for biodiversity for example, there is actually no automatic link between climate friendly agriculture and organic farming – it all depends on the farming system, meaning the product farmed and the methods used," Macken-Walsh explains. "Climate-smart agriculture can take a very, very different form and it involves a lot of technology. Where efficiency and food production is concerned, the scientists would tell us, there's no automatic relationship between organic farming and ways of successfully addressing climate change."
On the other hand, research has shown that some non-organic farming systems and styles could be classified as 'climate friendly,' she says. These "small farms" - defined as having a standard output of less than €8,000 (or 6 dairy cows, 6 hectares of wheat or 14 suckler cows) - make up around 16% of farms in Ireland and emit fewer greenhouse gas emissions and have lower levels of nitrogen and phosphorous balances in the soil.
From the RTÉ Brainstorm podcast, a discussion on the future of farming
The beef sector at farm-level is hugely unprofitable, Macken-Walsh says. A characteristic in Ireland and many other countries, is that very few existing beef and sheep farmers have a direct link to a consumer, to whom they can market their organic product or any form of product.
Therefore, a key issue is that the farmers don't really have a strong role in the value chain and that sets a pretext of it being quite difficult for them to enter into new market segments, she explains. This means consumers aren't necessarily aware of them, even though the produce might be attractive to consumers if they knew about it.
"It points to a challenge for policy-makers and to the public more generally, to take responsibility to understand: What is climate-friendly agriculture? What are the technologies that are used? It's a gap in the public'c knowledge."
The future
Dr Rónán Kennedy, lecturer in the School of Law at NUI Galway, doesn't believe Ireland is in a great place to deal with our high GHG emissions. "We eventually got a climate change act (2015), probably 10 or 15 years after we should have and it wasn't really adequate," he says.
"I think you can see that in the figures that are in this report and other data that's been released by the Environmental Protection Agency, where we're not reducing greenhouses gas emissions at anything like the rate that we need to. There needs to be an agency that really has teeth and can hold government departments, government agencies and the private sector to account when they're not doing what's needed."
Kennedy believes the Climate Action Plan is "good, in so far as it goes. It's certainly a much more positive and definite signal from the government than we've had in quite a long time. But the proof of that pudding is going to be in the eating. We haven't seen any concrete follow up. From my perspective as a lawyer, I don't really believe anything is true unless there's legislation underpinning it and there isn't legislation underpinning the goals."
From the RTÉ Brainstorm podcast, a guide to making Irish cities car-free
The report shows environmental tax revenue is worth billions to the State, but by 2030 the aim is to have no new petrol or diesel cars on the roads. We own more cars now than ever, the majority of us travel to work by car and travel less by rail than most other EU countries. Kennedy believes one of the biggest issues that the government is going to have to grapple with in a transition to a low-carbon, circular, sustainable economy, is how much of our existing model, both in the public and private sector, is going to survive.
Transport is a significant contributor to emissions. What's needed is an investment in public transport and cycling and while the government may end up foregoing some of its sources of tax revenue, the private sector and car manufacturers also have to dramatically rethink what they're doing, Kennedy says.
Read: The second coming of the electric car
Read: The hidden cost of electric transport
"If all we do is just move to electric cars, we're really just postponing a problem and as we focus on climate change as an issue, if we don't think things through, we risk creating other problems down the road. Electric cars are themselves not environmentally benign," Kennedy says.
While the carbon emissions from an electric car are lower than a fossil-fuelled car, the batteries are still hugely environmentally damaging, he says - "and a lot of the human and social impact of that is felt very far away, in that the minerals and elements that make up the batteries are mined in the developing world, so they're not direct problems for us."
"I think we need to take a more integrated approach to the kind of solutions we're coming up with, rather than saying we'll just change the kinds of engines that we have in our cars. We have an opportunity to rethink a lot of infrastructure that we have around us and the way in which the overall economy fits together essentially."
From RTÉ Radio 1's Drivetime, Minister for Communications, Climate Action and Environment Richard Bruton on how the government plans to increase the use of electric cars
Kennedy points to the fact that 97% of new domestic buildings constructed between 2015 and 2019 had a BER A rating as an indication of how a dramatic shift can be achieved without a "whole load of rules and regulations and enforcement." He believes that it's essential that consumers have a good understanding of the environmental consequences of the choices that they make day to day, including on ICT equipment, like phones and computers, which now make up a significant part of electricity consumption, he says.
"Theres a lot of focus on single use plastics now. We could shift to using paper straws, but all of that paper still has to come from somewhere. Really what we should be asking is why are we using straws at all in the first place? There are bigger questions to be asked, but it's a step in the right direction. Most people want to do the right thing and those BER statistics illustrate that quite nicely."
---
The views expressed here are those of the author and do not represent or reflect the views of RTÉ
---