Opinion: if the aim of 800,000 electric cars on the road by 2030 is realised, it will mean a loss of over €340m per year in taxes to the government
This week, the oldest motor show in the world returns to Paris for its 120th birthday. Here, motor manufacturers get the chance to debut their fastest, safest and shiniest cars to a huge audience of car-lovers. Le Mondial de l'Automobile, or the Paris Motor Show, made its first appearance in 1898 on the terrace of the Tuileries Gardens in Paris, where cars would only be granted admittance if they could make the drive from Versailles.
Back then, the prospect of the automobile was still quite new and received some scepticism. The president of France at the time, Félix Faure, opened up the debut show addressing his audience before leaving in his horse drawn carriage: "vos voitures sont bien laides et sentent bien mauvais!" (your cars are very ugly and they smell very bad).
In the century that followed, the automobile took the world by storm, with over one billion cars on the road today and with technological advances across the board compared to the smelly cars of the 19th century. Over the past decade, these advances have been more prominent than ever, with more electric vehicles making increasingly more appearances in the Paris Motor Show, such as the electric version of the Opel Ampera-e which made its debut performance in 2016. More and more countries have also started to set targets for the future with the aim of having more electric cars on the road in aid of creating a healthier environment.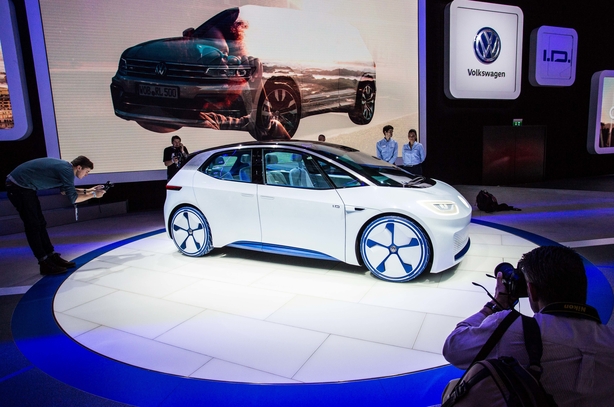 Ireland is no exception and ambitious plans exist to have 800,000 electric cars on the road by 2030. It's doubtful if we will achieve this target, considering just 882 electric powered vehicles were sold in 2017, but that's another story. Nonetheless, there are lots and lots of benefits from driving electric cars, such as greater efficiencies, lower CO2 emissions, less harmful air pollutants and lower costs.
This last point here is great news if you're looking to reduce your annual transport bill, but it might not be such good news to the Irish government. In 2015, private cars brought in nearly €2.8 billion for the Irish government from things like vehicle registration tax, annual motor tax, excise fuel duty, and VAT. Altogether, this corresponds to roughly one percent of GDP, which can provide for very useful things like schools, hospitals and roads.
Because electric cars are more efficient and cheaper, having a lot of them on the road means less of this revenue for the government. For example, if you were to make a trip from Cork to Dublin in a Ford Focus, you would pay about €11.50 in tax for the petrol needed for that trip. If you did the same trip in an electric powered Nissan Leaf, you would pay just five cent in tax.
We need your consent to load this rte-player contentWe use rte-player to manage extra content that can set cookies on your device and collect data about your activity. Please review their details and accept them to load the content.Manage Preferences
From RTÉ Radio One's Morning Ireland, Director of Consumer Affairs for AA Ireland Conor Faughnan on a drop in motor tax receipts
This means that if everyone in Ireland was to drive electric, a considerable portion of government revenue will be lost. At the moment, both vehicle registration tax and annual motor tax are based on the level of CO2 emissions that a car emits so less revenue will be received by the exchequer if you buy a low-emitting electric car. If the target for 2030 is achieved and there are 800,000 electric cars on the road by then, this adds up to a loss of over €340m per year by 2030 based on the current tax system. Obviously, the government will react to this potential loss of revenue in due course.
This should by no means act as a disincentive to continue on the path to an electric future. If we want to work towards a more sustainable environment, changing cars to be fuelled on renewable electricity is key, and this will contribute to lower costs in many different ways. For one, electric driving brings with it healthier air leading to less respiratory problems and healthier lives, meaning lower healthcare bills for the state.
Changing what fuels our every-day commute is an essential step towards ensuring a cleaner environment
Ireland also has a series of binding energy related targets that will prove rather costly to the exchequer if we fail to meet them. We're currently not on target to meet our energy commitments for 2020 and will likely to have to purchase credits at an estimated cost of €100m to meet our obligations. The cost of electric transport is further justified by an expected reduction in CO2 emissions by 70 percent in the private car sector by 2050 when compared against 2015 levels if we are to achieve this target for 2030 and have no more fossil fuelled cars sold from then on.
There's no doubt that transport will continue to change, and Le Mondial de l'Automobile in Paris will look considerably different in another 120 years compared to today. But for now, changing what fuels our every-day commute is an essential step towards reducing national emissions and ensuring a cleaner environment. With adequate planning, the cost of this change can be minimised and, despite the cost of electric transport, this change remains imperative in adhering to our climate pledges.
---
The views expressed here are those of the author and do not represent or reflect the views of RTÉ
---