Opinion: there are many reasons from technology to societal preferences behind our slow take-up of electric cars, but the poor choice of available electric vehicles also plays a part
This year marks the 100th anniversary of Henry Ford travelling to Ireland to establish Europe's Ford headquarters on the Cork marina. The decision was met with praise as it brought nearly 7,000 jobs to the city, nearly 10 percent of the city's population at the time. It established a base for the soon-to-be prevalent internal combustion engine (ICE) vehicle which would phase out the reliance on horse and carriage for everyday transport.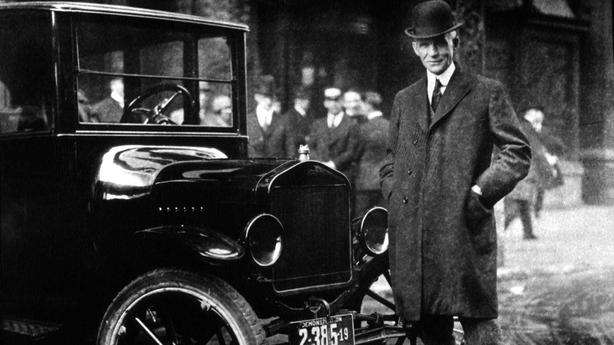 But the horse and carriage wasn't the only thing Henry Ford & Son Ltd helped phase out. Until the early 1900s, the electric vehicle was on the rise. Small fleets of electric taxis were employed in London and the electric car was often seen as an attractive option for city driving. However, a lack of charging infrastructure and the discovery of large cheap oil reserves drove the electric car into near-extinction. Henry Ford's production innovations brought down the cost of ICE vehicles, which created a greater price disparity between the ICE vehicle and electric car and kept electric power almost entirely out of the road transport sector.
Fast forward to today. ICE cars are flourishing and the electric car is making a comeback. However, not much has changed when it comes to the problems faced by consumers looking to buy a new car. Electric cars still have a more limited range when compared to the range of an ICE car and the price disparity still exists, although now to a lesser extent. Thankfully, our view on the use of oil and the negative impacts it has on our environment has changed. The lower emissions of electric vehicles have revitalised interest in the technology and have sparked an international movement aimed at reducing transport greenhouse gas emissions.
We need your consent to load this rte-player contentWe use rte-player to manage extra content that can set cookies on your device and collect data about your activity. Please review their details and accept them to load the content.Manage Preferences
RTÉ Prime Time's Richard Downes reports on electric cars in Ireland
On this point, a disclaimer: while electric vehicles are less emissions intensive than their petrol or diesel counterpart, it won't do our emissions much good if all cars in Ireland were magically switched over to run off an electric powertrain overnight as we're still getting our electricity from coal.
For example, the average new diesel car in 2015 emitted about 120 grams of CO2 for every kilometre driven, while the Nissan Leaf was closer to 65 grams of CO2 -per kilometre, although these emissions are coming from power plants rather than being released on roads. To adhere to the goals of the Paris Agreement, electric transport must be accompanied by renewable electricity.
Many countries have policies and targets for going electric and we are also starting to see considerable momentum from car manufacturers towards electric vehicles. Both France and the UK announced plans for an outright ban on the sale of ICE vehicles in 2040 and Volvo have announced plans to end the ICE in their cars by 2019. In Ireland, Minister for Transport, Shane Ross cited an ambition that all new cars and vans sold in Ireland will be zero-emissions capable by 2030.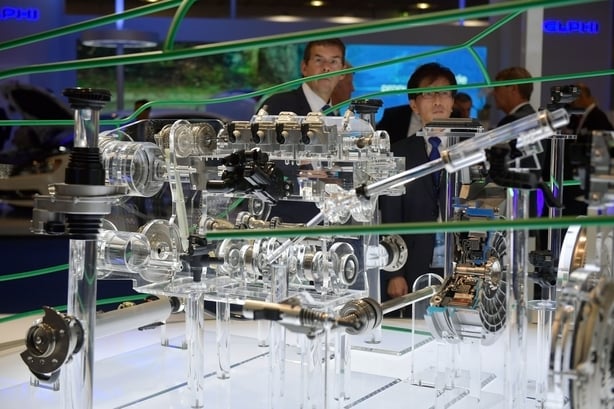 But looking at the sales of electric vehicles in Ireland, we still have a long way to go and lot of barriers to overcome before we achieve an all-electric vehicle car stock. The Irish government has made purchasing electric vehicles cheaper by offering a subsidy for vehicle registration tax of up to €5,000 (€2,500 for plug-in hybrid electric vehicles which are powered by both a battery and conventional ICE) which supplements the additional SEAI grant of up to €5,000 meaning that the purchasing price of a Nissan Leaf (€21k - €26k) is comparable to that of your average petrol or diesel car.
Sales of fully electric vehicles in Ireland have been low, amounting to about 400 vehicles in 2016 or about 0.3% of all Irish car sales according to the European Environmental Agency. If, as has been stated, the vehicle registration tax subsidy for fully electric and plug-in hybrid cars is taken away within the next decade, there will be a certain drop-off in sales.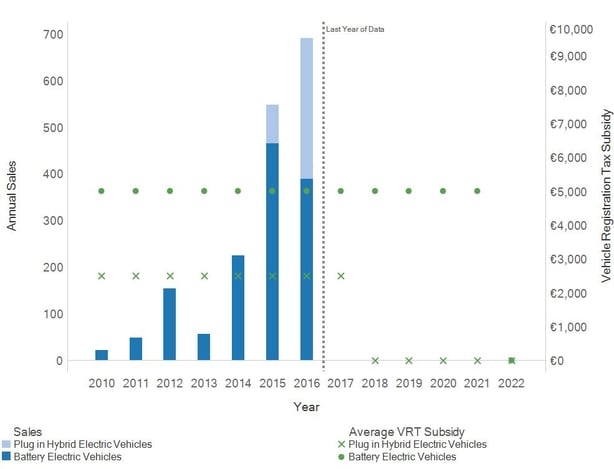 So why are we not buying electric vehicles? The reasons have to do with both vehicle technology and broader societal norms and preferences. Without a doubt, price and vehicle range still have a role to play, but the issue of slow electric vehicle uptake goes beyond this. People are heterogeneous, which is economic-speak for saying, we are all different.
If I was to buy a car tomorrow, I have a good idea what I would like: a small, sleek looking car with good fuel economy and a nice red finish. A person with a family will probably have something very different in mind, like a large car that can comfortably fit five people. Talk to a car enthusiast with deep pockets and they might opt for a Porsche. While the automobile industry tries to cater for everyone, it has its own views on what people want too.
Since the ICE vehicle is dominant on the roads, there are hundreds of types of petrol and diesel cars to choose from, while there are only about 10 varieties of electric car on sale in Ireland today. My sleek, red car just isn't available as an electric just yet - nor is the large family oriented car.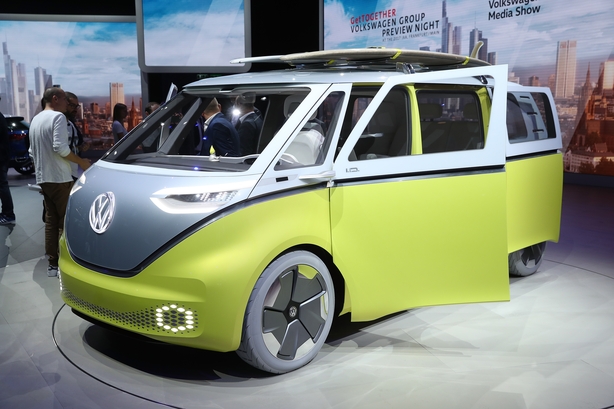 Ireland is a technology taker, meaning we don't have much influence on how many types of electric vehicles are made, so electric vehicle uptake is partly in the hands of the automobile manufacturing countries. However, as Norway has shown, this isn't an insurmountable barrier to achieving high uptake rates of electric vehicles.
In addition to offering subsidies, there are many policies that can increase electric vehicle uptake by overcoming societal barriers. For example, increasing the knowledge base of car dealers and encouraging them to discuss the different attributes and benefits of electric vehicles with consumers could reframe and downplay the issue of range anxiety which currently dominates public perception of electric vehicles (this is despite research from the US showing the problem to be overblown). While such a programme might not be enough to convince someone to settle for the electric vehicles available now, it may remove the social barrier for when their dream car comes rolling into a dealership using an electric motor. 
---
The views expressed here are those of the author and do not represent or reflect the views of RTÉ
---