Opinion: the future of Irish farming may well be slurry.
My farmer friend knows how much it costs him to produce a litre of milk from month to month. He knows how much each cow gives and knows when the yield for each is trending up or down. His technology feeds each cow the exact amount of feed it needs commensurate with amount of milk it gives. When he transitioned from milking parlour to robots, his meal bill went down by over €30,000 and his yield went up by over 30 percent. That's the value of knowing your milk costs, but more precisely what is the value of ingredients derived from milk?
We are known the world over as the Emerald Isle, the forty shades of green, due to Ireland being on the western edge of Europe and with rain nearly every day from the wet westerlies providing lush grass growth. With more than 80 percent of Irish agricultural land is pasture or grazing for animals, primarily cows, our focus is on milk production unsurprisingly and specifically the whey that is the bi-product from cheese production.
We are familiar with milk in our porridge, but milk's real value is as the primary building block of Ireland's processed food industry whose exports doubled in the past 10 years from €5.6 billion to €12.6 billion due to the value of dairy food ingredients used in food service, retail on the go, cereal, snack, ready meal, drinks, fast food markets, and infant milk powder.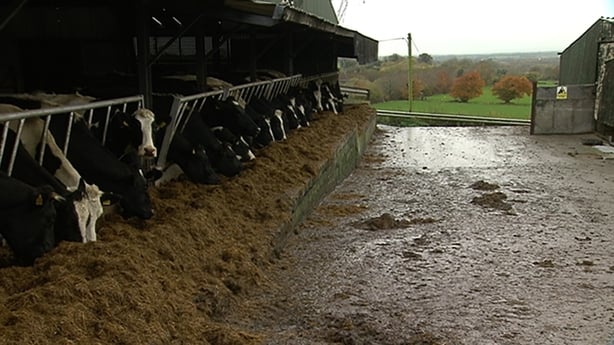 Whey or "white gold" is the real value and is familiar to sports people and used in processed food, snacks, drinks and cereals. Whey contains lactose (a milk sugar) used in the pharmaceutical industry in the manufacture of tablets. Scientists are now examining the potential of peptides in milk protein that help reduce cholesterol, improve mood or reduce blood pressure, and believe that certain peptides when extracted and fed to cows in their feed will have the effect of changing the bugs in the cows stomach to reduce methane and ammonia emissions.
In my friend's cow shed, the air is full of poo which smells stinky and pungent. Against the slow hum of machinery, 200 cows are munching silage. Their poo drops on to the slatted floor and the hypnotic rhythm of a machine whirls and channels it underneath the shed to a big dome outside like a big hot air balloon. The process is simple: the poo feedstock is broken down by bugs into biogas in an anaerobic digestor (AD) and the remaining organic matter that is rich in plant nutrients is spread on the land as fertiliser.
The AD is like a huge cow's stomach and can digest a multitude of "feedstocks" since cows are kept indoors during the winter months of the year depending on location and the AD needs still to be fed with feedstock to produce biogas, for example grass silage or food waste .
We need your consent to load this rte-player contentWe use rte-player to manage extra content that can set cookies on your device and collect data about your activity. Please review their details and accept them to load the content.Manage Preferences
From RTÉ Radio One's Countrywide, the story of Bertha, the world's oldest cow
Poo or "green gold" is rich in nitrogen, phosphorous and potassium (NPK) which are valuable to plants and the technology renders the NPK more bio available meaning greater slurry efficiency. Ensuring that nitrogen stays in the soil and made available to the crop means less need for expensive bagged fertilizers and decreases run-off from the land reducing pollution in our water ways.
This year has been difficult for farmers. A long winter means cows are still indoors when they should have been out on grass weeks ago, resulting in farmers not being able to spread slurry on the land, since it is too wet to do so. This has resulted in overflowing slurry tanks for farmers without AD.
Recent EU legislation relates to ammonia emissions and governments are tackling emissions from cars. But agriculture is responsible for 83 percent of ammonia emissions and livestock accounts for 80 percent of this. The EU legislation requires an eight percent reduction in ammonia emissions by 2020 and a 16 percent reduction by 2030 or heavy fines will be due.
This could lead to a scenario of the milk lorry collecting the milk in the moring, the slurry lorry delivering a feedstock of slurry for the AD in the afternoon and the biogas lorry following later to collect the bio gas
These issues are already being worked on by DIT's Tom Woolmington in the School of Mechanical and Electrical Engineering, whose Slurry Solver technology won Best Emerging Technology From 3rd Level in last year's Enterprise Ireland Innovation Arena at the National Ploughing Championships. The Slurry Solver captures the valuable bio gas from the slurry that can be used directly on the farm or sold commercially. Reducing methane emissions from slurry and also avoiding potential carbon taxes on animals.
Looking to the future with technology to make farms smarter, there will there be clusters of farms coming together to pool their slurry at community ADs, which have combined heat and power systems at electricity grid access points. This could lead to a possible scenario of the milk lorry driving up the farmer's lane in the morning to collect the milk and the slurry lorry driving up with a feedstock of slurry for the AD in the afternoon followed later by the biogas lorry to collect the bio gas. From a value perspective, a dairy cow has the capability to create the energy equivalent to one litre of kerosene per day.
To reach the economies of scale and size to be profitable, our dairy herd, milk production, milk value, poo volume and value are forecasted to increase. However, all are dependent on each other and all will be less valuable if we do not address the issue of repurposing the value of poo relevant to the value of milk.
---
The views expressed here are those of the author and do not represent or reflect the views of RTÉ
---