Analysis: from music to TV to film, bisexual narratives have meant writers and artists can challenge and defy stereotypes
What are the most common misconceptions and stereotypes associated with bisexual people? They're manipulative. They're confused. They're greedy. They're secretly gay. They're secretly straight. They don't exist.
While accounting for the pressures that respectability politics places on marginalised communities, what we see (and how we see ourselves) in different realms of popular culture can reflect societal attitudes and common-held opinions. Bisexuality is no different, especially when these misconceptions aren't challenged, or if bisexual people themselves don't get the opportunity to challenge it.
Even though bisexual people have always been a part of the LGBTQIA community – the pioneering activists Sylvia Rivera, Marsha P. Johnson, and Brenda Howard were all bi – on a societal scale, sexuality has tended to be polarised as gay or straight. There has been little accounting for those who are attracted to more than one gender, which is how bisexuality and non-monosexuality are defined, but I also account for those who are pansexual, sexually fluid and other similar queer identities.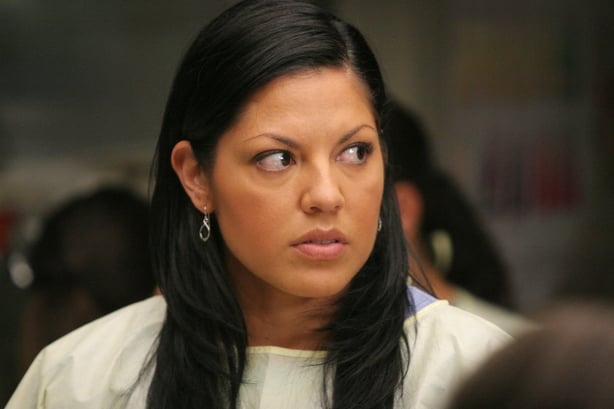 Take for example, the ice pick-toting serial killer Catherine Tramell (Sharon Stone) in Paul Verhoeven's Basic Instinct (1992), or Katy Perry singing "you're my experimental game" in "I KIssed A Girl" (2008). Depicting bisexuals as duplicitous and indecisive is also generally symptomatic of how members of the LGBTQIA community have been represented as deviant in popular culture.
But what happens when this narrative is challenged? What happens when representations of bisexual people defy these stereotypes? What happens when bisexual people write their own narratives? On television, we've seen the likes of Grey's Anatomy's Callie Torres and Brooklyn Nine-Nine's Rosa Diaz, played by Sara Ramirez and Stephanie Beatriz, both bisexual actresses, activists, and advocates. Upon her marriage to a straight cis man last year, Beatriz wrote about her sexuality for GQ magazine: "we'll make vows that I will take very seriously—till death do us part. But I'll be bi till the day I die, baby, and I vow to myself to always sing that truth."
"Gettin' Bi" from Crazy Ex-Girlfriend
Other recent popular shows such as The Legend of Korra, Steven Universe and Crazy Ex-Girlfriend have featured bisexual protagonists and characters. Crazy Ex-Girlfriend is particularly notable for its musical number "Gettin' Bi". "It's not a phase, I'm not confused", Darryl (Pete Gardner) sings. "Not indecisive, I don't have the 'gotta choose' blues".
The bisexual film-maker Desiree Akhavan's Channel 4 television series The Bisexual places exploring bisexuality at the forefront, as Leila (played by Akhavan herself) begins to explore dating men after ending a ten-year relationship with a woman (Maxine Peake). Akhavan commented that '[w]hereas there's only pride when I say lesbian, there's only coolness to say queer. Bisexual didn't feel like it represented me and I wanted to know why, when technically it very much represents who I am.' While she navigates the difficulties of coming out and coming to terms with her sexuality in the series, Leila's bisexuality is always firmly asserted, never downplayed.
Frank Ocean "Chanel"
Popular and alternative music has offered avenues for bisexual artists to assert themselves (Billboard recognised this, by publishing a special feature in 2018 on bisexual artists such as Halsey, Jason Mraz and Brendon Urie). The late Pete Shelley, lead singer of the Buzzcocks, was openly bi throughout his career, and conscientiously swapped out 'he' or 'she' with 'you' and 'I' in his songs. In a 2009 interview with Pitchfork, Shelley commented on this practice, that "the object of my attention could be either. I can always say this one is about you, even if I wrote it about someone else".
Recent work by queer musicians such as St. Vincent (a.k.a. Annie Clark) and Frank Ocean resist monosexual conceptions of sexuality. Ocean's 2017 single "Chanel" was lauded as a bisexual anthem for its refrain 'I see both sides like Chanel', and in the case of Clark, "Sugarboy" (from 2017's campy "Masseduction") features frantic chants of 'Boys! Girls! Boys! Girls!', as well as the suggestive lyrics 'Sugarboy, I am weak / Got a crush on tragedy […] Sugargirl, dissolve in me / Pledge all your allegiance to me'. Similarly to Shelley, Clark largely eschews 'he/she' pronouns in her work, except in the case of her narrative-based 'Johnny' songs ('Prince Johnny', nonetheless, has queer themes).
St Vincent "Sugarboy"
It would be remiss to omit Janelle Monáe's 2018 album (and accompanying "emotion picture"), "Dirty Computer" (also spotlighted by Billboard). Dirty Computer celebrates queerness and non-monosexuality throughout: for example, 'Pynk' sees Monáe sing about being sexually pleasured while dressed in trousers resembling a human vagina (the actress Tessa Thompson is seen poking her head between as an unsubtle innuendo).
Monáe also resists respectability politics by depicting her character Jane in a loving non-monogamous relationship with both a man (Jayson Aaron) and a woman (Thompson) in the emotion picture. "Make Me Feel" perhaps acts as a manifesto for the entire project: rather than having to choose between the two, Jane dances in a nightclub (lit with colours resembling the bisexual and pansexual flags) with both of her lovers – signifying how bisexual people shouldn't have to choose who they love.
Janelle Monae "Make Me Feel"
The common thread here, is bisexual creators and characters proudly asserting who they are: they "don't have the 'gotta choose' blues", so to say. In the case of Monáe, Ocean, Akhavan, Beatriz, and Ramirez, we also see broader representations of queerness beyond whiteness. We know that representation matters – it matters that bisexuality is depicted as decisive, valid, and present.
---
The views expressed here are those of the author and do not represent or reflect the views of RTÉ
---