Opinion: one of the most well-known modern Shakespeareans just so happens to be an Irishman, albeit one enmeshed in the English theatrical tradition
Kenneth Branagh's latest film All Is True depicts the latter stages of William Shakespeare's life, as he retires to Stratford-upon-Avon following the burning down of the Globe Theatre in 1613 during a performance of Henry VIII. Indeed, the film's title riffs off the alternative title of that play. This being Branagh and Shakespeare, the film stars some of the biggest heavyweights in modern Shakespearean theatre. Judi Dench plays Shakespeare's wife Anne Hathaway, Ian McKellen plays the Earl of Southampton (curiously depicted as much older than Shakespeare) and Branagh dons a wig and beard to play Shakespeare himself.
Branagh is perhaps one of the most renowned Shakespeareans of the modern age, if not the most renowned. His work in the 1980s and 1990s with the Royal Shakespeare Company and Renaissance Theatre Company have long been documented. He made his debut at the RSC starring in Henry V in 1984 at the age of 23, which made him the youngest Henry in the company's history. In 1989, he brought Henry V to the big screen in which was his directorial debut: that film would earn him Oscar nominations for Best Picture and Best Director.
From RTÉ Radio 1's Arena, an interview with Kenneth Branagh about All Is True
He has played Hamlet four times on stage and screen, including his 1996 four-hour feature-length version. In recent years, he has directed himself as Macbeth at the 2013 Manchester International Festival and as Leontes in the Kenneth Branagh Theatre Company's 2015 production of The Winter's Tale, as well as directing Tom Hiddleston as Hamlet in the 2017 Royal Academy of Dramatic Art (RADA) fundraiser.
And that's not to mention his film adaptations of Much Ado About Nothing, As You Like It and Love's Labour's Lost, his performances as Richard III and Coriolanus, and so on. The label of "the new [Laurence] Olivier" has followed Branagh around for much of his career and, given Olivier's extensive work on Shakespeare on stage and screen, it's not hard to see the comparison.
Trailer for All Is True
As we can see, Branagh tends to be primarily associated with Shakespeare. Shakespeare is perhaps the most famous writer in the Western canon, but he is also a ubiquitous symbol of Englishness, and of English cultural hegemony and imperialism. Branagh has long been associated and subsumed within the apparatus of English Shakespeares. Indeed, he even commenced the 2012 London Olympics by reciting "This isle is full of noises" while dressed as Isambard Kingdom Brunel and he also accepted a knighthood in 2012.
However, there is also the matter of Branagh's Irish background, which cannot be so easily disentangled from his work. He was born in Belfast to a Protestant family in 1960 and moved to Reading at the age of 10 when the Troubles were at their height. The subject of Branagh's Irishness, and whether Branagh can or should actually consider himself Irish, continues to be raised in the press. He famously said to an interviewer that "I feel Irish. I don't think you can take Belfast out of the boy".
From RTÉ 1's Six One News, Kenneth Branagh talks about the impact his childhood in Belfast had on his career as an actor and director
Branagh has spoken of the difficulty of fitting in as Irish in 1970s Reading. In a 2003 interview in the Telegraph, he said he was enormously conscious of his Irish accent and swiftly "became English at school while remaining Irish at home". It was, he says now, "a dreadfully uneasy compromise about which I suffered inordinate guilt".
Given this forced dichotomy between Englishness in public and Irishness in private – especially during a time when Anglo-Irish relations were especially tense, and when anti-Irish sentiment was particularly virulent – young Branagh's feelings of guilt are revealing. So too are his comments about his time studying at RADA. Besides noting that "not a trace of Branagh's Belfast accent remains", a recent Irish Times interview also features Branagh reflecting on the inclusion of 'a "received pronunciation" exam at RADA "There was no desire to knock out our accents. But we needed to be able to speak that way if required'.
Of course, this speaks to the assumption that Shakespeare can only be spoken in Received Pronunciation, particularly within the apparatus of British Shakespearean theatrical institutions. But, as we know, a Shakespeare production doesn't necessarily need to sound like RP in order to be adequately "Shakespearean". We need only look at Patrick Lonergan's recent Brainstorm article on Irish Shakespearean productions to see this.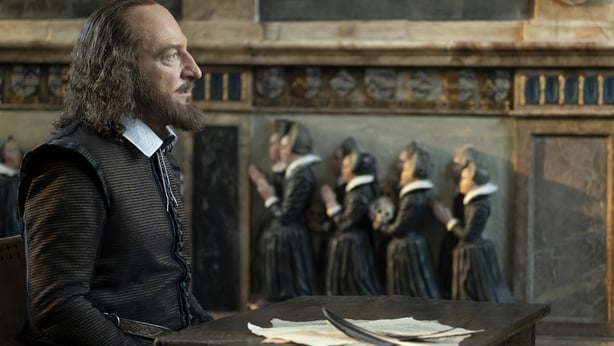 What does it mean to speak Shakespeare with an Irish accent – whether from Belfast, Dublin, Galway, or elsewhere? And – this is a larger question – how does one signify Irishness, or should one feel as if they must signify it? After all, Irishness is not a uniform entity or experience across this island.
In the case of Branagh's Irishness, the absence of a noticeable Northern accent leads to commentary. But in the case of speaking Shakespeare, anything less than an English accent also leads to commentary. Assessing how Englishness and Irishness intersect and interact in the career and public persona of an actor such as Branagh feels considerably pertinent as the uncertainty over Brexit and the consequences the referendum has had, and may have, for Anglo-Irish relations grows. Nonetheless, the fact remains that one of the most well-known and established modern Shakespeareans just so happens to be an Irishman - but an Irishman entrenched and enmeshed in the English theatrical tradition.
---
The views expressed here are those of the author and do not represent or reflect the views of RTÉ
---