Opinion: we must think in terms of generations rather than short-term political cycles
Housing is a matter of perspective and is not the domain of any one profession or interest group. Housing constitutes nearly 80 percent of any urban conglomeration, yet it barely attracts 10 percent of the professional design expertise in Ireland.
As a business model designed to provide a satisfactory long term solution for families and society, the housing market certainly appears at least unfit for purpose, if not broken. For owners and tenants, the lack of choice, high costs and uncertain tenure are the tangible issues. Developers and investors have their own criticisms such as development costs, regulatory overload and tight margins. Whatever the perspective, the current situation appears to be a perfect storm where cash buyers, in the absence of any real competition from private purchasers, are consuming the available stock for use as rental units.
In times of scarcity, one should be wary of the sale price of housing as validation of underlying value. With high levels of under-occupation (particularly in older generation properties), large tracts of vacant land and excessively low densities, the causes of scarcity appear temporary. In parallel with other stocks, the market is a betting mechanism in the short term, but a weighing one in the long term.
From RTÉ Radio One's Morning Ireland, Dáithí Downey, Head of Housing Policy Research and Development with Dublin City Council, outlines the findings of a new report into Rapid Build housing from the perspectives of residents
Scarcity can be addressed by building more housing but, as we have seen, there is nothing harder than an easy answer, such as recent proposals to adopt fast-tracked modular construction (industrial) methods on appropriated state, semi-state or local authority land. This perfect storm is a result of poor forward planning (despite detailed census data), a lack of a higher density urban vision, a laissez faire attitude to private development, poor management of resources and the sidelining of design professionals.
Helsinki's municipality owns and controls all urban land which allows their planners devote high level resources to thinking about, planning and executing trans-generational housing and urban projects. Often through open design competitions, they extract the best value out of the fixed resources.
By contrast, Dublin's planners are often limited to guiding rather than leading development. The significant cost of purchasing urban land in Ireland has made urban projects expensive. With ever increasing land values, developers must chase quantity, value or both to secure suitable margins to offset the financial burden of development. All costs are then passed on to the purchaser who pays a disproportionate amount for their housing needs.
From RTÉ Radio One's Morning Ireland, Damien Dillon, from Dillon Marshall Property Consultants, on how the housing crisis will affect incoming workers as more jobs for the capital are announced
Without a tailored land tax to ameliorate land hoarding and profiteering, it is difficult to match Helsinki's ability to plan methodically, arrange innovative housing provisions, support best practice urban solutions and provide for the necessary social infrastructure of transport, schools, healthcare and education facilities.
Dublin has one of the lowest densities of a capital city anywhere in the world. A legacy of moralistic urban planning, the city is condemned to persist with housing with limited architectural and urban design input, leading to a scattering of boxes that have defined Irish social structures for over two generations. Pattern book layouts have been dressed up and marketed as desirable to leave an indelible imprint of desire on successive Irish populations.
Based on the 2016 census figures, approximately 42 percent of all dwellings in Dublin were constructed prior to 1980. A considerable amount of public and private capital has been spent maintaining, re-furbishing, correcting and transforming these 723,833 units to be "fit for purpose". The limiting and minimal standards used include low pitched and hipped roofs which make vertical expansion uneconomical.
From RTÉ Radio One's Morning Ireland, architect Mel Reynolds on the need for more transparency about how the Local Property Tax is used
An astonishing 1,187,081 units are defined as detached or semi-detached houses. Despite knowing this to be unsustainable in the long term, it would appear that the authorities have persisted with a model that has directly contributed to land scarcity. Moreover, because of this distributive largesse, important investment in transport and other social infrastructure has suffered.
Though Ireland introduced a property tax, it is based on a model that did not discriminate between rural and urban dweller. If it were based on property size, it would have been more equitable and would provide an incentive for over-occupiers to downsize, a significant factor in Dublin's property scene.
The Central Bank's limits on new mortgages has certainly dampened effective demand on homeowners but has played into the hands of cash-rich international investors seeking safe haven for capital. These have driven the more recent rise in values and increased scarcity in apartments. Several recently completed apartment schemes have not reached market, having been bought off book by investors or firms like Google.
From RTÉ Radio One's Drivetime, Tom Dunne, Head of the School of Surveying and Construction Management, discusses what might cause a new property bubble in Ireland
Achieving sustainable and compatible development in urban areas is difficult. Developers have "bought out" their social and affordable obligations which mean that only a few schemes will push the development envelope to create diverse and necessary housing. Furthermore, by focusing on expensive luxury developments, developers are forcing local authorities to opt out of the social and affordable process due to commensurate high service charges. The further commercialisation of housing by platforms like AirBnB is only adding fuel to the fire of this crisis.
Solutions
The nation and city must think in terms of generations rather than short-term political cycles, though there are strategies that might relieve some pressure in the short-term. The emergency use of cruise ship facilities, such as that used during the Barcelona Olympics in 1992, could address the immediate shortfall of accommodation for emergency housing for the thousands who currently avail of hotel and B&B accommodation. Cruise ship infrastructure would also be more capable of providing for educational, play and social facilities on board. In the medium to long-term, a co-housing strategy such as that seen in Berlin during the 1990s and in Poppintree, recently is worth looking at. Twenty organisations offering solutions is better than any single one.
In the longer term, support for higher densities in existing housing estates is a necessity. The tyranny of the standard three-bed semi and expensive and poorly designed housing is holding back our urban populations. With many established estates over 50 years old, the time has come for a more radical view of their replacement with more urbane, mid- to high-densityy housing. The marginal increase to four storeys across large parts of Dublin would transform scarcity to abundance. Of course, there are many who will call for their preservation. The only argument of such insistence is the maintenance of perceived values. We need to design fit for purpose housing for the next generation and to fulfil our commitment to a carbon-free future.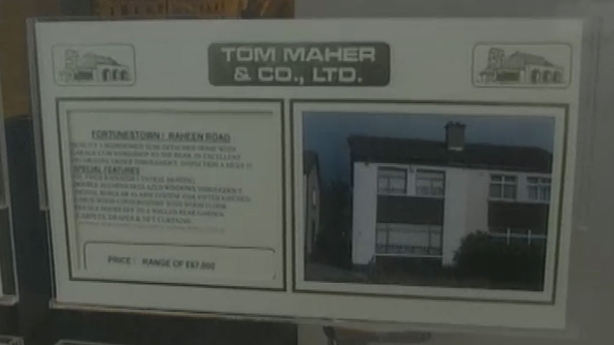 In parallel to strategies that include, finance, planning, design and urbanism, we also require strategies that improve communications and transport infrastructures. These include the development of consistent high speed rail and road transport between Dublin and other cities and towns that allows the equitable distribution of advantages and opportunities for citizen and urban growth.
While this may be a crisis, it is also an opportunity and one that should not be wasted. It is an unprecedented opportunity to rally the skills and talents of architects, designers, engineers, innovators, planners and urbanists, suitably motivated and guided by a vision for the city of tomorrow for its people today. After all, it is a matter of perspective.
---
The views expressed here are those of the author and do not represent or reflect the views of RTÉ
---