Opinion: a preview of what events like Open House have to offer over the coming weeks across the country
With each passing year, Open House expands. From static building visits to revealing guided tours, and dynamic workshop engagements, the festival provides ample opportunity for both the experienced and uninitiated to explore the threads of history. While buildings may appear fixed, robust and permanent, they are residues of the interactions of ambition, belief, desire, entitlement, and means.
In Dublin, the story begins with a very old example of architectural inhabitation only recently revealed. The merchant house at 9/9A Aungier Street (1664) had retreated over the centuries as wallpaper, alterations, temporary constructions, and shop fronts obscured its frame. The reveal of this "most intact domestic structure in Dublin City lies an original staircase, roof structure, medieval-style timber-framing" pulls us back through time to Dublin's mercantile origins.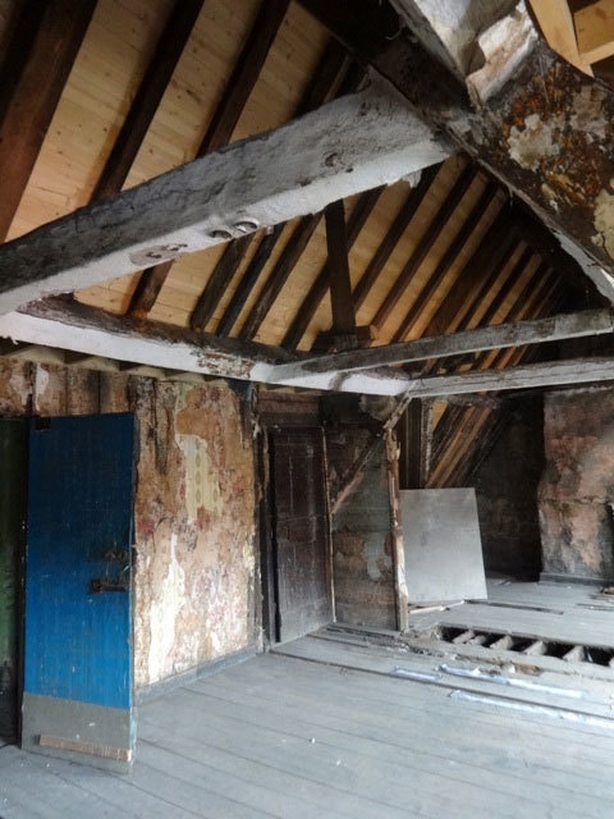 By the 1700's the story moves on with the laying out of the majestic Henrietta Street. Originating as one of the premier addresses of the establishment, along with Summerhill, and the grand Georgian Squares it fell into disarray when the Act of Union (year) enticed the ascendency to London. New threads were laid over the street in the following centuries, becoming the home to infamous tenements in the 1880's.
The many layered echoes have been revealed in the new tenement museum (Shaffrey Architects, 2018) at 14 Henrietta Street (1720s). That buildings of this age remain at all is testament to the persistence of form, geometry, usefulness and the continuity of human endeavour. The adaptive reuse of the Dublin Trawling Ice & Cold Storage Warehouse (1865 - 1954) on Hanover Quay proves the efficacy of robust architectural structures that afford renewal and reuse. Following its occupation by the famous Raleigh Bicycle Factory (1954 to 1980), it fell into dereliction before being restored (RKD Architects, 2016) and fitted out for airbnb (Hennegan Peng, 2017).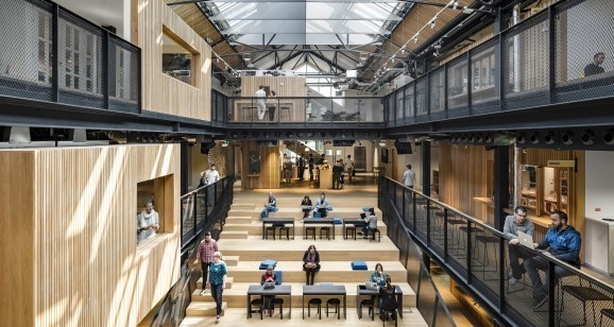 Just as the first industrial revolution changed the world, connecting the world through a web of iron and steam power, the new electronic and communications technologies bind it even tighter. Their occupation of this industrial premise may be more appropriate than one driven by fashion. Bus Eireann was established to connect the distant parts of the country to Dublin and Busaras (Michael Scott, 1952) is at the centre of this spider web. The company's landmark HQ sits within a moat of busy streets cut off from the urban centre and is a close relative to the canon of Modernism in France or Germany of the 1920s. Its overt and symbolic functionalism is confirmed by the two large span "gateways" that mark entrance, the concourse from where the visitor can observe the buses orbiting the panopticon-like control centre.
Further along the Liffey the "New" Central Bank (H.J. Lyons Architects, 2017) is a structure that emerged literally and figuratively from the ashes of the Anglo Bank of Ireland. The stillborn project, Anglo's HQ, was a ghost skeleton awaiting its ready to wear external facade. The crash made sure this was scrapped along with its patron. Ten years on from the crisis, the Central Bank vacated Sam Stephenson's iconic building (1975) on Dame Street to take up residence behind the bent and distorted "gold" modesty veils.
The old premises is undergoing its own disruption as We Work, another disruptive service provider, opens up access to the building for start-ups and other "desk jockeys". Over 350 years, human engagement has left residual evidence in bricks and mortar. If we are careful, clever and innovative buildings can provide the sustainable foundation for ongoing meaningful habitation. We should demolish only when all other possibilities have been exhausted, be slow to remove and quick to inhabit. Open House provides us with alternative visions, possibilities and the more importantly the proof.
We need your consent to load this rte-player contentWe use rte-player to manage extra content that can set cookies on your device and collect data about your activity. Please review their details and accept them to load the content.Manage Preferences
From RTÉ Archives, David Hanly interviews architect Sam Stephenson from a 1986 episode of Hanly's People
In the 19th century, Belfast was one of the world's leading technological centres for innovation in ship building and the related technologies of steam engines and air handling. As a consequence of this work and the wealth generated from these activities a city of brick erupted along the Lagan.
The Belfast Harbour Commissioners Office (George Smith Architect, 1854; William Henry Lynn Architect, extended 1895) illustrates the ambition, opulence and power of the period. Its interior, shod with marble exudes a palatial character appropriate to the industrial merchants on par with those of renaissance Florence. Symbol and image combine in the Belfast's Masonic Hall (Sir Charles Lanyon Architect, 1870) for Masonic Ritual where its interior is "decorated with many symbolic items, including original artwork by John Luke", where you can also see "many Masonic aprons and jewels".
While these rarefied environments expose the culture and heritage of a man's world of entitlement, the Belfast Telegraph Print Hall (Henry Seaver Architect, 1886, extended in 1907, 1911 and 1926 & Ferguson McIlveen Architects, 1983) as a place of work rather than networking. These days, it is a place of entertainment, "a multi-purpose venue for a broad range of cultural events, most notably hosting live music and world renowned DJs".
We need your consent to load this rte-player contentWe use rte-player to manage extra content that can set cookies on your device and collect data about your activity. Please review their details and accept them to load the content.Manage Preferences
From RTÉ Archives, Sinead Crowley reports for RTÉ News on Open House 2007
On the other hand, the Flax House (Young & Mackenzie Architects, 1907) is scaled to that of its workers, young and old, male and female, who left their mark on material and structure. It has now been repurposed to accommodate new forms of work (GMR Architects, 2018).
Cork's Open House festival happened earlier this month, but there's still much to see. Its narrative begins with the deconsecrated Anglican Triskel Christchurch (John Coltsman Architect, 1726). It is now a multifunctional arts and cultural centre (Murray O'Laoire Architects, 2011). In the Ursuline Convent (1771), a new entrance sequence has been created to access the Sisters Graveyard (Jack Coughlan & Associates, 2017).
Nearby in University College Cork, the finest example of Irish Arts and Crafts gesamtkunstwerk can be found in the Honan Chapel (J.F. McMullen Sr. Architect, 1916). This is joined by the wonderfully exuberant Art Deco Church of Christ the King, "the first church in Ireland to be built from concrete, .. one of the first large-scale applications of reinforced concrete construction in Ireland," (Barry Byrne Architect, 1931) emphasising the importance of religion in the architectural narrative of the country.
We need your consent to load this rte-player contentWe use rte-player to manage extra content that can set cookies on your device and collect data about your activity. Please review their details and accept them to load the content.Manage Preferences
From RTÉ Radio One's Ryan Tubridy Show, JP Quinn from UCC explains why there's a sign of the Zodiac in Cork's Honan Chapel
The Architecture Kerry festival highligted a range of exemplary castles and fortified houses to confirm the county's status as Kingdom. This includes Ross Castle (15th century), Derrynane House (1702, the ancestral home of Daniel O'Connell), Ballyseede Castle (1721), Belville House (18th century, a rare Georgian House in South Kerry and Flesk Castle (1805) "in the ruins of Coltsman's Castle."
Limerick's Open House programme from October 19 to 21 provides tours and presentations that narrow the choice. With so many events and visits across the country, it is not possible to retrace every opportunity to engage in this narrative. But whatever threads are found across the many sites, they remain only part of a varied, rich and complex fabric of human experience. To paraphrase Yeats; tread softly because you tread on dreams.
---
The views expressed here are those of the author and do not represent or reflect the views of RTÉ.
---