Dublin demonstration calls for an end to the Vietnam war.
Protesters march from Parnell Square to the US Embassy in Ballsbridge where they delivered a letter condemning the war in Vietnam. The protesters were met by a ring of Gardaí who surrounded the embassy.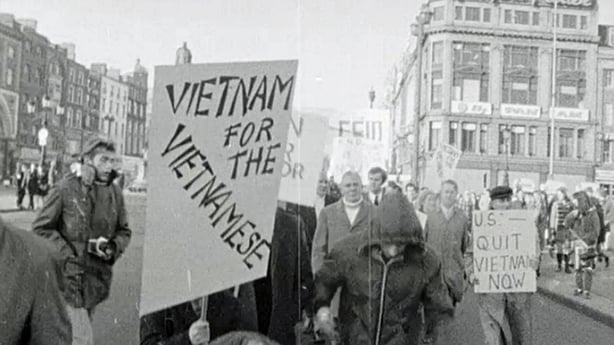 Vietnam War Protest Parade makes its way down O'Connell Street in Dublin (1969)
Speakers at the protest included Mr Peadar O'Donnell Chairman of the Irish Voice on Vietnam Tomás Mac Giolla President of Sinn Féin, and Máire Mhac an tSaoi O'Brien.
An RTÉ News report broadcast on 15 November 1969. The film shown here is mute.