After twenty seven years in prison Nelson Mandela casts his first vote and speaks about hope for South Africa.
Nelson Mandela has cast his vote in the first ever multi-racial elections in South Africa.
People queued from early morning to vote and catch a glimpse of the man who would be their new president, Nelson Mandela, as he voted for the first time.
He came to vote in a settlement camp in the KwaZulu-Natal region, one of the poorest and most violent places in South Africa.
As he entered the polling station, RTÉ News reporter Charlie Bird spoke to Nelson Mandela and asked him what the day meant to him.
This is a historic day naturally. It's a day for which our people have struggled over decades. It's the realisation of our hopes and dreams and it is an unforgettable moment.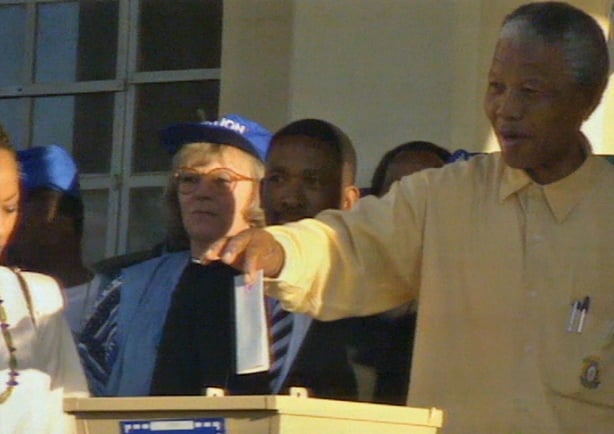 Nelson Mandela votes for the first time (1994)
After voting Nelson Mandela spoke about his vision for a new democratic South Africa.
We sincerely hope that by the mere casting of a vote, the result will give hope to all South Africans.
While acknowledging the need for change, he also spoke about protecting the rights of the minority white population.
An RTÉ News report broadcast on 27 April 1994. The reporter is Charlie Bird.