The Hare Krishna community have established their first temple in Ireland at a house in Sutton.
Followers of Hare Krishna came to Ireland around twelve months ago to establish a temple here. Removing themselves from the distractions of society, they spend much of their time chanting the name of Hare Krishna, an Indian god of love and peace. They believe that this practice will eventually help them achieve Krishna consciousness when they will no longer require the material things of the world.
One young man tells describes his journey to Krishna which started while working as a plumber in London. At that time he was reading a lot of spiritual books and practicing yoga. A visit to a Krishna Temple with a friend one Sunday nudged him forward,
I was just looking through many different books, looking for something that would satisfy me, you know, that's what I was looking for and I found Krishna.
The Hare Krishna devotees have been called hippies and drug addicts. Is it true that they are just looking for something to depend on, and that all of this is simply a way out? Not so, say the devotees, because more and more people are realising that the material world is a transient one.
In this predominantly Catholic country, the Hare Krishna devotees say that public reaction to them is mixed, but overall they have been treated kindly, and always receive food when they beg for it. They take the long term view when spreading Krishna's message to the Irish,
We're planting seeds, if you plant a seed you don't immediately get a huge tree, you have to cultivate it.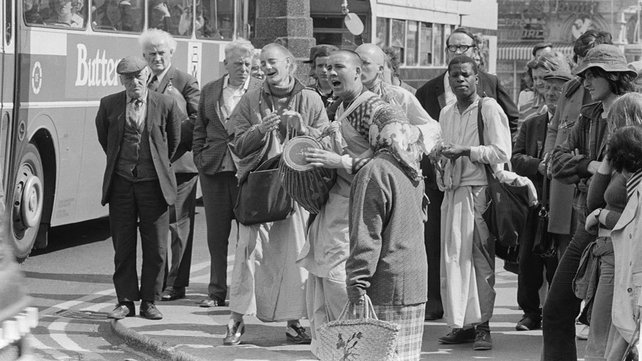 Hare Krishnas on O'Connell Bridge, Dublin (1973)
This episode of 'Tangents' was broadcast on 25 October 1973. The reporter is Larry Masterson.