Irish Defence Forces intervene to end protest by fishermen blocking Dublin Port over ban on herring fishing.
The Defence Forces and the Gardaí moved in to end the fishermen's two-day blockade of Dublin Port which seriously disrupted both commercial shipping and passenger ferries.The fishermen were protesting for a lifting of a Common Market ban on herring fishing.
Taoiseach Charles Haughey had warned the fishermen that if they did not end the blockade, there would be action. However, the port entrance was still blocked by a line of fishing trawlers wired together. As such, the green light was given to end the protest and at 6 am the LÉ Aisling moved in to open up the port again.
According to the fishermen, they were given just fifteen minutes warning even though they had made it clear that they would need an hour to disentangle their boats. As the LÉ Aisling moved in driving a wedge through the blockade the trawlers retreated. Air Corps helicopters also joined in the operation.
The two dozen or so trawlers that had put a stranglehold on passenger and freight services to and from Dublin had been forced to abandon their blockade.
The fishermen then called off all blockades at ports throughout the country.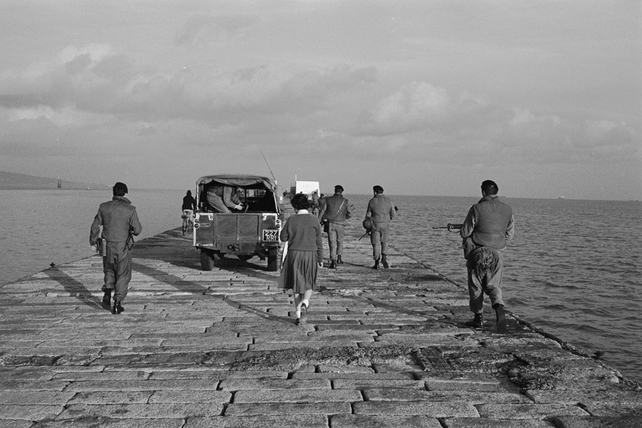 Members of the Irish Army on Dublin's South Wall (1982)
Reporter Joe O'Brien asked a spokesman for the fishermen Brian Crummy why they called off the blockade. Mr Crummy explains that the protest was called off due to the damage that was done to boats and the likelihood of fishermen being injured.
The trawlers were escorted up to Alexandra Basin but Gardaí clarified that the fishermen were not under arrest. Cargo vessels and passenger ferries which had been trapped in Dublin Port were able to leave.
An RTÉ News report broadcast on 21 October 1982. The reporters are Tom McCaughren and Joe O'Brien.