On this day in 1984, 'Féach' reported on concerns about plans to hold the All-Ireland Hurling Final in Semple Stadium in Thurles, Co. Tipperary. The final is traditionally held in Croke Park, but because this was the centenary year of the GAA, it had been decided that this year's match would be held in Thurles, where the GAA had been founded.
Bunaíodh an Cumann Lúthchleas Gael i nDurlas, Co. Thiobraid Árann sa bhliain 1884. Bhí ceiliúradh mór céad bliain níos déanáí, ach bhí faitíos ar dhaoine roimh an cluiche ceannais san iománaíocht: an mbeadh Staid Semple mór go leor?
In this TV clip, reporter Éamonn Ó Muirí talks to Séamus Ó Riain of the stadium's development committee about its capacity to accommodate a large crowd. Up to 60,000 are expected for an All-Ireland Final, and there are concerns that Semple isn't big enough. Ó Riain gives a potted history of the stadium's development and assures GAA fans that it will be up to the task. His only concern is that Tipperary be in the final.
Unfortunately for Ó Riain, it was Cork and Offaly who faced each other in the final, played on 2 September 1984.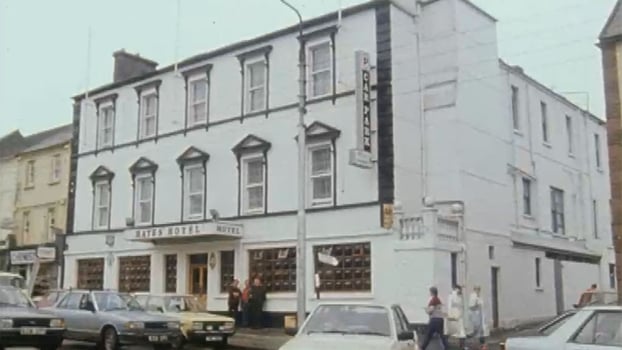 Hayes Hotel in Thurles, where the GAA was founded in 1884.