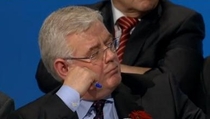 Katie Hannon, Prime Time's Political Correspondent, blogs following the Labour Party Conference in Killarney.
Shortly after five o'clock on Saturday evening a small group of Labour Party members huddled among the smokers on the front steps of the conference centre of the Gleneagle Hotel in Killarney.
They were aligned with the Campaign for Labour Policies, the grassroots movement of Labour members appalled at the turn party policy has taken since it went into Government with Fine Gael.
The Campaign had put out a clarion call to like-minded members to join them in a symbolic walk out from the ...
Read More »